Interview and Photos by Jordan Edwards
On Friday, Lulu Simon released her new single "Stay." It's her first new music in over a year, following the EP Muscle Memory.
To support the release, Simon has been on tour with fellow indie pop singer Emei, whom we recently interviewed. The remaining dates are sold out, but hopefully Simon will schedule more shows in the new year.
Before she hit the road, we talked to her about the new track and the music that shaped her as an artist.
---

"Stay" is your first new music in a year. Have you been writing the whole time?
I've definitely been writing. I've got a couple songs that are done and waiting in the wings for their moment to shine, a couple more that I'm still in the midst of writing. I'm a pretty slow writer, so it definitely takes me a while to get songs finished and to a certain standard that I aspire to.
You describe this song as maximalist pop. Was it hard to get the exact sound you wanted?
It was definitely a challenge to find the exact sounds that I wanted, because when it came down to it, I couldn't find any pre-existing songs that I could use as reference points, which I think is both a good thing and a bad thing. It means that the song, to me, sounds relatively unique, but at the same time, that's to its detriment when creating it, because all that I could say was to make it Bigger! Make it Phatter!
How much does it hint at the music that's coming out next?
I think it actually does not hint at forthcoming music at all hahaha. I think "Stay" exists in its own space when it comes to my musical catalogue, which is what makes it so special.
Your last EP was more acoustic than "Stay," but it still had that '80s sound. Why do you gravitate towards that decade?
I think that '80s synth and programmed drum sounds are really fun and dramatic, but also have an inherent sort of hopefulness, which I love. It feels very cinematic.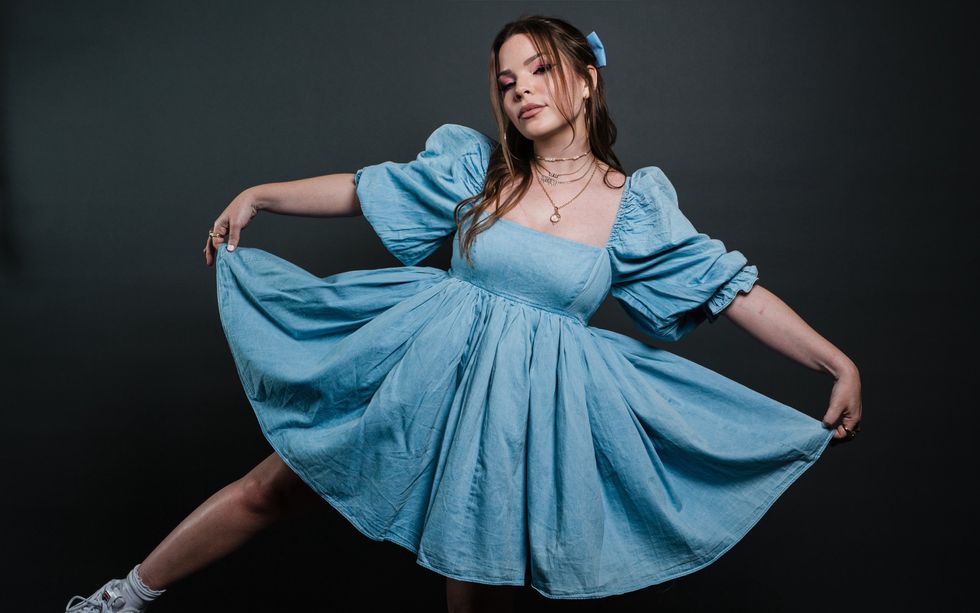 Who did you listen to growing up?
I loved Britney Spears and the Backstreet Boys, but I think my first real favorite band was Queen. I went through a huge Queen phase, which was promptly followed by a huge No Doubt phase.
Do you remember the first song you learned to play?
The first song I learned how to play was literally "Teardrops On My Guitar." Huge slay, no notes.
I know you like to travel. You reference Montreal in "Stay" and you've spent time in Europe. What's your favorite place to go and why?
During the Pandemic when I was stuck inside, I really dreamt about Switzerland, and somehow became convinced that going to Switzerland would solve all of my existential and emotional problems. In summer of 2022 I finally went for the first time, and I was right! I love Switzerland; it's like living in a postcard.
You're about to go on tour with Emei. How are you feeling right now?
Nervous and excited! I've only ever been on one tour before, and it was just me and my producer playing an acoustic set. It was fewer dates. It felt like the perfect introduction to touring, but this tour is a bigger production. I've got a full band, more dates, etc. It's exciting and also nerve-racking!
Do you truly believe that being alone is the best?
I think that if you can reach a place in your life where you feel completely at ease with being alone, then you can literally do anything. So, being alone can be the best, because I think it can really signify personal growth! Which is hard!
For more from Lulu Simon, follow her on Instagram and X.