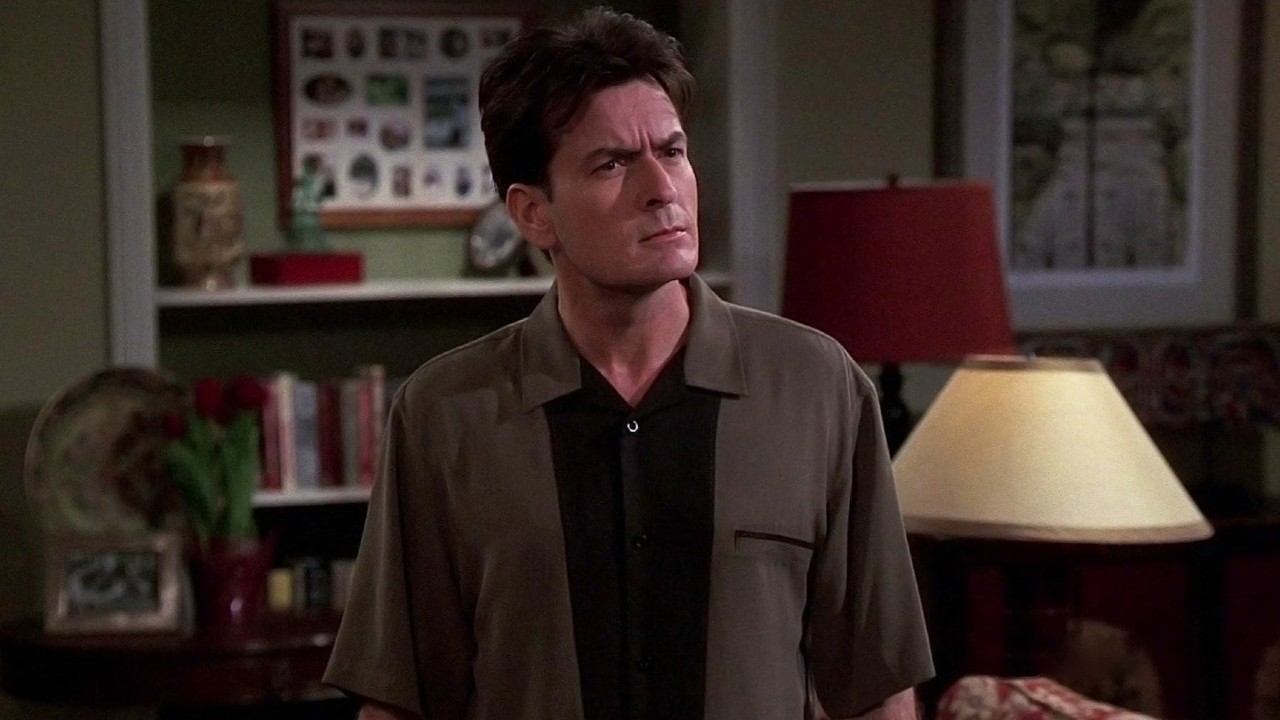 Two and a Half Men was one of the most successful shows on TV during its 12-season run, but it did experience a few behind-the-scenes hiccups. The biggest of them was the highly publicized exit of its lead star, Charlie Sheen, who was fired by Warner Bros. TV and CBS in 2011 after making disparaging remarks about series co-creator Chuck Lorre. Thankfully, Sheen and Lorre resolved their feud just recently and are reuniting for his new show (which will be available to Max subscribers). Ahead of its release, Lorre has been discussing his relationship with Sheen, and he recently recalled their "dark and difficult" falling-out. 
Before the two were on the outs, they'd worked well together, which should be evident due to the fact that their show had been a hit for a little over eight years up to that point. As he conveyed during his interview with ET, Chuck Lorre wants people to be aware that he and his colleague and their share of good times while working on Men. He fondly shared some sweet thoughts when speaking about that early period in his and the Charlie Harper actor's partnership: 
They did indeed push the envelope, as the sitcom (which is streamable with a Paramount+ subscription) was one of the edgier sitcoms of the 2000s. And at the time, viewers flocked to it. It goes without saying that Charlie Sheen's exit from Two and a Half Men was far from beneficial for the creative team. Sheen, who'd just finished up a voluntary stay in rehab at the time, made disparaging remarks against Chuck Lorre, with some of those comments being deemed antisemitic. Later in his recent interview, the Bob Hearts Abishola EP reflected on the emotions he felt at the time: 
The Big Bang Theory producer previously spoke about not being able to watch Men reruns for years, and that's honestly understandable given the magnitude of the drama at the time. It seemed, at one point, that the show might be done. However, former CBS chairwoman Nina Tassler helped Two and A Half Men turn things around by orchestrating the hiring of Ashton Kutcher as the new co-lead. The show ended up running four more years before ending in 2015, but there was still the matter of the unresolved issues between the co-creator and his star.
Apparently, Chuck Lorre was the one to extend the olive branch, as he wanted Charlie Sheen to play a fictionalized version of himself on his new comedy, Bookie. The actor was receptive to the idea, though Sheen did have just one request. The Anger Management veteran's fictional counterpart was originally written as being a patient in the rehab he was renting out for gambling events. However, Sheen asked if they could move away from the "drug-addled Charlie" and instead not make him a resident at the facility. Lorre stated that he and his team easily obliged when it came to that change.
Their collaboration on the new show has reportedly been rock solid since they decided to join forces again. While it sounds like there was a lot of pain to get past, I'm happy the two were able to work out their differences. And of course, I also hope their latest comedy yields humorous results. 
Bookie is set to hit Max on November 30 as part of the 2023 TV schedule.