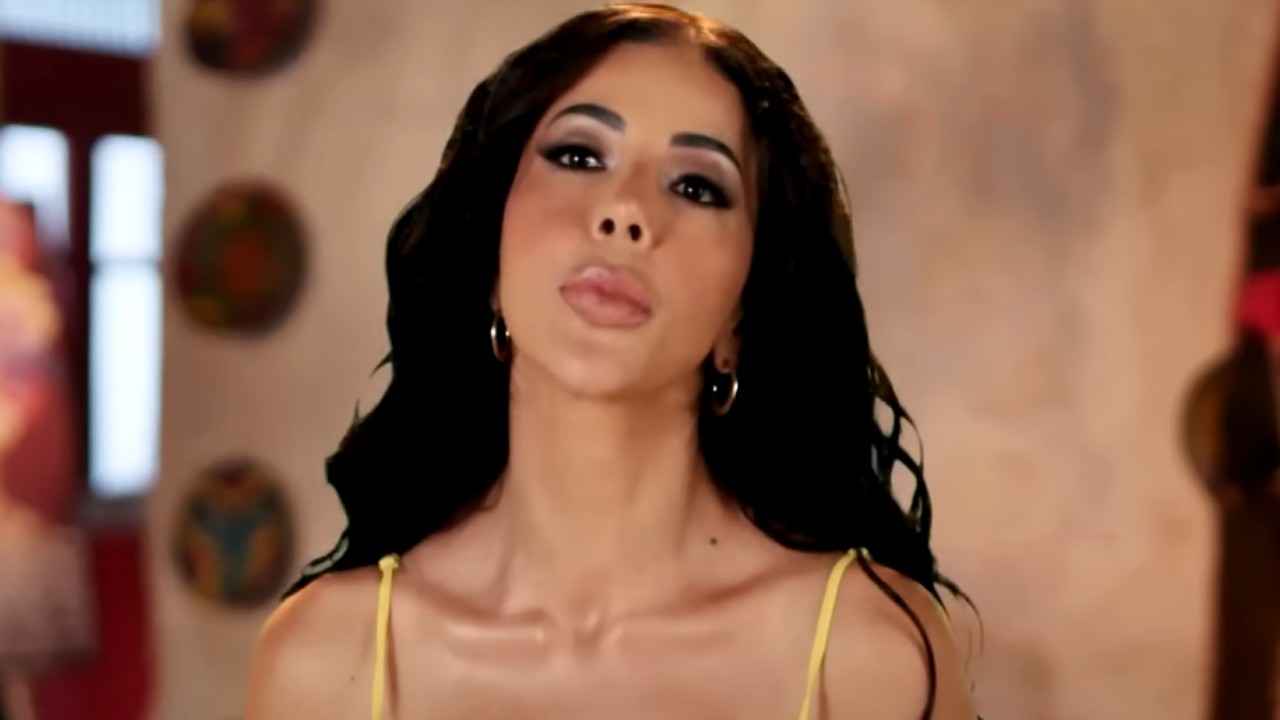 Warning! The following contains spoilers for the 90 Day Fiancé episode "If Anyone Objects to This Union." Read at your own risk. 
Gino Palazzolo and Jasmine Pineda seemed determined to enjoy a combined fresh start in Michigan, but it seems the same problems from their past are popping back up. Just as I had formed the hopes that the 90 Day Fiancé couple was on the right track after seeing a completely different side of Jasmine, the duo's screaming, threats, and ultimatums came back in full effect. This latest argument from Season 10's sixth episode was one of the worst yet, and at this point, I think I'd be perfectly okay if the TLC hit's producers chose to move on from them. 
Having previously seen a glimpse of the blow-up in the trailer that first introduced the cast of 90 Day Fiancé Season 10, we finally learned the context behind the situation where Jasmine discovered lip gloss in Gino's car. When she understandably asked how and why that object would be in the vehicle, he posited the idea that it could have belonged to a co-worker that he'd driven to lunch, which only infuriated Jasmine, who then demanded money for a flight back to Panama and called the wedding off. It was as dramatic as could possibly be, which plays into my thinking on why it may be time to move on. 
Every Gino And Jasmine Argument Is So Dramatic That They're Hard To Take Seriously
When I think back to Gino and Jasmine's first wild fight, that scuffle seems entirely justified, as it involved Gino sending nudes of Jasmine to an ex-girlfriend, while also bragging about having "sugar babies" that he was sending gifts. Jasmine was well within her rights to go off the rails at the time, and to question if the relationship was still worth fighting for. 
Fast forward to the previous season of 90 Day Fiancé: The Other Way, during which they had another knockdown, drag-out fight over Gino's terms for the prenup. For those who didn't watch on TLC or with a Max subscription, Jasmine threatened to have sex with her ex after the discussion, which once again led to doors slamming and tears flowing. It wasn't quite the level of the previous incident, but was still upsetting. 
In light of past events, this lip gloss incident  just feels like a silly reason to introduce friction. Why is this latest situation just as dramatic as the previous two? If the answer is they're doing it for the cameras, then I wish they'd move away from that in place of something more authentic. But if it's indicative of how the couple will react and argue over any and all issues that come up, then maybe Gino and Jasmine really should reconsider marriage before making it all official. 
They Never Seem To Change Or Evolve As A Couple
One of the best things about the 90 Day Fiancé franchise is the growth that can be witnessed for couples as their relationships progress. Unfortunately, I haven't seen such evolutionary evidence between Gino and Jasmine. Every season seems to start on them looking forward to a fresh start, which then implodes once talk about their sex troubles comes up, leads to a fight with Gino's family, and culminates in a major blow-up that they eventually reconcile after. It's the same rinse-and-repeat story every season, and if that's the case post-marriage, then maybe it's time to bid farewell and open up a slot for another couple. 
90 Day Fiancé airs on TLC on Sundays at 8:00 p.m. ET. Gino and Jasmine aren't the only ones with troubles this season, of course, and I'm sure many are interested in the status of other couples going through similar trust issues. We do have some news on whether Rob Warne and Sophie Sierra are still together, for those who may not want to wait until the tell-all for all their questions to be answered.