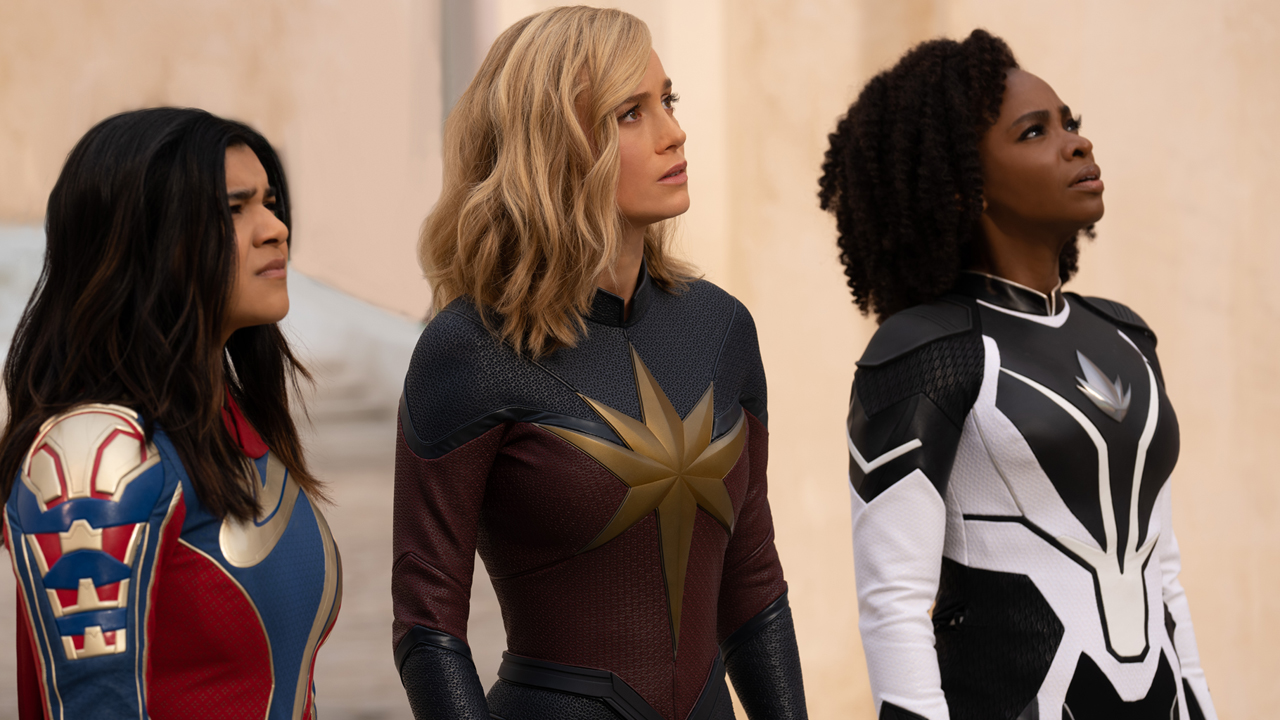 The titular team in The Marvels is a group that comes together totally by accident. Thanks to a cosmic anomaly, Brie Larson's Carol Danvers, Teyonnah Parris' Monica Rambeau and Iman Vellani's Kamala Khan find their special light-based powers entangled, and they are basically forced to unite in order to stop what's causing it. Accidental as the ensemble may be, however, what's cool about the special unit is the way in which it allows the film to play with very different perspectives on the heroic Captain Marvel.
On one hand, Monica has essentially been neglected by her aunt for the last 30 years, and on the other hand, Kamala is a superfan who dreams of being besties with Carol. It's a special dynamic, and I brought it up this past weekend when I had the chance to sit down with director Nia DaCosta at the Los Angeles press day for The Marvels. I asked about the impact of the special relationships within the eponymous unit, and the filmmaker explained,
As established in the empowering Disney+ original series Ms. Marvel, Kamala Khan is a young hero from Jersey City, and she absolutely idolizes Carol Danvers – which is a very familiar perspective if you remember watching Captain Marvel. Back in the mid-1990s, Monica was made starry-eyed by her mom's best friend/Air Force colleague… but she ended up disillusioned when Carol left Earth to deal with the Kree-Skrull War and never came back. Obviously that has an impact on what Monica sees in Kalama's undying fanhood.
Nia DaCosta also looked at the relationships from Captain Marvel's point of view too, though. Because of her incredible abilities, she feels that it is her job to help out planets in need ("With great power comes great responsibility," as Uncle Ben would say), but obviously that led to her making some vital mistakes in her relationship with Monica. And as for Kamala's love, that creates its own special kind of stress:
Marvel fans everywhere will be able to see the special triumvirate in action this weekend, and be sure to stay tuned here on CinemaBlend for more of our Marvels coverage (including more from my interview with director Nia DaCosta). To stay on top of everything MCU-related on both the big and small screens, check out our Marvel Movies In Order feature as well as our Upcoming Marvel Movies and Upcoming Marvel TV guides.