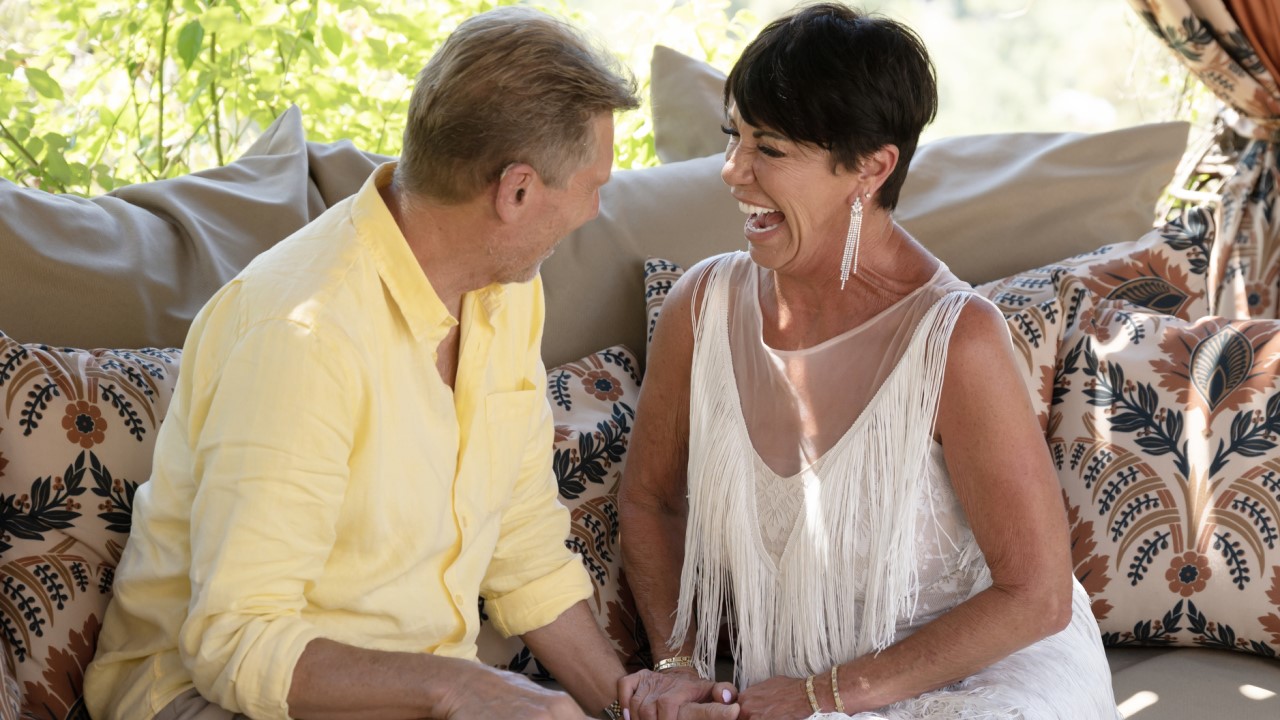 Spoiler alert! This story discusses The Golden Bachelor's "Women Tell All," which aired November 9.
From the first episode of The Golden Bachelor, people couldn't stop talking about cast member Susan Noles' resemblance to Kris Jenner, the famous momager of Kim Kardashian and her sisters. Well, Noles and the rest of the contestants who returned for the "Women Tell All" episode on November 9 got quite the surprise, when host Jesse Palmer revealed that he had a special message from none other than The Kardashians matriarch. Does this mean there's hope for a Bachelor Nation/Kardashians crossover?
Susan Noles became a fan favorite on The Golden Bachelor's first season, always there with a supportive comment for her housemates, if not a good joke. It also seemed like the 66-year-old wedding officiant served as the hairdresser for many of the women. So it was such a delight to see her reaction when Jesse Palmer hit play on the pre-recorded message from the reality TV mom. Kris Jenner said: 
Susan Noles held back tears after the video played, telling Jesse Palmer, "I'm crying. I love her!" She's apparently been compared to Kris Jenner for years (for obvious reasons), and has made no secret that she hopes to meet the matriarch one day. I think it's definitely time to make that happen and get Noles a cameo on The Kardashians.
The universes can't be that far apart. Earlier this year an episode of the Hulu reality show aired in which Kim Kardashian pranked her family by telling them she was going on The Bachelorette. ABC executive Rob Mills was even in on the joke, confirming the news to a befuddled Kris Jenner when she got him on the phone. 
Also, it seems the momager has also already crossed paths with one Gerry Turner. Fans who follow the widower on social media might have suspected that The Golden Bachelor had something up their sleeves regarding Kris Jenner, when the 72-year-old from Indiana boasted on Instagram about meeting the reality star a couple of weeks ago. 
If Kris Jenner ever would welcome Susan Noles into her home, there's no way Noles could go without Kathy Swarts, who bears a striking resemblance to Jenner's ex Caitlin Jenner. Noles and Swarts became best friends on The Golden Bachelor, embracing their resemblances to the famous exes: 
Kathy Swarts made a name for herself on The Golden Bachelor when she told housemate Theresa Nist to "zip it" during a tense conversation on their pickleball group date, but Swarts assured Bachelor Nation at the "Women Tell All" that all is well with the women, and they have moved on.
The Golden Bachelor continues next week with Fantasy Suites and lots of talk of "knockin' boots," so be sure to tune in at 8 p.m. ET Thursday, November 16 on ABC. Episodes can also be streamed the next day with a Hulu subscription (where, it turns out, you can also find episodes of The Kardashians). Also be sure to check out our 2023 TV schedule to see what other premieres are coming soon.