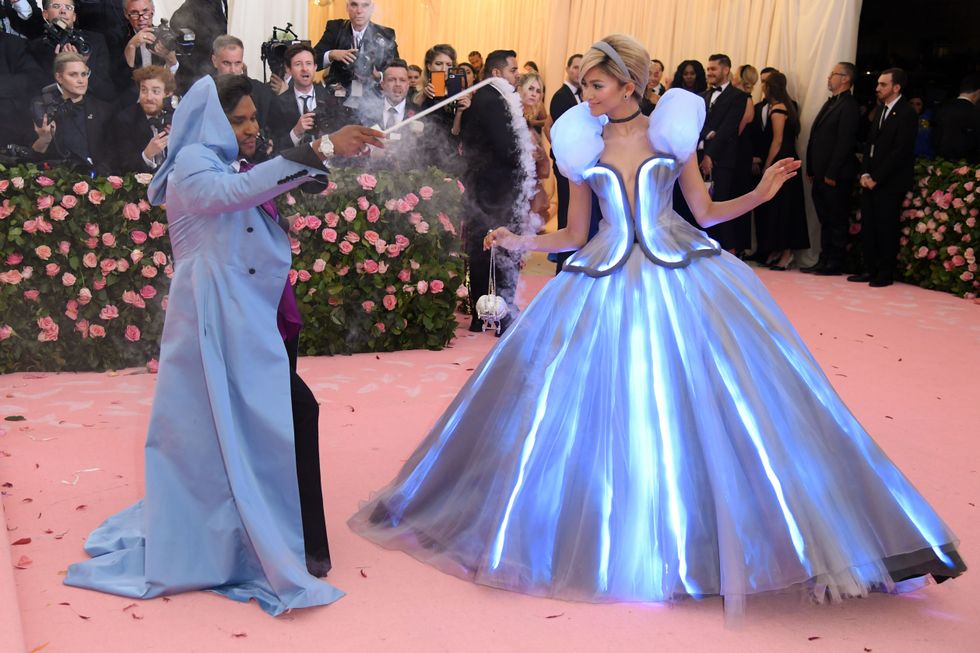 Every year, on the first Monday in May, comes the most exclusive party of the year: The Met Gala.
VogueEditor-In-Chief Anna Wintour hand-picks the creme-de-la-creme of the highest profile celebs — a coveted who's who list of exciting new names and A-listers alike. Together, these celebs congregate at New York City's Metropolitan Museum of Art donning (literally) their Monday best.
---
On the surface,
the Met Gala is a fundraising event hosted by Vogue to raise funds for the Met Museum's Costume Institute. You have to be invited to attend (normally by a brand or by Anna herself), and what goes on inside the elusive Met Gala is one of fashion's best-kept secrets. What happens at the Gala, truly stays at the Gala.
@metmuseum DYK: When garments enter The Met collection, they can no longer be worn on the human body. So how can we understand the movement and energy of these masterpieces of fashion? This May, explore 250 pieces from The Met's Costume Institute collection in "Sleeping Beauties: Reawakening Fashion," opening to the public on May 10 and celebrated at the 2024 Met Gala on May 6. Join us to see them spring to life. 🌿 🌸 🌊 #ReawakeningFashion #TheMetGala ♬ original sound – The Met
Today, the buzz around the 2024 Met Gala officially begins with the announcement of the theme: Sleeping Beauties: Reawakening Fashion. And, like with
any Met Gala theme, this needs a bit of explanation.
What Does Sleeping Beauties: Reawakening Fashion Mean?
In collaboration with the Costume Institute, every Met Gala also comes with an exhibit at the Met that's curated to emulate the year's theme. This year, 250 rare items from the Costume Institute's permanent collection will be featured — including designs from Schiaparelli, Dior, and Givenchy.
"Sleeping beauties" refers to the pieces that are so rare that they can only be worn once. Some of these "sleeping beauty" gowns, like an 1877 Charles Frederick Worth gown, will be shown via CGI and AI virtual showcasing.
It's an all-encompassing theme spanning over 400 years of fashion. The exhibit itself will have three "zones" dedicated to land, sea, and sky, according to Andrew Bolton, Wendy Yu Curator in charge of the Costume Institute.
What Can We Expect People To Wear At The 2024 Met Gala?
While your mind may have gone straight to Disney's
Sleeping Beauty, the Met Gala is going to be leaning heavy into how fashion and nature coincide. These pieces on display have been sitting in the Met's collection for eons, some can't even be hung upright or they'll disintegrate.
Since many of these clothing artifacts were made with natural materials (like a bodice made from peas in a pod), you will expect to see this mimicked in attendees' attire. Sure, there will be 1800s-inspired gowns and lace appliques…but remember: nature is emphasized.
People are thinking of florals and birds, as the exhibit will feature both a black tulle dress embroidered with blackbirds and an Alexander McQueen jacket inspired by Alfred Hitchcocks'
The Birds. But everything nature has to offer — nothing's off the table! We might see snakes and leaves and everything in between.
And while we don't know the hosts, or the guests, quite yet…we're looking forward to this theme and hope we can reawaken the excitement of the Met Gala after some lackluster showings in the past few years.