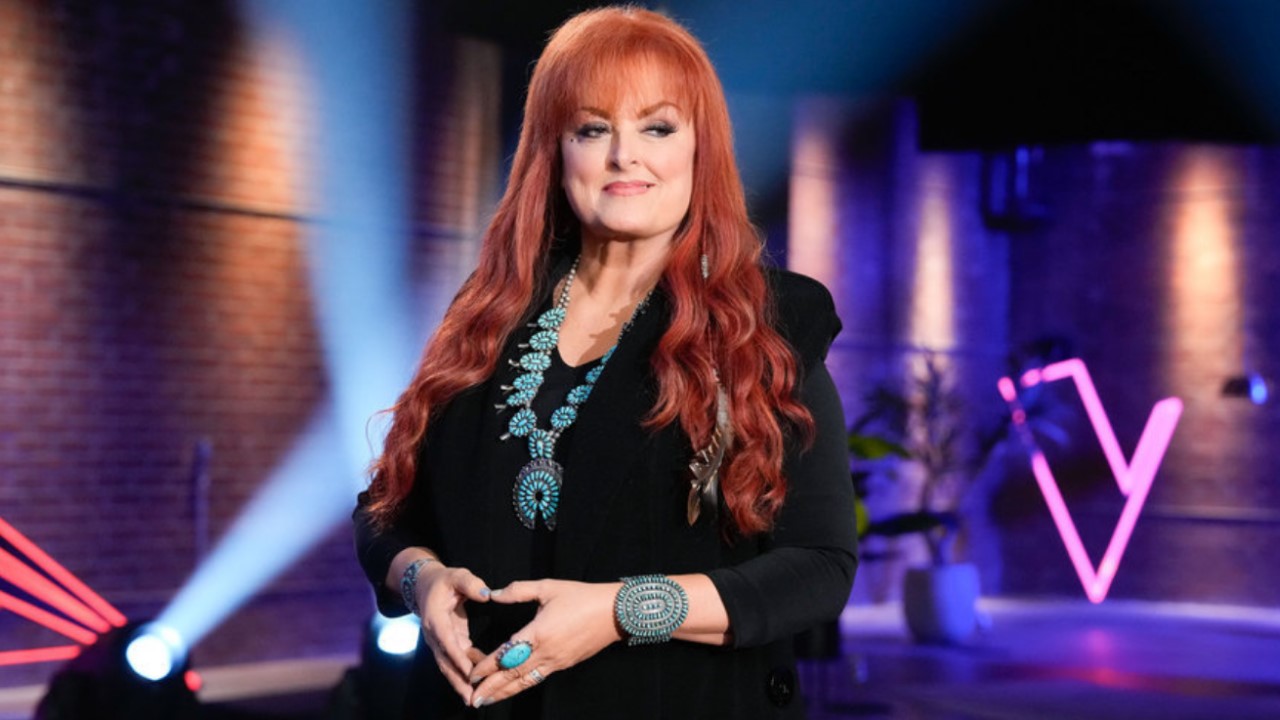 The Voice is set to make history in its 25th season, with country duo Dan + Shay joining the coaching panel in the show's first-ever double Big Red Chair, and it looks like we're about to get a sneak peek at what they'll have to offer. Season 24 wrapped up its Battle Round and kicked off the three-way Knockouts on November 6 with another country legend, Wynonna Judd, making her Voice debut as the Mega Mentor. When the Knockouts continue Tuesday, Dan + Shay will apparently be getting a jump on their mentoring, but I really need to know what that means for Wynonna.
Wynonna Judd, like Reba McEntire, has been in the music business for decades, rising to fame in the 1980s as part of a duo with her mother Naomi Judd. She's as dynamic as they come, but it's not just her voice that has attracted her many fans over the years. Wynonna is an all-around entertainer, and The Voice fans got just the tiniest taste of her humor in the latter half of Monday's episode, as she took her place as Mega Mentor for Knockouts featuring John Legend's team and Team Reba. 
When Reba McEntire recalled Gwen Stefani winning a Four-Chair Turn over her, Wynonna Judd deadpanned, "What a hussy," and dropped a few other gems with her genius comedic timing. She had some good advice, too, to help the artists connect emotionally to the lyrics, and advised one singer to find her pitch on a high note by telling her to, "Squeeze your butt." 
All in all, her two Knockout sessions injected a little energy and humor into a season that has suffered in that department from the loss of Blake Shelton and Kelly Clarkson as coaches, even if the contestants are as talented as ever. I was looking forward to seeing more from Wynonna Judd when Niall Horan and Gwen Stefani's teams start their journey through the Knockouts on Tuesday, so I was thrown by the promo that declared:  
Does that mean Wynonna will be sharing the spotlight with Dan + Shay? It can't possibly mean that her work on The Voice is done, right? Mega Mentors — who in the past have included Taylor Swift, James Taylor, Snoop Dogg and others — always stick around for all of the Knockouts, helping all four teams. I just hope that whatever the incoming Season 25 coaches have planned, they don't take too much time away from the Mega Mentor. 
Wynonna Judd is always a pleasure to watch, and I just want to see more. Maybe by the time her reign as Mega Mentor is over, she'll have convinced the powers that be at The Voice that she deserves her own spot in the Big Red Chairs. We'll have to see what happens when the competition continues at 9 p.m. ET Tuesday, November 7. The Voice is also available to stream the next day with a Peacock subscription, and be sure to check out our 2023 TV schedule to see what premieres are coming soon.