There are no fewer than six series beginning this week, with the return of For All Mankind and The Santa Clauses at the top of the list.

New series include Lawmen: Bass Reeves, The Buccaneers, Colin from Accounts, and The Buccaneers.

Those of us with streaming and cable (for all things Christmas) will have nothing to fear when it comes to a lack of content!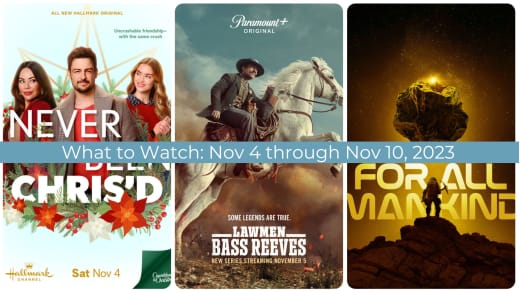 Saturday, November 4

8/7c Never Been Chris'd (Hallmark)

What's Christmas without a healthy helping of Tyler Hynes?

In this delightful movie, best friends Naomi and Liz return home and run right into their shared high school crush – the dreamy Chris Silver.

What happens next establishes Never Been Chris'd as a new holiday classic by exploring how a different perspective can change your life.

8/7c A Dash of Christmas (GAF)

Baking and Christmas? Who ever thought?

In this GAF original, to apply for her dream job at a foodie startup, an executive (Laura Osnes) must learn to bake.

When she recruits a handsome baker to help her (Christopher Russell), she inadvertently ends up entering a Christmas Bakeoff.

8/7c You're Not Supposed to Be Here (Lifetime)

Selling Sunset's Chrishell Stause stars in this equally anticipated movie as Zoe, a pregnant woman who is looking to have a relaxing getaway with her wife Kennedy, when they take the latter's boss on the offer of staying at a cabin away.

Unfortunately, Zoe grows paranoid about the small-town folk who aren't particularly welcoming to this expecting lesbian couple.

While Kennedy tries to reassure Zoe that maybe everything is in her head, it conjures up the age-old adage, "Just because you're paranoid, it doesn't mean they aren't out to get you," or in this case, maybe their child? It's all thrills with this one!

9/8c All Rise (OWN)

The stakes have never been higher in All Rise's final episodes. In order to protect his father, Mark gets entangled with the Russian mob and throws a case.

Emily risks her job by bringing evidence into play when defending a woman who attacked her rapist, which affects almost everyone.

The drama is high, so don't miss a minute of it.

Emily will push the boundaries just far enough to win her case, and we love it! #AllRise pic.twitter.com/uXekxRgqlH


— Oprah Winfrey Network (@OWNTV) November 2, 2023


Sunday, November 5

Lawmen: Bass Reeves (Paramount+)

From Executive Producers Taylor Sheridan and David Oyelowo comes the untold story of the most legendary lawman in the Old West: Bass Reeves.

Lawmen: Bass Reeves follows the journey of Reeves (Oyelowo) and his rise from enslavement to law enforcement as the first Black U.S. Marshal west of the Mississippi.

Despite arresting over 3,000 outlaws during the course of his career, the weight of the badge was heavy, and he wrestled with its moral and spiritual cost to his beloved family.

8/7c The Santa Summit (Hallmark)

It's time for the annual Santa Summit, in which revelers put on Santa suits and hop around designated locations in town to eat, drink, and be merry.

Three best friends decide to go together: Jordin, a recently dumped art teacher looking to cut loose; Ava, a shy woman hoping to run into her crush; and Stella, a Christmas cynic with no interest in the Santa Summit whatsoever.

At the start of the night, Jordin meets and bonds with Liam but doesn't get his name before getting separated and lost in a sea of Santas.

As the night progresses and hijinks ensue, amidst the chaos, celebration, and a sea of Santas, they all find what they're looking for: Christmas spirit, potential romance, and a strengthened bond of friendship.

9/8c Billy the Kid (MGM+)

In this final episode for the first half of Billy the Kid Season 2, the Regulators have been on the defensive since the start of the war.

Then Billy draws up a plan which could bring the war to an end.

Let's hope so because otherwise, Billy has thrown away his chance at a new life for nothing.

9/8c The Gilded Age (HBO/Max)

What happened to all of our fans of The Gilded Age? Hardly anybody showed up to the party for the premiere, which was quite disappointing.

This week, we take a little step away from those settled in love to consider what finding and landing love in 1993 Manhattan might be like.

There is romance (and scandal!) in the air, and more than one person gets rebuffed. It's a very good time all around – for us, anyway!

9/8c The Lost Women of Highway 20 (ID)

Lost Women of Highway 20 is a sprawling, true-crime odyssey that begins with the disappearance of a 13-year-old Rachanda Pickle.

When Rachanda disappears in 1990, detectives discover a trail of missing and murdered women along a ghostly stretch of Oregon's US Highway 20 that goes back for decades, leading them to a killer who has been hiding in plain sight.

With narration from Spencer, Lost Women of Highway 20 is a gripping documentary that asks poignant questions about our society's treatment of women – then and now.


Monday, November 6

Days of Our Lives (Peacock)

Gabi and Li's fates both hang in the balance now that Stefan's found Gabi holding a bloody knife!

In true Dimera fashion, Stefan would prefer to get Gabi out of there before anyone finds out Li is dead, but his timing is off, and that spells trouble. Will Gabi get out of this, or is she going on the run?

Elsewhere, Chad confronts Stephanie and Everett, and Nicole has a tragic run-in with Leo and Dimitri.

This is high Days of Our Lives drama that you don't want to miss!

Neighbours (Amazon Freevee)

Neighbours is gearing up for Flashback Week! This week is the lead-up to learning everything that happened between the original series finale and the first rebooted episode.

Toadie's world is turned upside down when Nell goes missing. The teenager is continuing to play detective, leading to a dangerous situation. But spoilers say a familiar face will return — will Nell find Melanie and bring her home? And if so, what does that mean for Toadie and Terese's marriage?

And the Rodwells and the Varga-Murphys wait anxiously to find out if Andrew is JJ's father, but will Remi and Wendy be able to forgive their spouses for not telling them it was a possibility? And if JJ is biologically a Rodwell, what will it mean for the feuding families?

Whether you've been watching from the beginning or are a new fan, this exciting week is one that'll keep you glued to the screen.

8/7c Kitchen Nightmares (FOX)

It's about to get juicy!

Ramsay and his crew set out to help a Haitian juice bar and restaurant in Brooklyn succeed with only a 60-day deadline to turn profits. There's only one problem: the owner's children enjoy partying it up a bit too much!

If you want more shocking details about this installment, check out our exclusive sneak peek!


Tuesday, November 7

9/8c FBI TRUE (CBS)

In the first episode "Operation Knockout, when a Deputy Sherrif is murdered in 2005, over 40 officers build a task force to create Operation Knockout to find one of the largest street gangs.

It's one of the biggest anti-gang operations in history.

During "Terror in Times Square," a bomb goes off, lighting a truck on fire in the middle of Times Square, and the hunt is on to find him before he strikes again.


Wednesday, November 8

The Buccaneers (Apple TV+)

Girls with money, men with power. New money, old secrets.

A group of fun-loving young American girls explode into the tightly corseted London season of the 1870s, kicking off an Anglo-American culture clash as the land of the stiff upper lip is infiltrated by a refreshing disregard for centuries of tradition.

Sent to secure husbands and titles, the buccaneers' hearts are set on much more than that, and saying "I do" is just the beginning…

The Santa Clauses (Disney+)

The Ho, Ho Holidays are right around the corner. Will the North Pole be ready in time? We'll find out on the second season of The Santa Clauses.

The Calvin family is back in the North Pole as Scott continues his role as Santa Claus after retirement plans were thwarted when he failed to find a worthy successor in season one.

Now that Scott and his family have successfully saved Christmas, Scott turns his focus towards training his son Calvin to eventually take over the "family business" as Santa Claus.

Black Cake (Hulu)

Hulu's newest spellbinding series returns for its fourth installment!

We followed Covey's journey from Jamaica and across England and Scotland, but she'll have a most unexpected reunion!

Meanwhile, we'll get to delve a bit more into Benny and Byron as we learn why Benny has been estranged for nearly a decade and Byron reconciles with the inequities in the workforce.

The journey has only just begun. The first three episodes of #BlackCakeHulu are now streaming. pic.twitter.com/JKuSH9QtiL


— Hulu (@hulu) November 1, 2023


Thursday, November 9

Colin from Accounts (Paramount+)

Have you been looking for your next romantic comedy? Paramount+ has you covered.

Set in Sydney, Australia, Colin From Accounts is a modern-day love story that centers on Ashley (Harriet Dyer) and Gordon (Patrick Brammall from EVIL), two singles brought together by a car accident and an injured dog.

Dyer and Brammall also created and wrote the series, so you know they're playing to their strengths. It's an absolutely delightful series with that signature Aussie humor we love that you won't want to miss!

Doom Patrol (MAX)

It's the end of the road for the Doom Patrol. Like, seriously. With Immortus/Isabel Feathers in a full-blown apocalypse mood and the Butts amassed for a final annihilation of humanity, the team faces their last battle ever for the future of the world.

Can they rally once more, save Rita, and maybe get back their longevity? Is there a happy ending for our misfit superpeople?

8/7c Mystery on Mistletoe Lane (HMM)

Not gonna lie; I love the idea of tying mysteries and Christmas together! In this holiday original, new to town, Heidi Wicks (Erica Cerra) and her kids discover a Christmas mystery in their historic home. Local handyman and historian David (Victor Webster) helps along the way, finding his own surprising connection.


Friday, November 10

For All Mankind (Apple TV+)

The space race is over with a successful and thriving functional settlement on Mars, but the race to profit from it has just begun.

For All Mankind Season 4 jumps ahead eight years after the tragic bombing from Season 4, and catching up with those who survived is worth the wait.

Get ready to hunker down with all the excitement from Happy Valley, Mars, 2003, as risk-taking and heroism are taken to new levels.

8/7c Power Book IV: Force (Starz)

It's all led up to this.

Tommy has been planning to take over Chicago since he arrived, and he's finally in a position to make his move, but it can't all be that simple, can it?

With a snitch to be dealt with and the FEDs still on his tail, Tommy's once again going to be in for the fight of his life in this action-packed season finale!

Upload (Prime Video)

Hard to believe it's season finale time already, right?

We just got Upload, and now it's concluding with an epic two-installment finale that introduces a whole new concept for a potential fourth season.

They'll leave you talking, so tune in and keep your fingers crossed for an Upload renewal!
Carissa Pavlica is the managing editor and a staff writer and critic for TV Fanatic. She's a member of the Critic's Choice Association, enjoys mentoring writers, conversing with cats, and passionately discussing the nuances of television and film with anyone who will listen. Follow her on X and email her here at TV Fanatic.