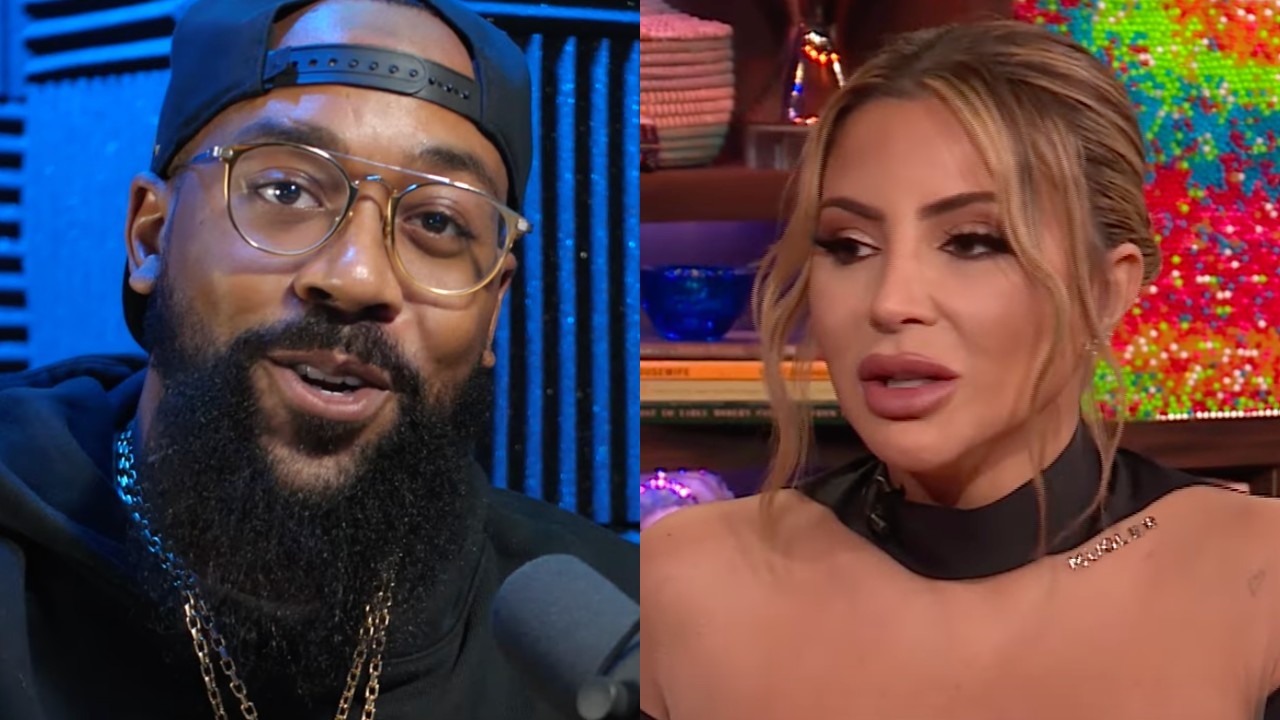 There are some celebrity romances that are surprising, but then you have those that are just downright unexpected. That's how one might categorize the relationship between Marcus Jordan and Larsa Pippen. Michael Jordan's son and Scottie Pippen's ex wife have been going strong for a little while now, and both seem content. However, as you would expect, there are still those who doubt their affection for each other. Both Larsa and Marcus are surely aware of the buzz surrounding them and know that not everyone is rooting for them. On that note, the younger Jordan sent an honest message to anyone in that camp. 
The couple certainly aren't hiding their relationship, as they even co-host a podcast called Separation Anxiety and have done joint interviews together. They've also appeared together on The Real Housewives of Miami (on which the starlet is a cast member). They were recently interviewed on Pablo Torre Finds Out, during which they discuss their romance and reveal that a wedding is likely on the horizon for them. (Wedding bell rumors previously swirled around them.) The eponymous host also asked how they feel about those who have yet to get on board with their union. Marcus Jordan, like his father, isn't one to mince words and dropped an F-bomb while addressing the haters: 
The 32-year-old former UCF player definitely hasn't had a problem defending himself and his 49-year-old partner from criticism. So it tracks that he shared those sentiments during that segment of the show, which was shared in an X post. It's difficult to deny the fact that their relationship is a bit atypical and somewhat awkward given the ongoing (and one-sided-feud) between Michael Jordan and Scottie Pippen. However, only they can live their lives, and both seem incredibly happy to have each other.
Marcus Jordan and Larsa Pippen were just friends and enjoyed spending time together before they became a couple. But Pippen ultimately realized her feelings for Jordan after she saw him talking to another woman and began to become envious. The public first caught wind of their relationship after they were spotted on a "double date" in Miami back in September 2022. Though Pippen initially denied the rumors, she and her man went public by early 2023. 
Their romance has definitely stoked up mixed emotions about the public, and at least one person had no problem airing their views in public. When the pair went to a football game last fall, Michael Jordan's son was screamed at by a commentator. The encounter was captured in a video that eventually went viral. 
At one point, it even seemed that Michael Jordan was against the pairing because, earlier this year, when a paparazzi asked him if he approved, he shared a resounding no. However, Marcus later set the record straight, saying that his father was just flying high after a big night and is currently in his and Larsa Pippen's corner. (Scottie has yet to publicly comment.) Even more support came from Pippen's Real Housewives of Miami co-stars. So while Marcus and Pippen are sure to have detractors as time goes on, it's evident that they're blocking out that negativity and moving forward as partners.