Major spoilers for the penultimate episode of Loki Season 2, "Science/Fiction" lie ahead.
One week ago, Disney+ subscription holders were treated to a major cliffhanger on Loki. The fourth episode of the show's second season saw Tom Hiddleston's titular character and his allies at the TVA attempt to prevent the destruction of the Temporal Loom, which regulates all of space and time. Unfortunately, their efforts failed, with Victor Timely being spaghettified and the blast from the Loom consuming the principal characters. It was a jaw-dropping moment that left fans eager for answers. Well, we have them now, as the characters' fates were revealed in this week's installment. And amid those revelations, the writers managed to solidify an element of this show that I've loved in Season 2. 
What Happened To Loki And The TVA Crew After The Temporal Loom Exploded?
"Science/Fiction" picked up moments after its predecessor, with the Asgardian trickster standing in the remains of the Loom. However, Mobius, Sylvie and everyone else within the Time Variance Authority was nowhere to be found. What viewers also learned early on was that Loki was once again time slipping in the TVA and as a result, began bouncing to different (and dying) branched realities – where each of his buddies were living disparate lives. 
Eugene Cordero's TVA receptionist Casey was discovered in 1962 San Francisco, where he went by the name of Frank and was escaping Alcatraz with two other inmates. Wunmi Mosaku's Hunter B-15's life on the timeline was a bit more traditional, as she was a medical worker, Dr. Willis, in 2012 New York. Meanwhile, Ke Huy Quan's Ouroboros (O.B.) wound up in Pasadena, California of 1994, where he was a failed writer and struggling physicist named A.D. Doug. And don't worry, guys, all was also well for Owen Wilson's Mobius, who ran a sports gear store as family man Don in 2022 Cleveland. The God of Mischief encountered each one of them while time slipping and, to no surprise, none of them had any memory of him.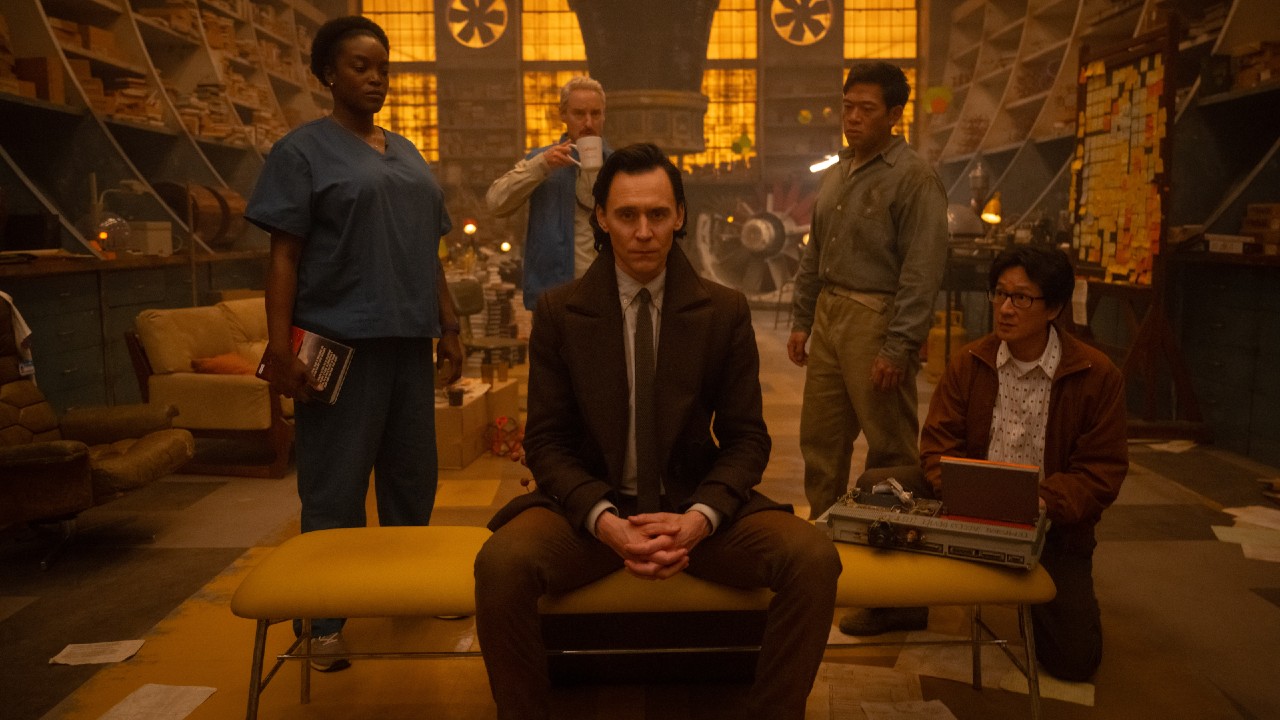 After convincing Doug of the TVA and the multiversal threat, Loki teamed up with him to create a TemPad. Using that device, the two ultimately recruited their allies and coaxed them to join their cause. The lead antihero also located Sophia Di Martino's Sylvie, who not only remembered him but was back in 1982 and working at McDonald's again. As a whole, this was definitely a "getting the band back together" sort of episode, and it further drove home one part of this season that's been great so far.
What's The Aspect Of Season 2 That Was Strengthened In This Episode?
The first season of this particular Marvel Cinematic Universe made it incredibly clear that the eponymous character was the main focus. While those first six episodes featured the other characters like Mobius and Sylvie, they were mainly about the lead protagonist's journey. That's changed a bit in Season 2, as the writers have really highlighted the other players on the board. In other words, this season has felt more like a series bolstered by an ensemble rather than a single star.
That couldn't have been clearer through this episode, as Loki was forced to confront the true reason why he's been wanting to save the TVA. During a conversation with Sylvie, in which the pair talked about selfishness and personal desires, the demigod arrived at the conclusion that he wants to repair time and space simply to get his friends back and preserve the life he's been enjoying. It was an obvious epiphany but an important one that signified massive growth for the character. While this has been clear all season, it's now more evident than ever that he needs his friends' strength – arguably even more than they need his own. Not only that, but this just lends further credibility to the fact that this show as well needs the talents of its entire cast to succeed. To that point, this episode mostly did a solid job of utilizing their talents. 
Hopefully, the actors bring their A-game next week for the 2023 TV schedule entry's season finale. This episode ended with Loki ultimately learning how to control his time slipping and preventing the end of all existence. And the final frame showed him seemingly transporting himself back to the final moments before the Temporal Loom was destroyed. It's hard to say how all of this is going to end, but I'm hopeful it'll be an exciting piece of programming that continues to build on the chemistry amongst this ensemble of stars.
New episodes of Loki can be streamed on Thursdays at 9 p.m. ET/6 p.m. PT on Disney+. Anyone who's already dreading the end of the season can check out the schedule of upcoming Marvel TV shows to see what's next on the docket.