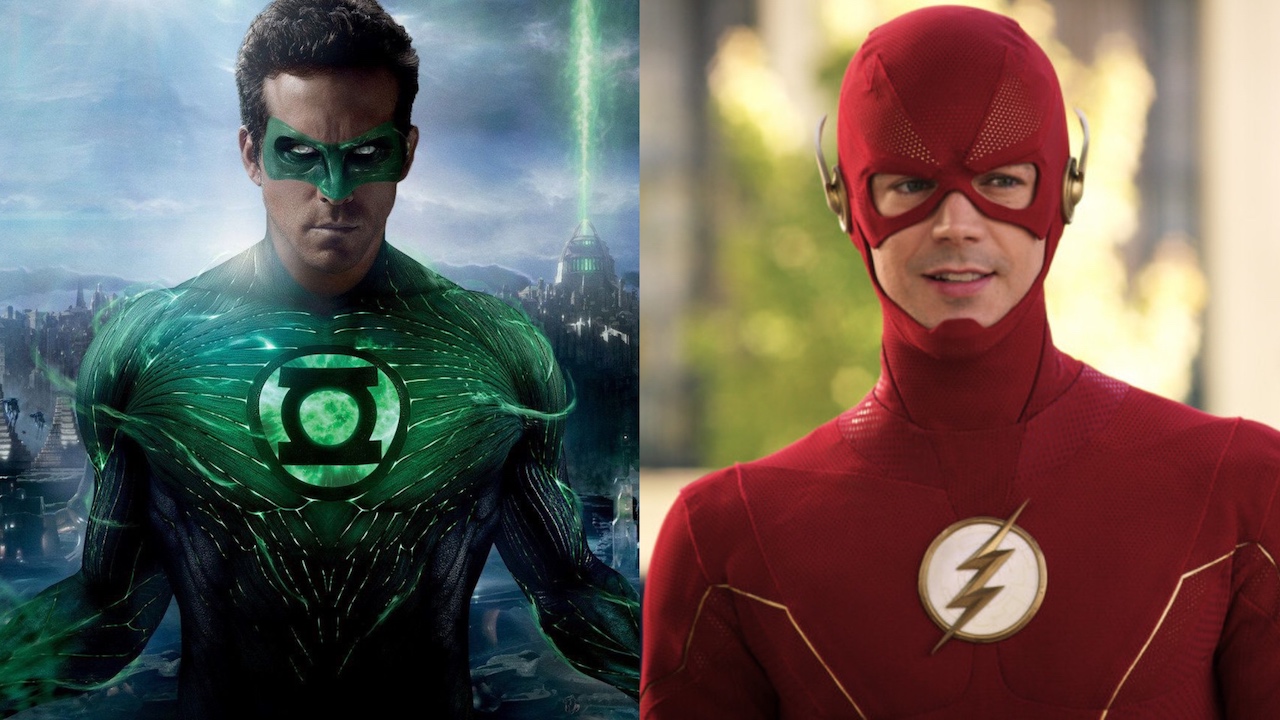 Ryan Reynolds and the other Deadpool 3 cast members might still be waiting for the threequel's production to resume with the conclusion of the SAG-AFTRA strike, but that doesn't mean the Wade Wilson actor can't still do a little performing. In recent years, Reynolds has frequently appeared in ads for companies he owns or is partnered with, including Mint Mobile (where he once teamed with Rick Moranis) and Aviation Gin (which often uses to celebrate Father's Day). The actors' latest ad sees him teaming with The Flash's Grant Gustin, and in addition to obviously referencing the latter being DC Comics' Scarlet Speedster, I also dug how a nod to the former's Green Lantern movie.
Reynolds and Gustin were paired together for an ad about MNTN, a company that sells television software. Rather than playing himself, Gustin appears as Seymour Moas, MNTN's chief performance officer who's there to tout its services to advertisers. Only, Reynolds, who's the company's chief creative officer, doesn't shy away from not-so-subtly implying he's standing next to the man who played the Arrowverse's Flash, as evidenced by him dropping lines like "Sounds fast" and "… Could see results in a flash?" See for yourself:
The ad would have been amusing enough with those references to The Flash TV series, but the cherry on top of this proverbial sundae is it capping off with Ryan Reynolds telling "Seymour" that "You'll always be my Barry," to which "Seymour" responded, "You'll always be my Hal," leading Reynolds to counter, "That hurts, Seymour." This is, of course, referring to Barry Allen and Hal Jordan, the respective identities of their versions of Flash and Green Lantern. While The Flash remains the jewel of Gustin's acting resume, Reynolds often jokes about at his time on Green Lantern, so it's hardly surprising that he'd take offense to "Seymour" fondly remembering his take on Hal. I wouldn't want anything less from him!
Reynolds debuted as Hal Jordan in 2011, two years after his first outing as Wade Wilson in X-Men Origins: Wolverine. While there had been plans to make Green Lantern 2 and perhaps use the first movie as a launching pad for a shared universe, Green Lantern's critically and commercially underwhelming performance resulted in those plans being scrapped, and Man of Steel was instead the first entry in the DC Extended Universe. Fortunately for Reynolds, he got another bite at the superhero lead apple when he got to bring a more faithful version of Deadpool to life in 2016, and he's still breaking the fourth wall as the Merc with the Mouth to this day.
As for Gustin, following his debut as Barry Allen in Arrow Season 2, he started leading The Flash TV series in 2014, and that show concluded this past May after nine seasons. Funny enough, The Flash premiered on The CW one week before Ezra Miller was announced to be playing the DCEU's Barry, and it ended a little under a month before The Flash movie finally came out. Unfortunately, Gustin was not among the cameos squeezed into the latter project, but perhaps there will come a day when he'd be game to suit up as the Fastest Man Alive again… more so than Reynolds wanting to reprise Green Lantern, at least.
In addition to The Flash wrapping up, this year also saw Grant Gustin starred with Lucy Hale in the Freevee movie Puppy Love. Ryan Reynolds' last lead role was in the Christmas movie Spirited, which can be streamed with an Apple TV+ subscription, and if the actors strike ends soon, he may be able to resume work on Deadpool 3 by next January. However, that would still necessitate it be moved off its current May 3, 2024 release date.