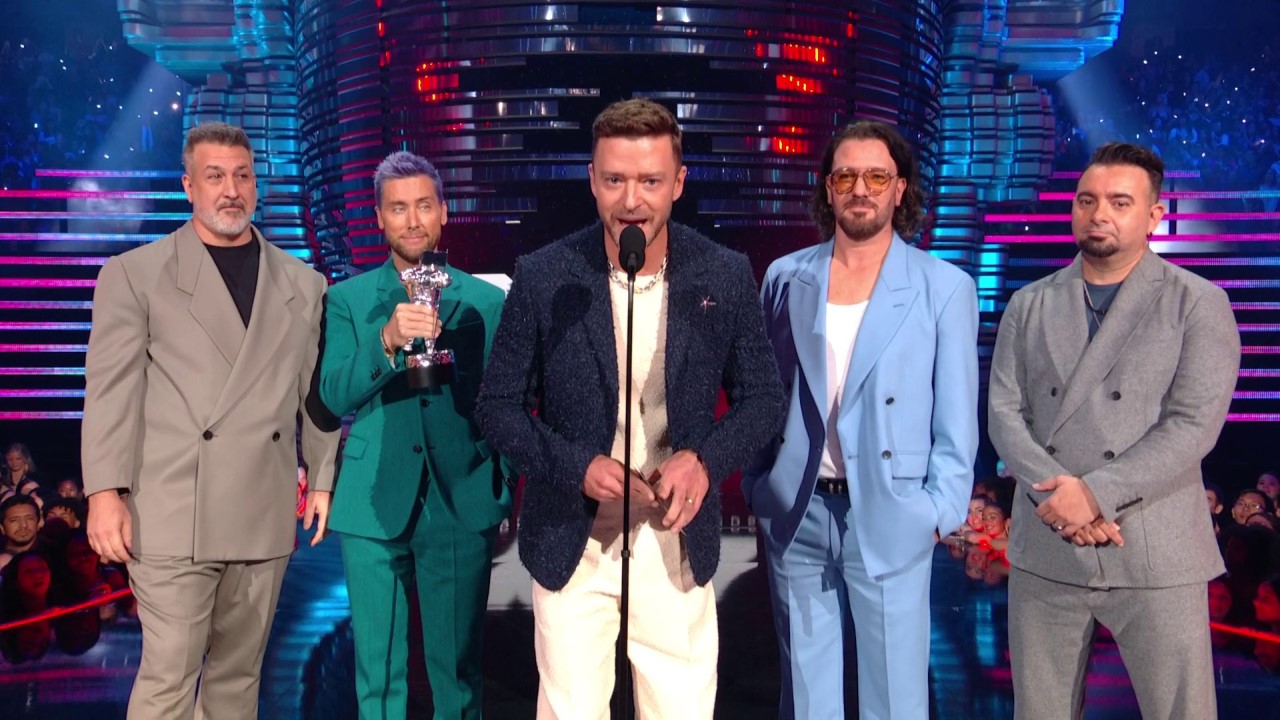 This year's MTV Video Music Awards gave audience members in the crowd and at home plenty of reasons to fan out, from Taylor Swift's boozy dancing to all the wildly revealing fashion to all the classic rap and hip-hop performances. For boy band fanatics, however, the night began and ended with the on-stage reunion of *NSYNC members Justin Timberlake, Joey Fatone, Lance Bass, J.C. Chasez, and Chris Kirkpatrick. The hit-making fivesome honored the aforementioned Swift with the Best Pop Award, but that's like, so in the past now, and fans want to know if we can expect a full-on tour next.
Even if the VMAs reunion wasn't preceded by the news that Justin Timberlake's fellow *NSYNC vets joined him for the soundtrack to the upcoming animated sequel Trolls Band Together, there would still be plenty of people wondering whether or not the pop group would be taking the stage around the country for tour dates. And while appearing at '90s Con in Tampa (via People), Joey Fatone addressed the reunion and then (presumably honestly) admitted the future isn't yet locked down. In his words:
Here's the thing: I kind of feel like Fatone would be more straight up about the group not having any intentions to tour if that were the case. Sure, he's been cheeky about such things in the past, as a way to not just destroy fans' hopes on a constant basis. But he might be more invested in letting people down slowly, as opposed to keeping the door open for speculation just for the hell of it. 
As such, I think it's relatively safe to allow oneself to believe that there is the slightest of chances that *NSYNC's members have not fully shut down the concept of a reunion tour, or even just a one-off concert should a full tour schedule be too hard to finagle. Though that's obviously all just pure conjecture, based more on knowing how many people would throw money at such an event, as opposed to actual insider info.
Joey Fatone did offer some advice for how fans could help cement such a tour getting off the ground, saying:
Yelling probably works better than asking nicely when it comes to the execs that would be able to greenlight such a project. But financial statistics probably ring the loudest in their ears. Maybe the goal should be to have them team up with Taylor Swift during the latter leg of her Eras Tour, which could possibly be spun into a second theatrical concert film.
Even if they don't take it all the way on tour, fans can indeed watch *NSYNC in the throes of pure misery when they appear in the premiere for the newest season of Hot Ones, which drops on September 21. Check out that trailer below!
Hopefully fans can expect to hear some big announcements soon about whether or not a reunion tour is in the works. But if not, at least we'll have Trolls Band Together, which will hit the upcoming film schedule on November 17.