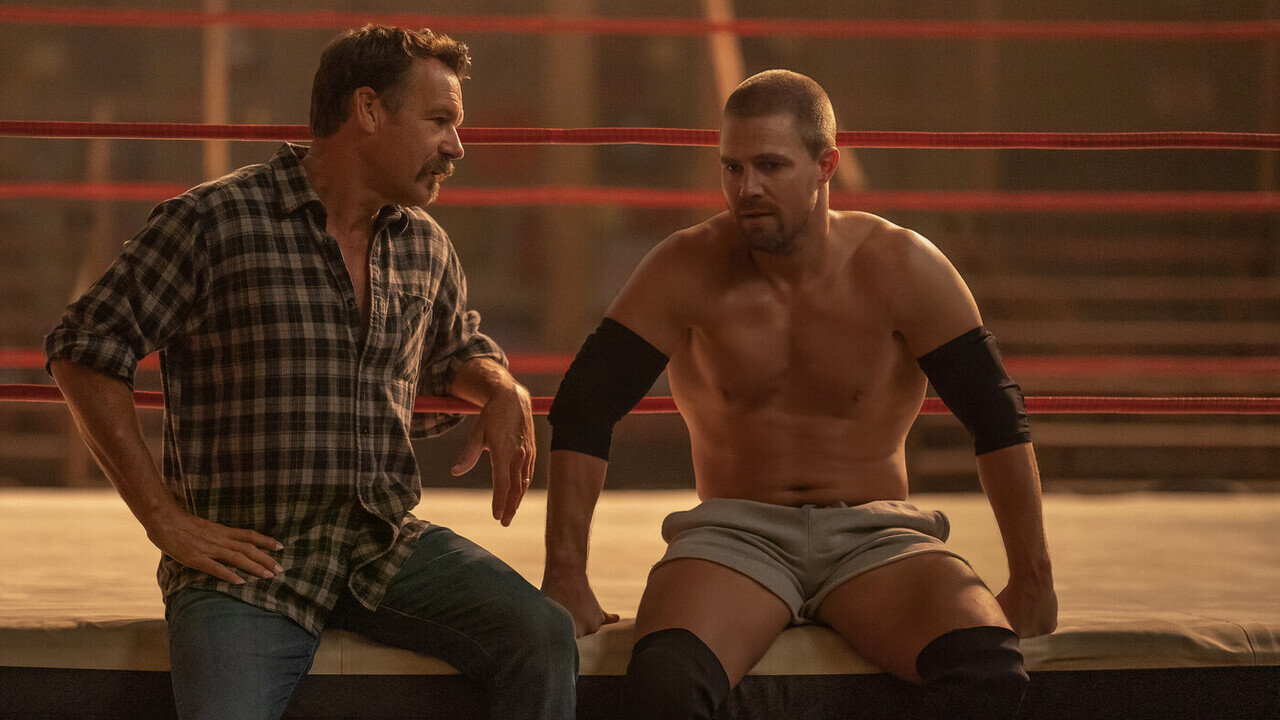 The second season of Heels comes to an end on September 15, and the future of the Starz series starring Stephen Amell and Alexander Ludwig is currently uncertain. The network has not yet announced whether or not Heels is heading toward a third season or will wrap for good with the Season 2 finale. Still, we can look at what news and data has been released so far to speculate about whether the Spades and Co. will come back for another round of episodes. 
Unfortunately, interviews with actors and writers in recent months have been few and far between due to the WGA writers strike and SAG-AFTRA actors strike, so there have been no official statements about the odds that a Season 3 will happen. Stephen Amell, who made waves over the summer with his comments about not supporting striking, didn't drop any clues even when he was the talk of the town. So, let's look at what we do know.
What The Ratings Tell Us
Fans should probably hope that Starz is looking at more than just the ratings to decide on the future of Heels. While Starz ratings are never likely to rival those of bigger networks and a limited number of totals are available publicly, the Live+Same day numbers – a.k.a. the people who watched on the first day an episode is available – aren't too encouraging.
TV Series Finale reports the show's Live+Same average for Season 2 on Friday nights is a rating of 0.01 and audience of 0.039 million, which translates to 39,000 viewers, in the key 18-49 age demographic. According to the outlet, the third, sixth, and seventh episodes tied for the highest rating with an 0.02 each, while Episode 5 is given a rating of 0.0. The largest Live+Same audience is for Episode 6, with 0.056 million, or 56,000 viewers.
To contrast, Starz's Power Book IV: Force – which airs ahead of Heels on Friday nights –is averaging 0.05 rating and 0.2 million viewers, according to TV Series Finale. And just for fun, Outlander – which aired Season 7 on Friday nights before its eventful midseason finale – averaged 0.03 rating and 0.342 million audience, according to the outlet. Basically, Heels Season 2 isn't Starz's top Friday night showing in summer/fall 2023 with its averages of 0.01 and 39,000 viewers.
What Starz Has Been Doing Lately
Of course, viewership numbers aren't everything, but it's worth noting that Starz hasn't been handing down a lot of renewals lately. The most recent were back in January, starting with BMF scoring an early renewal for Season 3 and Outlander getting the renewal for an eighth and final season (as well as the prequel spinoff being greenlit). Power Book II: Ghost was renewed for Season 4 just weeks later. The network also renewed Dangerous Liaisons in late 2022, but reversed that renewal into a cancellation in December of last year. 
That's not to say that Starz has made a habit of reversing its renewals lately. Hightown, P-Valley, and The Serpent Queen are all still expected to produce new seasons, and Power Book III: Raising Kanan has a Season 3 premiere date set in the 2023 TV schedule. So, even if the network hasn't been announcing renewals en masse, it also isn't moving away from scripted fare entirely. 
Heels also fans don't need to take it as a bad sign that Starz hasn't announced the show's fate just yet. The drama was renewed for Season 2 back in November 2021, nearly a full month after the Season 1 finale on October 10 of the same year. The second season finale airing without news of Season 3 is no different than Season 1 ending without confirmation of Season 2. 
The Verdict
In any other September as the summer TV season transitions into fall, I might feel confident predicting the future of a show based on numbers and trends. Unfortunately, the ongoing WGA and SAG-AFTRA strikes mean that the futures of many shows that would otherwise feel safe are unclear. Streamers in particular have been cancelling shows left and right, but we may just have to wait for Starz to make an announcement or an update from a member of the Heels team not currently on strike. 
While I'm not overly confident about Heels being renewed for Season 3, it really is a waiting game at this point with so much uncertainty throughout the entertainment industry. For fans holding out hope, now may be the time to start crossing your fingers!