On paper, Poolman sounds like a win. Chris Pine, still the "Best Chris" in my book, steps behind the camera for the first time to direct a story that's one part The Big Lebowski, and one part Chinatown. Stop right there, I'm in. Then you learn that Pine's original film, Poolman, follows a character that he created while riffing on ideas with Wonder Woman 1984 director Patty Jenkins, and will act as Pine's love letter to Los Angeles, and all the delightful weirdos who hail from Southern California and grew up in and around the Hollywood industry. Again, sounds perfect. Poolman was my most anticipated movie of the 2023 Toronto International Film Festival. But man, did it disappoint, and have me questioning whether Pine should be trusted with another original idea on film again. 
Poolman, much like Chinatown (the movie it blatantly and deliberately steals from), is a Film Noir that involves political corruption in Los Angeles that's tied to the city's water supply. Literal plot points are cribbed directly from Roman Polanski's masterpiece. I guess if you are going to copy a film, Chinatown is an excellent source from which to steal. Only, Poolman's lead character couldn't be further from Jack Nicholson's debonaire Jake Gittes. Instead, Pine plays Darren Barrenman, an optimistic bohemian who lives in a camper parked on the edge of the apartment-complex pool to which he has dedicated his life to keeping clean. 
The pool isn't Darren's only obsession. Apparently he also attends every city council meeting, where he badgers the committee chief about improvements to the city bus schedule, or the benefits of a trolley system in L.A. Because of his dedication and civic pride, Darren is approached by a femme fatale (DeWanda Wise) and advised that the politicians he harrasses actually are as corrupt as he believes, and she goads him into leading an investigation into the possible diversion of precious water in the city during a debilitating drought. 
The Best Murder Mystery Movies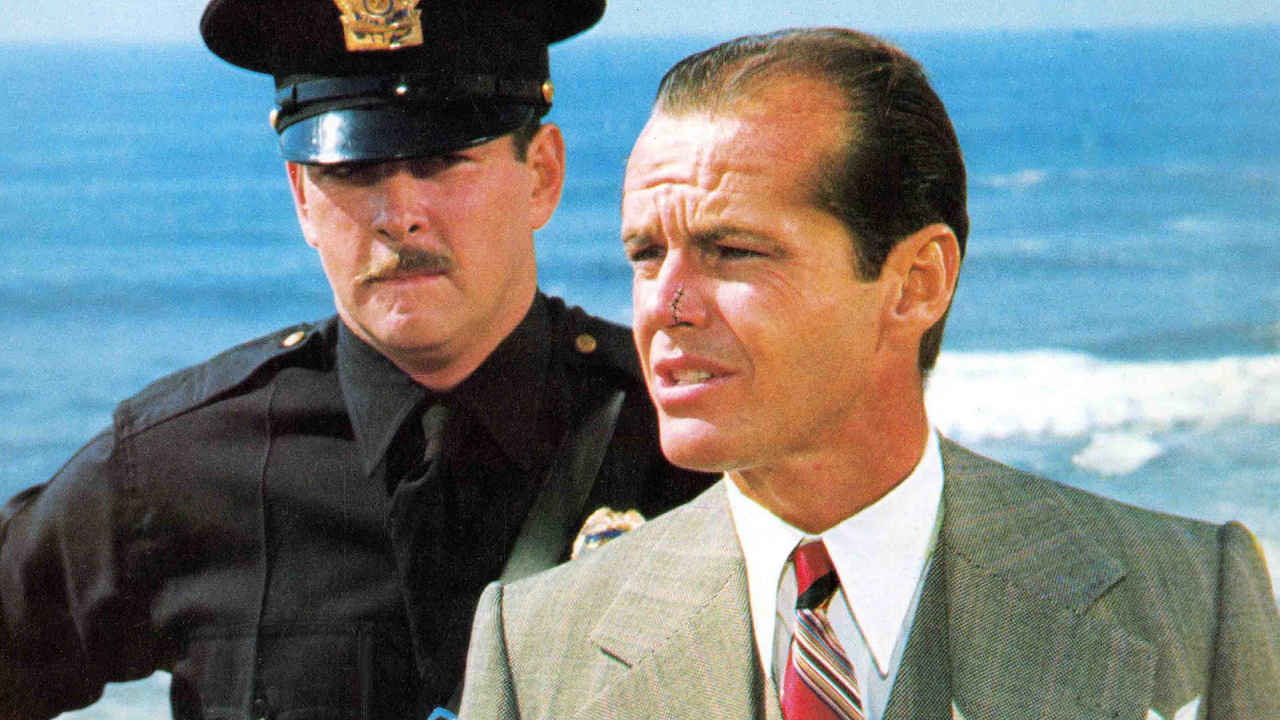 Looking for a better mystery than the one presented in Poolman? Try this list, and you'll find a few winners. 
Chinatown took very similar material and played it serious. Poolman aims for farce, but struggles to find a palatable tone. Pine seems to enjoy losing himself in Darren's goofy spiritualism, and Poolman might have worked if he was the oddball in an otherwise straight story (like Ace Ventura, or The Dude). But everyone in Pine's pedigreed cast is trying something different, and no one appears to be on the same page. Danny DeVito and Annette Bening constantly bicker and veer off on tangents as Darren's closest friends and confidants, Jack and Diane. Jennifer Jason Leigh drifts in and out of Darren's life as his on again/off again girlfriend, a Pilates instructor who whines about wanting to move to Palm Springs to open her own studio. Each scene with these co-stars feel like they're trying to start up a new storyline that has nothing to do with the central mystery, and Pine can't figure out how to streamline all of these together into a workable narrative. 
I can't tell when Poolman takes place. Though painted as a product of the 1940s (or even 1960s) through its costuming and production design, Darren sends daily typewritten letters to Erin Brokovich – and comments on Julia Roberts' portrayal of the activist – while other characters will reference their "three episode arc on Bones." So it's modern… sort of? But the time period also doesn't matter, because the story lacks any worthwhile commentary about Hollywood then, or Hollywood now. As for the mystery, once all of the details are laid out on the table, you realize how nonsensical the entire crime has been from step one, so enduring the obnoxious journey comes with a half-hearted payoff and a dud of a finale.
Poolman's complete and utter failure shocked me because Pine should be capable of so much more than this. The actor has worked with several incredible directors over the course of his career, and assumedly learned a thing or two about cohesive storytelling. Which means the spastic energy and incoherent plotting of Poolman was deliberate, and that's a terrible choice. I'm not sure if Poolman will completely sink Pine's directorial future. It's possible that he finds a better screenplay in which to invest and gets another opportunity. But this colossal misfire guarantees that he has started his directorial career off on the wrong foot. Time to sign on for Dungeons and Dragons 2, and start repairing that image, stat. 
More from Toronto 2023:
Michael Keaton's directorial debut is much better than Poolman.
So was Anna Kendrick's directorial debut, a taut period thriller. 
But Nicolas Cage won the fest with his bizarre comedy Dream Scenario.