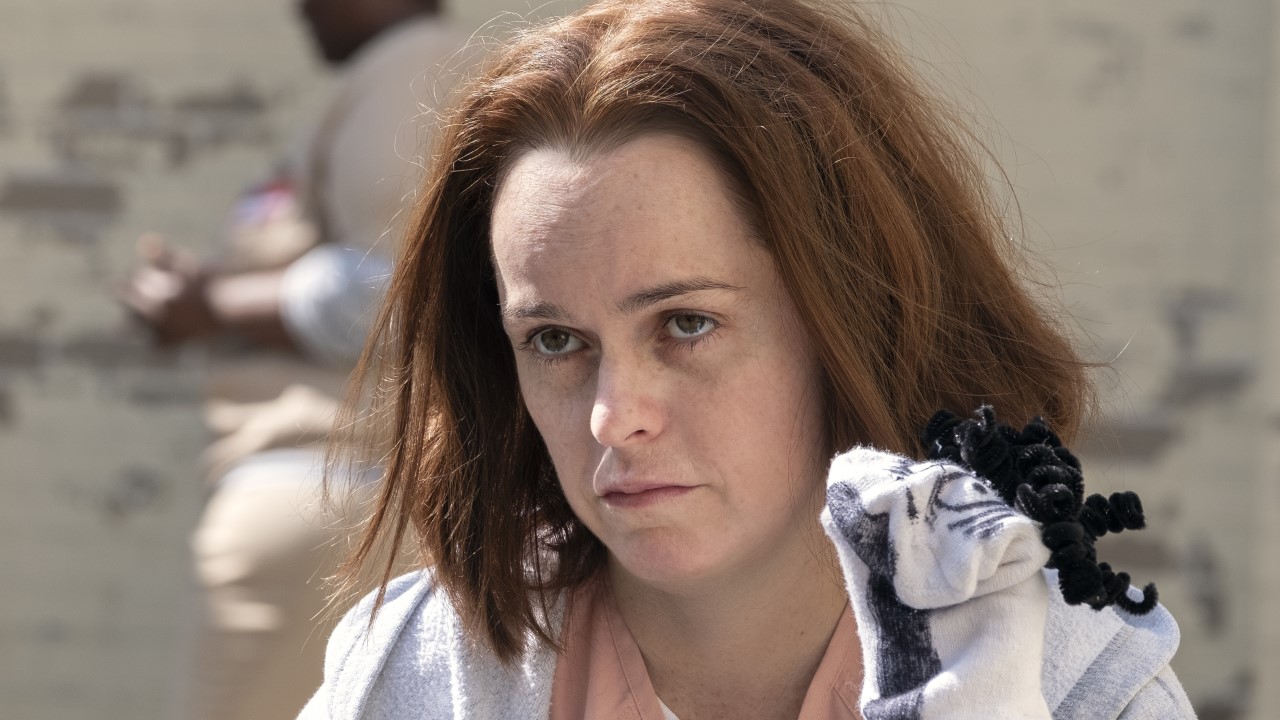 In August, actress Taryn Manning made headline waves upon sharing (and then deleting) a video discussing her ongoing affair with a married man, complete with details about having "licked his butthole" on a near-nightly basis. She's now back at the forefront of the social media spotlight for a variety of posts that respectively called out her former bosses at Netflix's Orange Is the New Black and a Breaking Bad vet that she filmed a TV movie with, as well as married celebs Ashton Kutcher and Mila Kunis.
Orange Is The New Black Accusations
For all seven seasons of Netflix's Orange Is the New Black, Taryn Manning portrayed the role of the redneck meth head Tiffany "Pennsatucky" Doggett, who was arguably most memorable for her grody teeth. She was also at the heart of a very grody storyline involving James McMenamin's CO Charlie Coates. The Season 3 episode "A Tittin' and a Hairin'" featured two scenes of sexual assault, one flashback sequence in which a teenage Pennsatucky is raped, and a present-day scene in which an angered Coates rapes Manning's character in one of the prison transport vans.
Taking to Instagram with a post that has since been deleted (via EW), Manning firmly blamed Netflix and the OITNB for allegedly not offering her any kind of guidance when it came to going on the press cycle and having to talk about Pennsatucky being victimized over and over again. Here's how she put it:
It's a struggle that more actresses than one might expect have had to deal with, especially in more recent years, with sexual assault being depicted on TV and in films with more candidness and realism, and also far more often than ever before. And Manning clearly feels as if she was underserved when it came to preparing her to deal with talking about such dark and traumatic subject matter in interviews. 
What's more, Pennsatucky's arc involving Coates became even more disturbing and seemingly exploitative in the next two seasons, as capped off by a sequence in which the CO watches the prisoner in the throes of masturbatory ecstasy, which she doesn't seem to mind in the moment. One can imagine that having to answer questions about her character's mindset during that stretch would also be a difficult situation.
Taryn Manning Claims She Was Abused By A Breaking Bad Vet
Though she deleted the comments involving Netflix, Orange is the New Black, and showrunner Jenji Kohan, Taryn Manning currently still has a video post up in which she first calls out Ashton Kutcher for a Punk'd red carpet segment that addressed her sexuality, and then namechecked her Hustle & Flow co-star Terrence Howard and Breaking Bad vet Raymond Cruz, with whom she co-starred in the 2015 Lifetime TV movie Cleveland Abduction, with Cruz portraying the notorious kidnapper Ariel Castro. In Manning's words:
Beyond the vaguely positive push for her new song "How I'm Gonna Drive a Car," the rest of that message was quite dour.  Terrence Howard has a history with allegations of physical and emotional abuse. He was accused by his first two ex-wives, Lori McCommas and Michelle Ghent, of physical abuse, and he was reportedly arrested in 2001 for assault, harassment, and more. It's unclear what incidents Manning may have been referring to in calling him out. 
Manning and Raymond Cruz co-starred in the Cleveland Abduction project back in 2015, with the latter portraying the notorious kidnapper Ariel Castro, and the actress playing victim Michelle Knight. Press interviews at the time did not indicate any abusive issues behind the scenes, but one has to wonder if anyone else will speak up to back up her claims. 
Taryn Manning Put Ashton Kutcher On Blast Over Punk'd Segment
In Manning's initial post slamming Orange Is the New Black, the actress also addressed her friendship with convicted rapist Danny Masterson, and defended the idea of still being able to look back at memories of their friendship in a happy way without the thought of the crimes he's currently serving jailtime for. At the same time, she also slammed Masterson's former That '70s Show co-stars Ahston Kutcher and Mila Kunis, who publicly apologized after they were outed as having shared positive character judgment letters for Masterson as related to the trial process. 
Taryn Manning posted a message on Instagram Stories that took further aim at the aforementioned couple, saying:
The Sons of Anarchy vet's "M.C." comment referred to Mila Kunis' ex Macaulay Culkin, whom she dated from around 2002 to 2011. It's unclear what went on during this alleged plane ride, however.
Whether or not anything further will come from all these claims remains to be seen. Manning previously apologized after publicising her relationship with a married man, but these comments are obviously on a completely different wavelength, and could potentially lead to some form of repurcussion if those accused speak out.
Orange is the New Black can be streamed with a Netflix subscription, and the same goes for Breaking Bad.