Warning: SPOILERS for the Ahsoka episode "Shadow Warrior" are ahead!
In last week's game-changing episode of Ahsoka, titled "Fallen Jedi," Rosario Dawson's title character was tossed off the side of a cliff and into the oceans of Seatos after losing her duel with Baylan Skoll. However, rather than drowning just minutes later, Ahsoka Tano found herself in the World Between Worlds, a mysterious location she'd previously visited in Star Wars Rebels. 
This time around, she came face-to-face with her old Jedi Master Anakin Skywalker, reprised by Hayden Christensen, and his presence in this week's episode, "Shadow Warrior," paved the way for her to revisit key Clone Wars memories. And yet, while these flashbacks were stellar, I wish this episode also could have revisited a key Rebels moments.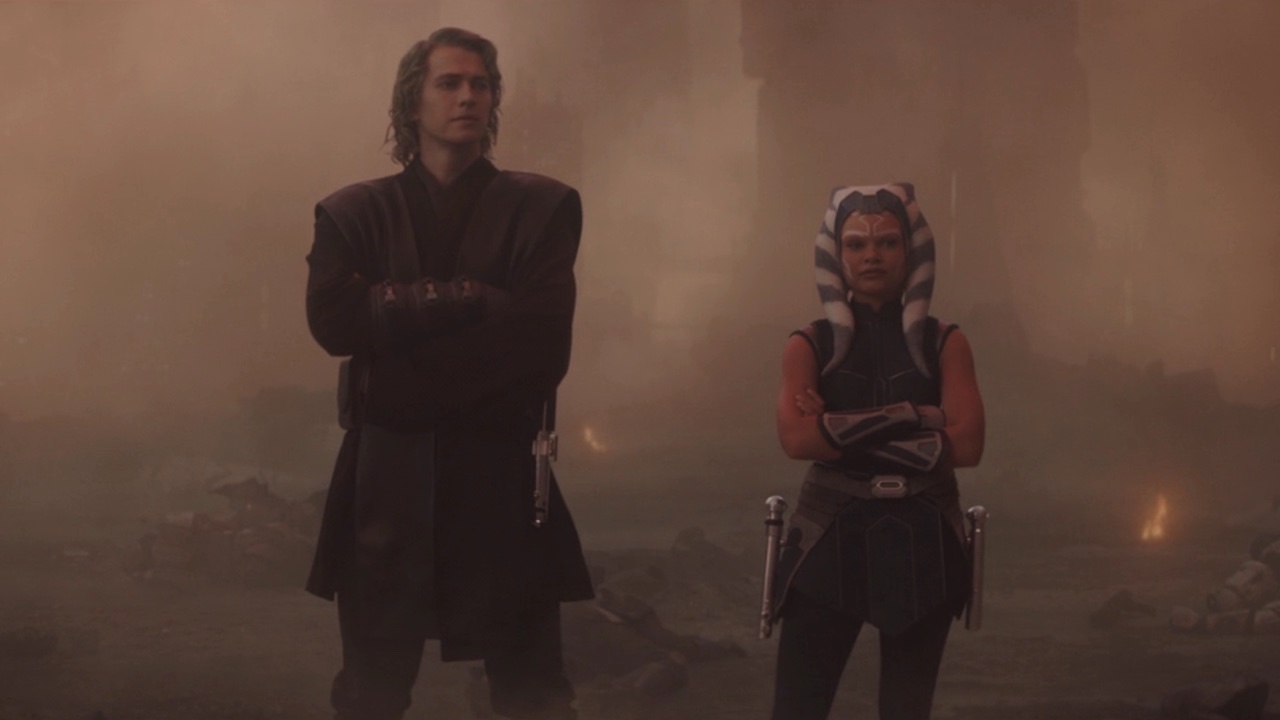 The Clone Wars Events That Were Revisited
Let's discuss the flashbacks first. After briefly dueling his former apprentice and seeing how skilled she was all these decades later, this Anakin, whether he was the real deal from the great beyond or some projection crafted by the World Between Worlds, he decided to take her back to two key battles from her time in the Clone Wars. This was done almost in a Christmas Carol-style way, with Anakin intending to teach her that she left behind more than just a legacy of "death and war" and convince her to "choose to live."
First, they visited the Battle of Ryloth, one of the earliest Clone Wars conflicts and among the first times that Anakin and Ahsoka fought together, with the younger version of the latter character being played by Avengers: Infinity War and Barbie's Arianna Greenblatt. As such, this was also one of the first times Ahsoka experienced the horrors of war, and it was up to Anakin to guide her through this difficult period and teach her how to keep fighting onwards.
Then we visited the Siege of Mandalore, which was the final Clone Wars battle Ahsoka Tano participated in. Although she and Anakin were no longer apprentice and master by this point, they did briefly reunite prior to the battle, as seen in The Clone Wars Season 7, but Anakin didn't actually take part in it. This Anakin apparition, on the other hand, stuck around and continued chatting with Ahsoka after she'd finished slicing up some Mandalorians allied with Maul. I'd be remiss idk I also didn't mention that both Clone Wars flashbacks briefly showed off Captain Rex, the Jango Fett clone who became one of Ahsoka Tano's closest allies.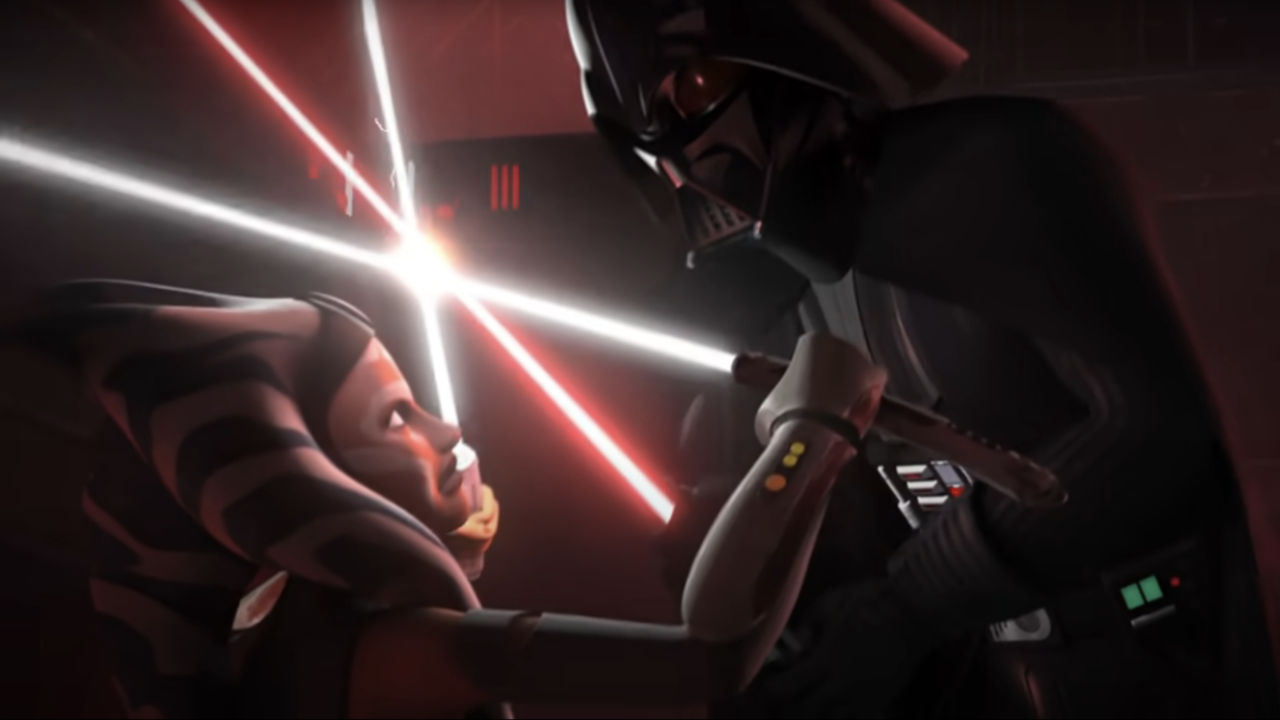 The Star Wars Rebels Event I Wish Had Been Revisited
And that's where the flashbacks ended, and while these moments were great, I wish some time had also been dedicated to revisiting Ashoka's duel with Darth Vader on Malachor, which occurred in the Star Wars Rebels Season 2 finale. This was the first time these two had seen each other since the Clone Wars, and while Ahsoka tried her best to bring the man she once knew as Anakin back into the light, he resisted. The duel ended with Ahsoka staying behind in the crumbling Sith temple to stall Vader so the Ghost crew could escape. It was only in Rebels Season 4 that viewers learned Ahsoka survived thanks to the Ezra Bridger from the present day period pulling her from that past event into a portal to the World Between Worlds.
Now to be fair, we did get echoes of Darth Vader in "Shadow Warrior," between the silhouette of the Sith Lord's cybernetic form being shown a few times, Anakin Skywalker's eyes turning yellow like they did on Mustafar in Revenge of the Sith, and his lightsaber blade turning from blue to red. Still, it would have been cool to see the Ashoka vs. Vader duel from Rebels be recreated. Obviously having the entirety of their clash probably would have been too much, but even just replicating a few swings and slash in that Malachor temple would have sated my appetite nicely.
In any case, by the end of the new Ahsoka episode, our main protagonist learned the lesson she needed to from Anakin Skywalker and was also rescued from drowning in the real world thanks to Jane Syndulla sensing her presence in Seator's waters. From there, Ahsoka figured out that she and Huyang could potentially follow Baylan Skoll, Shin Hati and Morgan Elsbeth to that other galaxy by hitching a ride inside a Purrgil, as those space whales can travel through hyperspace on her own. 
With Hera Syndulla staying behind to patch things up with her New Republic superiors, Ahsoka and her droid companion will only be able to rely on each other with finding the captured Sabine Wren and potentially discovering the location of their lost friend Ezra Bridger. Oh, and let's not forget the inevitable, and unfortunate, reunion with Grand Admiral Thrawn, who served as Star Wars Rebels' main antagonist in its latter two seasons.
Stream "Shadow Warrior" for yourself with a Disney+ subscription and keep visiting CinemaBlend for more Ahsoka coverage. Learn what else a galaxy far, far away holds in store for the future by consulting our upcoming Star Wars movies and TV shows guide.