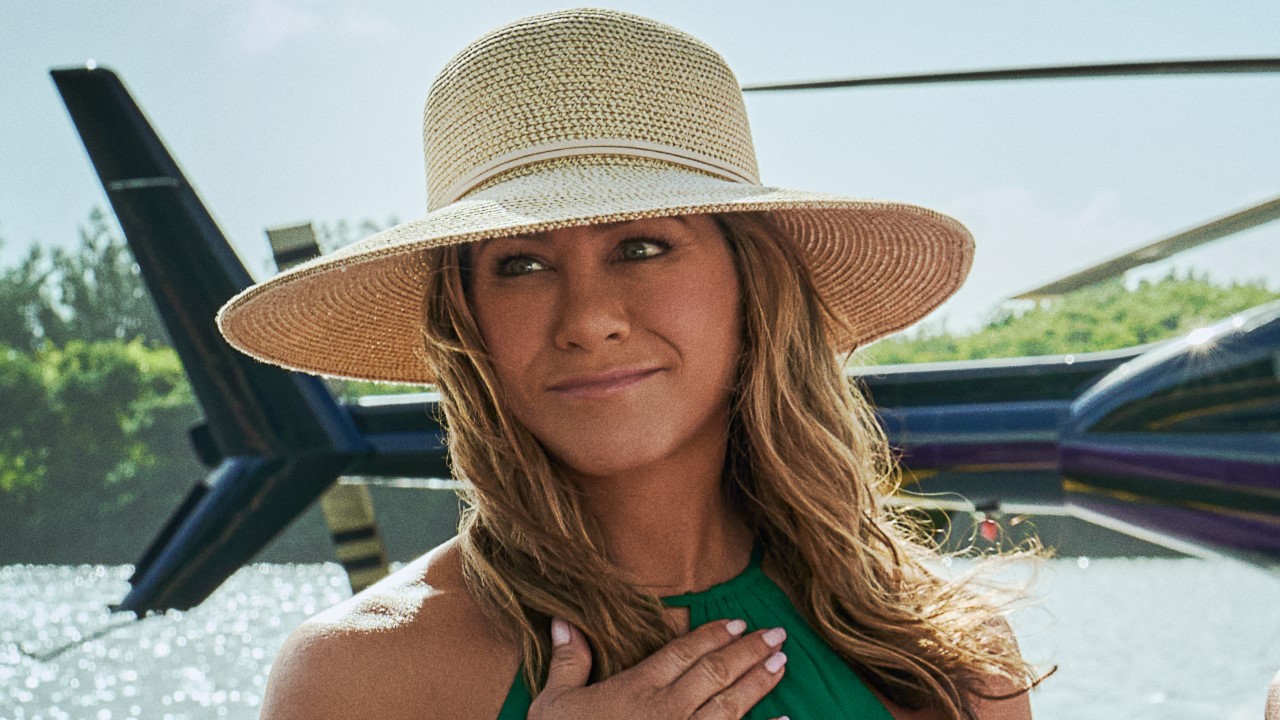 For many people around the U.S., Summer 2023 has been about as miserable as a season can get, at least when it comes to ghastly high temperatures. But it doesn't appear as if mega-star Jennifer Aniston was feeling too put off by any of it, at least not in the latest batch of photos she shared on social media, which feature some good times in the sun with some famous BFFs, her bikini, some cute doggies, and at least one plastic cup that may or may not have had booze sloshing around inside of it.
As seen in the Instagram post below, Aniston has had some summer fun amidst the WGA writers strike and SAG-AFTRA strike with such comedic pros as late night host Jimmy Kimmel, his wife and TV writer Molly McNearny, Aniston's occasional co-star Jason Bateman, his actress wife Amanda Anka, and Lyle, Lyle, Crocodile co-directors Josh Gordon and Will Speck. (The latter pair directed Batman and Aniston in the comedy Office Christmas Party.) Check out the pics and vid below, hopefully from your own sandy slice of heaven.
The first pic of the three women was taken in a positively gorgeous outdoorsy setting, though their dresses don't exactly match the road-and-greenery surroundings. Though one can easily imagine that to the left or right, there could be a massive resort complex where slightly more formal dresses wouldn't be in any danger of getting dusty or grassy. Though if everyone wanted to roll around in the hay, that's their perogative.
The squad does look like they've been having some fun in the group shots. Everybody's smile is just wonky enough to suggest that alcohol and/or other party-friendly substances were part of the celebration, though it could just be the camera. Or maybe Jason Bateman told a joke that was just funny enough to get everyone to the 70% smile mark. Nailing it, JB. 
Other highlights include the lone video, the cute animals, fire [said with best Beavis impression], and…well…those giant strap-on pants with all the wires coming out of the bottom. That's the laymen's term for it, of course, as that's some form of compression/massage pants. Whatever the medical advantages they give, the visual is what sparked a lot of humorous comments. The fans love weird pants, and were jealous.
As far as other comments go, here are a few familiar faces who chimed in with supportive replies.
Fox Sports 1's Emmanuel Acho – You've worked hard, enjoy the fruits of your labor my friend! ❤️
The Parent Test host Ali Wentworth – Perfect summer! ❤️❤️
Big Time Adulting host Caitlin Murray – You can almost feel the good vibes.
Comedian Manon Matthews – Awww❤️
Brazilian actor Julio Rocha – Nothing warms the soul like true friendship and a roaring fire, and happiness is the giant pants you put on when you realize how grateful you are for those moments.❤️❤️
I'm always here to enjoy Jennifer Aniston and Jason Bateman cutting up in any capacity, even if it doesn't involve fire. (Her birthday pics of his snazzy hairdos earlier this year is a fine example.) Here's hoping they get back together onscreen for more chaos in the near future. 
Anybody looking to hear more from Jimmy Kimmel during the extended talk show hiatus can check out his new charitable podcast project alongside fellow late night hosts Stephen Colbert, Jimmy Fallon, Seth Meyers and John Oliver. Or just go listen to Aniston's episode of Bateman's podcast Smartless.