Victoria Monét's debut album, Jaguar II, has achieved a top 10 debut on Billboard's Top R&B Albums chart. 
The album opens at No. 6 this week with 15,000 equivalent units sold. Jaguar II not only appears on the Top R&B Albums chart but also on the following charts: Top R&B/Hip-Hop Albums (No. 22); Top Album Sales (No. 53); and Billboard 200 (No. 60).
Jaguar II marks Monét's first top 10 album on the R&B Albums chart and her second entry on the Billboard 200. 
Elsewhere on Billboard, various tracks from Jaguar II make a splash on several charts. The Kaytranada-produced "Alright" has debuted at No. 13 on Hot R&B Songs.
The current single, "On My Mama," is also making moves on the charts. It debuts at No. 98 on the Hot 100 this week, solidifying Monét's first solo entry on the popular singles chart. Its other chart moves include R&B Digital Song Sales (No. 6); R&B Streaming Songs (No. 12); Mainstream R&B/Hip-Hop Airplay (No. 25); Hot R&B/Hip-Hop Songs (No. 29); and R&B/Hip-Hop Airplay (No. 33).
Jaguar II was released Aug. 25 on RCA Records. It includes the previously shared singles "Smoke" with Lucky Daye and "Party Girls" featuring Buju Banton. The album also features the legendary Earth, Wind & Fire, and Monét's daughter Hazel. 
Jaguar II is the second and final installment of Monét's Jaguar series. Released in 2020, Jaguar debuted and peaked at No. 20 on the Top R&B Albums chart and No. 174 on the Billboard 200. It spent a week on both charts.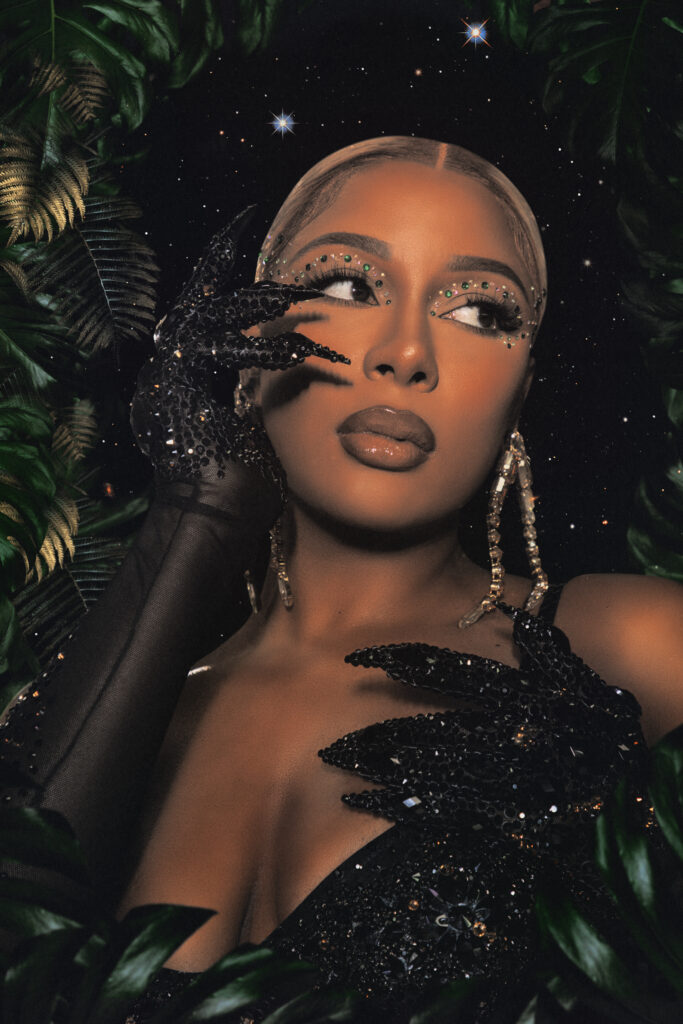 On Sept. 15, Monét will launch The Jaguar Tour at The Howard Theatre in Washington, D.C. From there, she will play in major cities across North America, including Philadelphia, Atlanta, New Orleans, Houston, Las Vegas, New York and Los Angeles.
According to Monét, the tour will include support from Alex Vaughn, Ambré, Kendra Jae, LAVI$H, Leon Thomas, Tanerélle, and Tone Stith on select dates.
Once the North American leg concludes, Monét will travel to London, U.K. to play two shows at Roundhouse on Nov. 12 and Nov. 15. 
Victoria Monét The Jaguar Tour 2023 Dates
Sep 15 – Washington, DC @ The Howard Theatre 
Sep 16 – Philadelphia, PA @ Theatre of Living Arts (TLA)
Sep 18 – Charlotte, NC @ The Fillmore
Sep 19 – Atlanta, GA @ Buckhead Theatre
Sep 21 – New Orleans, LA @ Joy Theater
Sep 22 – Houston, TX @ House of Blues
Sep 24 – Dallas, TX @ House of Blues
Sep 26 – Denver, CO @ Cervantes Masterpiece Ballroom
Sep 28 – Las Vegas, NV @ 24 Oxford
Sep 29 – Phoenix, AZ @ The Van Buren
Oct 1 – San Diego, CA @ SOMA
Oct 3 – San Fransisco, CA @ The Regency Ballroom
Oct 4 – San Fransisco, CA @ The Regency Ballroom
Oct 6 – Portland, OR @ Wonder Ballroom
Oct 7 – Seattle, WA @ The Showbox
Oct 9 – Sacramento, CA @ Ace of Spades
Oct 11 – Los Angeles, CA @ The Fonda Theatre
Oct 12 – Los Angeles, CA @ The Fonda Theatre
Oct 16 – New York, NY @ Terminal 5
Oct 17 – Washington, DC @ The Howard Theatre 
Oct 22 – Chicago, IL @ House of Blues
Oct 23 – Chicago, IL @ House of Blues
Oct 25 – Royal Oak, MI @ Roal Oak Music Theatre
Oct 26 – Toronto, ON @ History
Oct 30 – Boston, MA @ Royale
Nov 12 – London, UK @ Roundhouse 
Nov 15 – London, UK @ Roundhouse