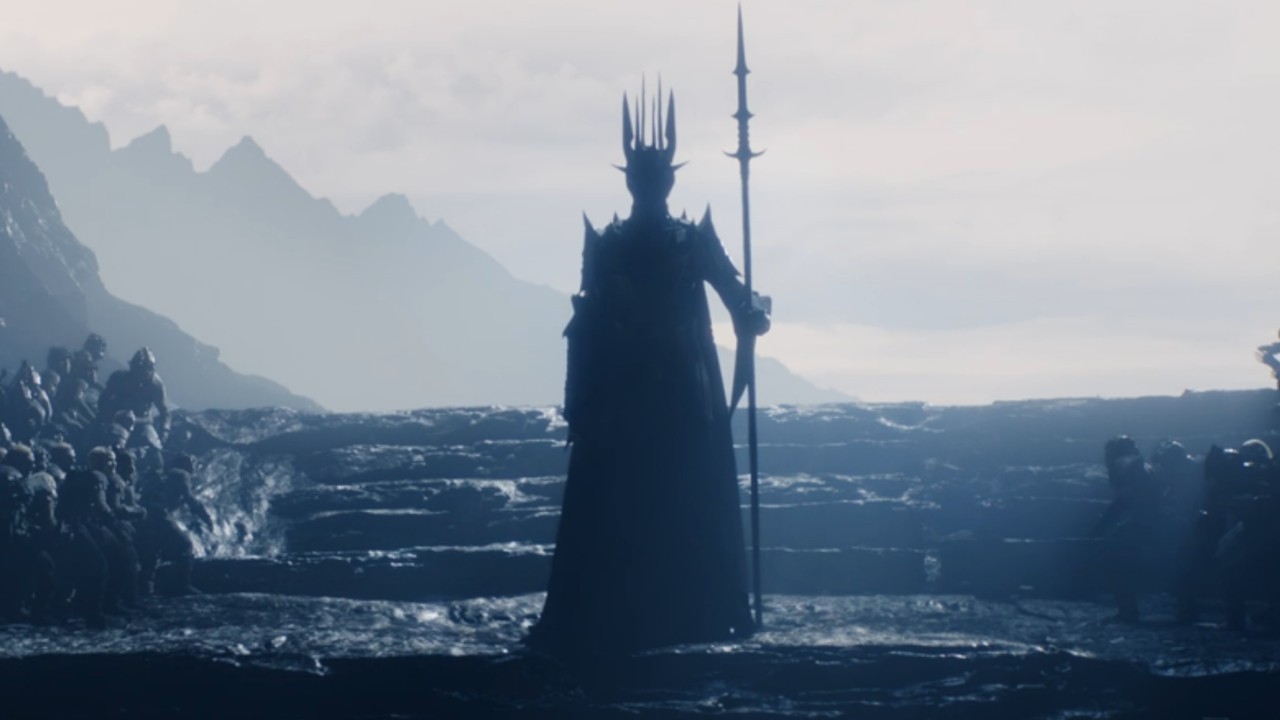 Sometimes, when an answer is clearly revealed, it's hard not to second guess the revelation and be a tad suspicious. Well, this is now happening with Lord of the Rings: The Rings of Power when it comes to the intense reveal that Halbrand, the man who had helped Galadriel on her journey, is Sauron. According to a new theory, Charlie Vickers' character might not be the man behind the biggest bad of Middle Earth. And I must admit, I think they might be onto something.
Throughout Season 1 of Rings of Power there was a lot of speculation about which character was Sauron. Then, in the finale, it was explicitly revealed that Halbrand was the biggest threat to Middle Earth. According to CBR, fans are now suss over this reveal, and some of them aren't totally on board with the human being Sauron. Instead, they think the real Halbrand died or was captured, and Sauron shape-shifted into him later on. 
So, for some context, in Rings of Power, Mount Doom erupts in Episode 6, and fans have theorized that Halbrand got caught up in that and was either injured, killed or captured by Sauron. Due to this, some viewers are speculating that we actually saw the real man Halbrand up until the final episodes of the show, and Sauron shape-shifted into him before going back to Galadriel and the Elves. 
This theory hinges on the fact that in The Silmarillion Sauron shapeshifts into four forms during the First Age, per CBR. Then in the Second Age, he turns into a "fair form" so he can deceive the elves and get the rings made. We know this is the case in the show too, the actor behind Halbrand, Charlie Vickers, even said Sauron is the "world's greatest method actor." In other words, he knows how to commit to a bit. So, it would track that Sauron chose Halbrand to shapeshift into after the eruption because he was a "fair form" and someone the elves already trusted. 
Along with this, some fans are also theorizing that there's no way Sauron could have committed that hard to being Halbrand for the whole season, because he would never do anything to save the men and the elves. In the season, Vickers' character saves Galadriel in the Sundering Seas and fights off Orcs. Why would he do that, when those people are who he's trying to overtake?
According to the theory, Halbrand was also at the beginning of a hero's journey that mirrored our beloved Aragorn in early episodes. He was on a quest to bring back his homeland and become a king. Logically, it would make sense that the real Halbrand was actually on his way to becoming a hero, however, things got mixed up, and at some point, Sauron took him over, and the Halbrand at the end of the series is not the real one. 
I must admit, I'm buying this theory, I think it makes a lot of sense. Sauron taking over Halbrand's body later, and not being him the entire time seems logical. However, the show does not want us to believe that. In the series, we're shown how the big bad has been deceiving and planning in the background of the whole season. Also, there are musical cues worked into Rings of Power that tease Halbrand's true identity. However, who's to say this isn't all one big ruse, and in reality, there is a real Halbrand out there somewhere and he's not Sauron. 
However, this theory could be completely wrong. While I can buy into it, the counterargument also makes sense. Sauron has been around forever, and if he knows how to do anything it's play the long game. So, coming up with such a methodical and uncharacteristic plan is totally within his wheelhouse, especially if it means the rings will get made.
I guess we won't know 100% if this theory is onto something or not until Season 2 of Rings of Power premieres. However, I'm sure we'll learn more about how Sauron pulled off this great deception and whether or not it included him being Halbrand the whole time soon, because Season 2 promises to have bigger battles and a ramped-up story now that we know who Sauron is. 
To see if this theory makes sense to you in the context of the Lord of the Rings prequel, you can stream Season 1 of Lord of the Rings: The Rings of Power with an Amazon Prime subscription.