Dante Bowe is living his life unapologetically, even amid what he calls "a transitional season."
The inspirational singer and songwriter made his introduction in 2017 with his debut album, Son of a Father. "I was just a kid at that time — early twenties — discovering myself," Bowe tells Rated R&B over a Zoom call. "[I] never had an album before, so just figuring out who I am sonically and lyrically. I did that first album by myself."
In the following year, the Rockingham, North Carolina, native joined Maverick City Music, a worship music collective, as a founding member. They released their first album, Maverick City, Vol. 1, in summer 2019, and consistently followed up with a series of albums and EPs.
Maverick City quickly made a name for itself with its mission "to be a megaphone for a community of creatives that believe in Jesus and the Gospel, but have been pushed to the margins of the industry of Church Music," according to its website.
The collective had the industry buzzing with its four nominations at the 64th Grammy Awards in 2022. At the same ceremony, Bowe had two additional nods outside of his work with Maverick City. His 2021 single "Joyful" from his sophomore album, Circles, was nominated for Best Gospel Performance/Song.
Though Bowe didn't win for his solo material, he did take home a Best Contemporary Christian Music Album trophy for Old Church Basement, Maverick City's joint album with Elevation Worship.
Things took a turn in September 2022, when Maverick City announced their decision to "pause" their professional relationship with Bowe "due to behavior that is inconsistent" with their values and beliefs.
The ambiguous statement quickly sparked conversations across social media, with many speculating on the cause of the paused relationship. Some believed it was because he shared a video on Instagram Stories of him singing along to a Bad Bunny song on a party bus.
A couple of days after Maverick City's statement, Bowe released a statement apologizing for "the impact" of his behavior. He also announced that he was taking "a step back" to reflect. During Bowe's social media hiatus, he started working on music, which would lead to his self-titled album, released July 21 on his TRUE Music label.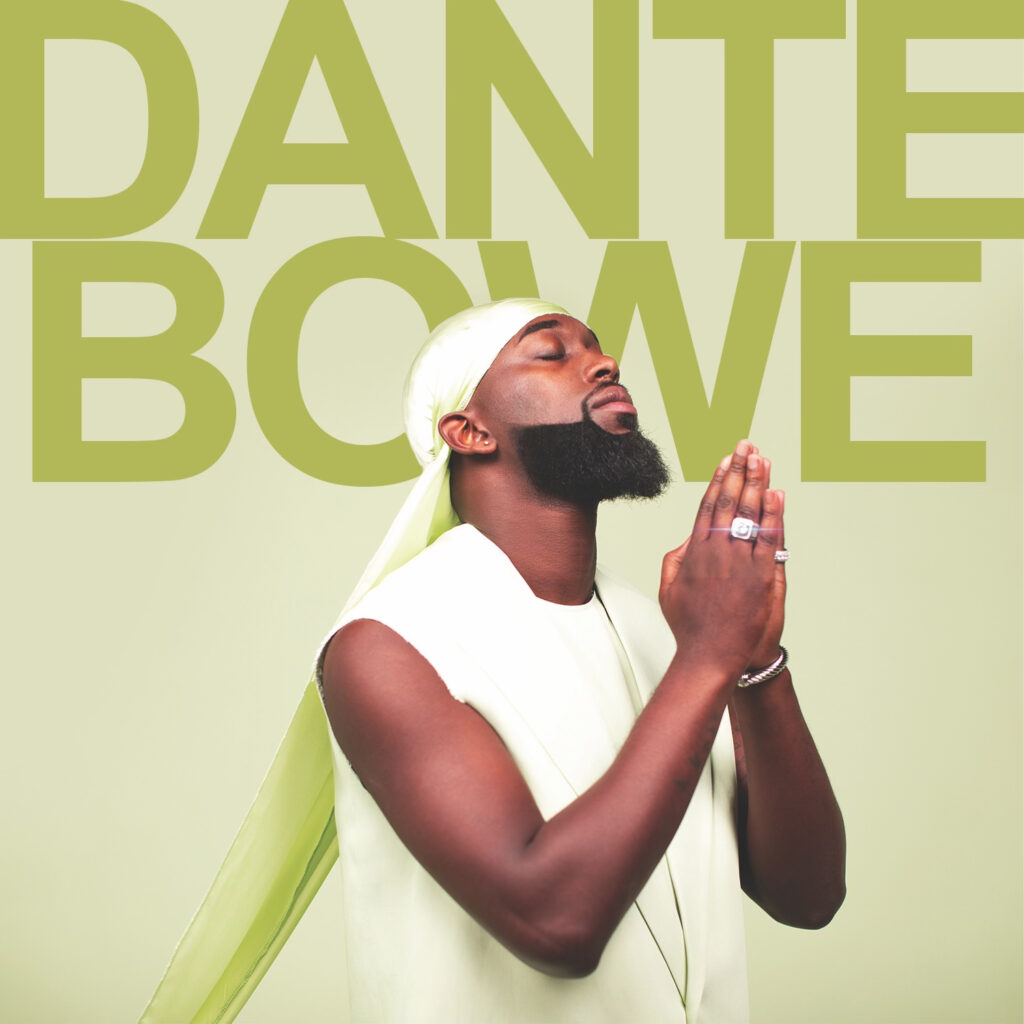 Bowe didn't overthink his approach to the album. "Over time, you just end up creating what's just in your spirit. I wanted to be a lot more honest," he explains. "I'm growing up. I'm starting to not care about what people think the older I get. I wasn't trying to people-please in and of itself on this album. The next album will be even more bold. Right now, I just felt very free and wanted to create what was true to me."
Dante Bowe is a sprawling, 14-track album dosed with R&B, gospel, hip-hop, reggae, Afrobeats and pop. "It's just everything dealing with Dante Bowe," says Bowe, who grew up enjoying a range of artists such as Aretha Franklin, Lauryn Hill, Kirk Franklin, and Jay-Z. The album is a celebration of life, embracing the joyful moments and resiliently navigating its challenges.
"This project represents my creative evolution and a bold step towards pushing boundaries," Bowe explained previously. "Through soulful melodies, infectious beats, and deeply-rooted lyrics, I've crafted a sonic journey that bridges the gap between different musical worlds."
Dante Bowe includes singles such as the reggae-tinged "Wind Me Up" featuring Anthony B and "Breaking All My Rules" featuring Vic Mensa. The album also features Ada Ehi, Flavour and Jekalyn Carr.
In Rated R&B's interview with Dante Bowe, the Grammy winner discusses his self-titled album, his experience running a label, the joys of no longer being a people-pleaser and more.
You mentioned this project represents your creative evolution. How have you grown creatively since your first album, Son of a Father?
I've just grown up. I've experienced a lot more. I've seen a lot. I've done a lot. I've been exposed to a lot. My writing is a lot more well-rounded, and I feel like it's a lot more relatable.
When you started working on your self-titled album, did you know what direction you wanted to take?
No, I didn't, actually. I think I had a whole other idea and concept. Over time, you just end up creating what's just in your spirit. I wanted to be a lot more honest. I'm starting to not care about what people think the older I get. I wasn't trying to people-please in and of itself on this album. The next album will be even more bold. Right now, I felt very free, in the moment and wanted to create what was true to me. It was honest to me, and that's what made it morph into this R&B sound. I still have gospel on it as well. It's just everything dealing with Dante Bowe.
"Take Me Up" is a feel-good, summer-like love song. What's the inspiration behind it?
That song is just about an ex, honestly. I was in Carmel [-by-the-Sea], California, when I created that song. That's why it has this beachy sound because I was in that phase of it, I guess, at the time, and it ended up not working out. I had never really written about somebody I had talked to or at. So it was trying to exercise that idea of being honest in a song. It's one of my favorite songs. Every time I hear it, I'm reminded of that person. It reminds me of the good parts.
"Wind Me Up," featuring reggae singer Anthony B, is among the standouts on the album. What's the story behind creating that song?
I love that song so much. "Wind Me Up" is after we started working with my new creative director Sean Bankhead. I had heard before it came out a little bit, I don't know if I should say this, but "Party Girls" by Victoria Monét. I was like, "Oh my God, it's so innovative." We were already doing the Island style, so it just made me go back into the studio and do more. I went back to the studio and started working on more songs to fit the album. "Wind Me Up" was one of the last songs. I wanted to do something with reggae and find my voice in that way. I felt like I still hadn't written a song that I was obsessed with. When "Wind Me Up" came about, my friends [and] everybody was just hyped about the song. We decided to put it as a single. But it was inspired by Victoria Monét actually.
Your video for "Wind Me Up" has received some criticism from members of the Christian community for its beach party theme. How do you react to strong opinions shared on social media?
When you get to the place in your career where you have gained a lot and lost a lot, it's a blessing to get to that point where you don't people-please anymore. If people saw me behind the scenes, when I'm reading some of them [comments] when I do decide to read, it's just comedy. It used to stress me out, now I realize it's out of my control, and it is what it is. It doesn't bother me. I'm an advocate for humankind. I know I'm different than most of those specific Christians, so I can't really be like them. If I was gonna be like them, I wouldn't be me. That's how I take it. You might be mad at me 'cause I had girls dancing in my videos with their bikinis on [but] we're on a beach. It's a Jamaican influence. I just feel dumb sometimes explaining it (laughs).
On "Fire," you melodically rap about adversity while shrugging off naysayers. What was your intention with this song?
It was a super late night in the studio. I was just tired. I was just freestyling a lot of it. That's why there's no chorus on it. It's really kind of like an interlude. A lot of people are like, "Finish it or do this or do that." And I'm like, "I really just was having fun." I didn't necessarily think it was gonna make my album until I listened back to the words. It's kind of telling the story in a way that I would want it to be told.
Was it challenging to figure out what you wanted to say or figure out how you wanted to say it?
How far I want it to go. You can only take people where you've been. And I have been to some crazy places in my mind. I felt the wisdom of God and didn't go super deep. It's deep enough where we are right now. I think that the more difficult part is: How do I articulate myself in such a transitional season? It's not even a normal, comfortable season. I made the album sound comfortable. I was actually living an amazing life. I was having fun. I could have definitely gone deeper if I wanted to.
What was your motive for creating "Breaking All My Rules"?
It's about love. At that point, I was like falling in love. I still am with the same person, but at the time, it was [about] falling in love. I wanted it to feel like… very wholesome R&B like how we used to get back in the day. I ended up talking to [the producer] Chaz Jackson, and we wanted to get Chance the Rapper on it. He couldn't do it because he was opening these businesses and was just super busy at the time. He told us to get Vic Mensa. And so we got Vic Mensa, who's like, now my brother. I love him to death. I think he was the perfect one for the actual record. It was a dope collab.
How about "Trouble"?
"Trouble" was one of the first few songs I created. I was just really upset [and] mad. That's one of them songs I could have gone deeper, but I wanted to keep it still chill. The song is about my enemies. I was very specific. I wanted it to come across as this tribal, "we coming for you" type of vibe. Me and [John Webb, Jr.] were creating it. He started playing that beat. I never heard anything like that before. So I'm thinking, "How am I even gonna sing over this?" That tribal verse is the first verse that came to me. That's me talking to even some of those fake fans that I'm just like, "I don't really have to overexplain myself."
Your album is filled with songs that feel good and nourish the soul. Like you mentioned, you could've gone deeper in terms of certain subjects. Why didn't you?
I was having a good time when I was making this album, for real. Even though I had gone through things prior to getting to that point, I felt my zeal for what I do was being renewed. I wanted to go to the past a little bit, but I wanted to bring people up to speed and where I am. A lot of it's vacation music. It is very upbeat and positive because that's just where I was. If I had stayed in that one place, I would've made maybe a more direct album and probably would've had the confidence and felt the peace to do it. But I was like, "It is what it is. My enemy's gonna watch me live a good life." That's kind of what I was on. I was living. I still am.
Coming from the Christian music space to the R&B space, do you feel like you're able to be more expressive than you have before?
Yes. I don't feel like I have to submit myself to everybody's beliefs. Because I've had some success, thank God, I don't really depend on their money or the way they set things up — the award shows or anything like that. And I'm grateful for it all. But I feel like because God's given me some success, I don't necessarily feel like I have to yield everything I do to how they think I should do it, what they think I should, how they think I should talk. I'm not a kid anymore. I don't necessarily feel obligated to be that way.
Your bio states that after you independently released your first album in 2017, the gospel community started reaching out with record deals and such. How has the support been from the same community since releasing this album and your pause from Maverick City?
They all listen to the album, I'm sure. You have people like Anita Wilson, Tye Tribbett and a lot of amazing people who do comment. But no, they don't support me anymore. I say this with all humility: I'm still out charting them. I said it with all humility 'cause I don't need the support of everybody. That's why people pleasing — I don't necessarily need it. I felt like I needed it in the past.
How would you describe your experience running your own label?
I'm not gonna lie; it is hard, but I am having the time of my life. This is something I've always dreamt of doing. I feel more in control, in a good way. I don't care to be in control, but I feel responsible for my future. I don't feel like I'm putting it into the hands of random people who get to decide what I do with myself. It feels very good. The hard work is worth it because, at the end of the day, I can look back at all that we're doing and say, "I had a say so in everything I did."
When you're not working, what do you enjoy doing?
Hanging out with my friends, going on vacations and dates. I'm pretty much the kind of guy that can do anything as long as I'm with the people I love. 
What do you want people to take away from Dante Bowe after they play the album?
I want people to take away the positive message of "you can make it through anything." Nothing lasts forever. I want people to understand life is full of highs and lows. A lot of people might consider it a rollercoaster, but I just believe that's what life is all about. It's taking the highs and the lows and making something good out of it. I hope that people can feel that in the music and I hope they feel inspired to keep going and keep living.
Stream Dante Bowe's self-titled album below.