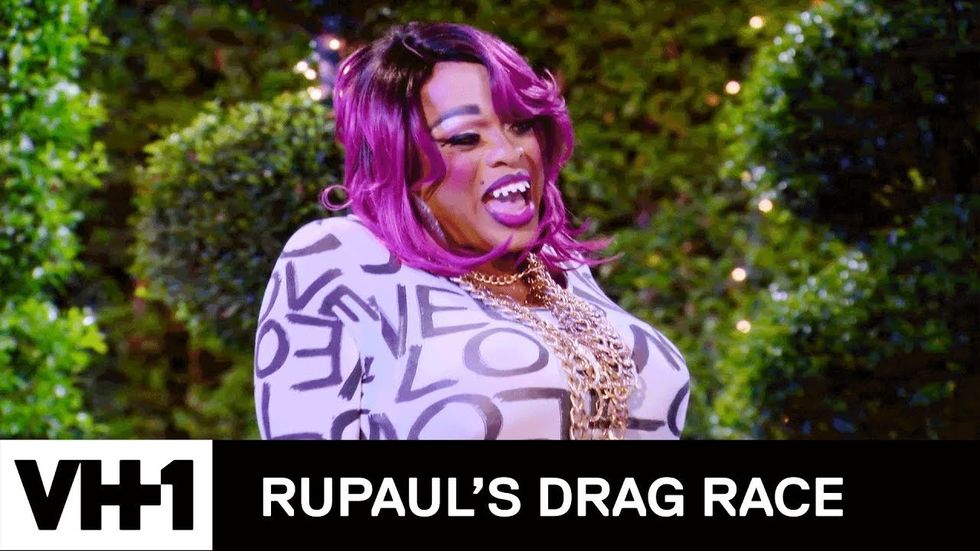 Making up for last week, this episode managed to be one of the most fun and drama-filled episodes of the season. With a fun acting and challenging acting challenge and a surprisingly stellar performance from one Kennedy Davenport – I am so glad to see we're finally getting some of the fun Drag Race is known for. Not to mention, we've got an all out feud that seemed to be cut short pretty quick and a surprisingly somber lip-synch.
It was AMAZING, y'all.
Right off the bat, we start with Kennedy being very upset on Shangela's behalf in regards to Thorgy's less-than-funny-definitely-more-insult-y lipstick message. And then Milk, who is shaping to be the bitch (or at least get the "bitch edit"), chimed in and said that it was supposed to be a joke – and Kennedy was not having it.
Shangela, who sent Thorgy home, didn't care. She reveals that she let Thorgy go, because Thorgy wasn't loyal – and that's not the kind of game Shangela can afford to play.
When they eventually migrate to the couch – BenDeLa reveals she also picked Thorgy. But when asked why, she can't think of an answer that isn't nice – so she deflects to Shangela. Milk says that Thorgy should have stayed and Shangela wanted to know why she had to defend her choice. And now they seem to have quite a feud going.
Hell, Milk seems to be having a feud with everybody at this point.
The next day, we are given the new challenge: The Bitchelor – a improvised parody of The Bachelor. The queens are paired together and will go on a double-date with hottie special guest judge, Jeffrey Bowyer-Chapman. The assignments are:
Aja, The Needy Girl + Kennedy, the Party Girl
Trixie, the Fake Bitch + Milk, the Psycho Stalker
BenDeLa, the Cougar (of course) + BeBe, the Virgin
Chi Chi and Shangela, the Polyamorous Duo
As they get prepped, we see BenDeLa getting nervous about Bebe's lack of a comedic background. And, as much as love Bebe, I see where Ben is coming from. Bebe's idea to play a virginal African princess isn't the worst, but it's also not amazing. Ben's main worry is that Bebe won't let herself not be the regal queen she is – which is very valid.

Aja doesn't seem to know what a needy girl is and Kennedy seems kind of nervous about that – but she seems very confident in herself. Milk and Trixie are both pretty comfortable – Milk really wants this to be the challenge she wins, but so does Trixie.
And poor, unfortunate Chi Chi is TERRIBLE at improv, and Shangela is trying to help her – but it's not really working out. At least, according to what we're shown.
So, each of the girls get their own entrance, to showcase who they are. And the major high lights were BenDeLa, who managed to play this GROTESQUE cougar, who could barely even stand up and really wanted to jump Jeffrey's bones. Trixie also managed to embody her Fake Bitch character – and managed to keep her loud, Trixie-Mattel-esque vibrancy to it. And then, we've got Kennedy motherfucking Davenport – KILLING IT with her southern party girl. Both my little brother and I immediately knew who she was – hell, we grew up with women like her. It was BRILLIANT!

Some lowlights included Aja, who was basically playing a psychotic Farah Moan. Milk completely overdoing it in all the wrong ways as her Psycho Stalker. Shangela and Chi Chi's dismal dual performance – which definitely wasn't Shangela's fault. Acting beside Chi Chi was basically like acting beside of a brick wall – which was unfortunate, because I know she can do better than what she gave.

And Bebe was okay – she wasn't hilarious, but she also wasn't bad. She definitely coasted this episode.
The dates were mostly okay! Again, one of the major high lights had to be Kennedy's slow decent into craziness. She was loud, lewd, and crazy – and it was one of the funniest performances I've seen on this show in a while. At one point, she even snatched her wig off – and drunkedly said into Jeffrey's ear, "I'm a man." I died. Absolutely died. Poor Aja got drowned out quickly – and definitely had no idea what Ru meant when she said, "Needy."

BenDeLa also killed it – bringing on the raunchy fun as she tried to seduce her way into Jeffrey's pants. She literally tried to feed him a chewed up banana, but the best line had to be: "Have you ever taken out a catheter?" All the while, Bebe was trying to maintain this weird purity – and it's not that it didn't work, but it definitely stopped being funny. In a rare twist, someone actually managed to steal the show from Bebe Zahara Benet.
Milk and Chi Chi were probably the worst of the night. Milk kept drowning out Trixie – who only barely managed to get a few good jokes in. And everybody was getting pissed off – you could feel the energy emanating off the screen. Poor Chi Chi tried her best, but she seemed to be negating everything Shangela tried to throw at her.

In the end, Jeffrey found all of them too horrendous and ended up giving the Eggplant (the Bitchelor version of the rose) to RuPaul. Personally, I would have gone with Bebe, but that's just me.

Overall, the challenge was really fun and really allowed some queens to shine. It was nice seeing Kennedy recover from last week – and recover in stride. I hope that we start to see more challenges like this in the future.
This runway was Wigs on Wigs on Wigs, inspired by Roxxxy Andrews' iconic wig reveal from Season 5.
Not much happened as the girl's were getting ready. Chi Chi lamented about her feelings of insecurity and worry, because she's obviously not as polished as she thought she was. Then there's Trixie, who is worried about floating through the competition – because that's what happened in her previous season. And then we have Milk – who thinks that she did amazingly on the Bitchelor – to the surprise of literally everyone.
Listen, I'm not saying Milk is delusional, but she's totally delusional. Shangela, and all of the other girls are definitely in the mindset of, "Can you believe this bitch?" Especially Kennedy, who thinks that Milk is fake, because of what Milk said – which is true. Kennedy says that they have worked together loads of times and Milk's never had a problem with her – but she's over it. She's seen Milk's true colors.
Here's a quick run through:

BenDeLa: Very Michelle Visage, and revealed into a beautiful, long ponytail. AND THEN INTO A HAIR DRESS! 10/10
BeBe: She had a beautiful dress, but her reveal was definitely basic. 6/10
Trixie: Lady Bunny realness, revealed into a 70s, Dennis the Menace fantasy. 8/10
Milk: Horrible wig, because you could see the other wig underneath. The reveal was meh. 4/10
Aja: Amazing, a beautiful inflated Sailor Moon fantasy, which revealed into a lovely blonde wig, which revealed into a purple pony-tail wig. Very pink and very pretty. 10/10.
Kennedy: Yet another triple reveal, matched with a beautiful dress. 8/10
Chi Chi: I don't remember Chi Chi's that well. I know she revealed into a beautiful long, black wig. 5/10
Shangela: FULL ON CORN FANTASY, WITH YELLOW CORN HAIR, WHICH REVEALED IN GREEN GRASS HAIR. 10/10
It was a pretty decent runway! The reveals were good, and most of the costumes were either beautiful and lovably wacky.
TOPS: KENNEDY, BEN, TRIXIE
SAFE: SHANGELA, BEBE
BOTTOMS: MILK, AJA, and CHI CHI
WINNERS: KENNEDY AND BENDELA
We started off with a bang, as Trixie read Milk for crying. Milk was genuinely shocked that she was on the bottom, while literally everyone else rolled their eyes at her. Kennedy decides not to do one and ones – and to be honest, I am convinced she decided not to do it, because she knew that she was going to send Milk home – but that's just me.

During Ben's one on ones, we find out that Aja is pretty confident that she isn't going home. After all, BenDeLa did say that she would take the judge's critiques into account when deciding – and honestly, I think BenDeLa knows she would get murdered if she sent home Aja now.
Chi Chi, though, definitely has a lot to say about her third time on the bottom. She basically tells Ben that she doesn't think she's ready to even be in competition. After all, she has been performing poorly pretty consistently – and she's struggling really hard with her own feelings of insecurity and intimidation when it comes to the other girls.

Milk – oh Milk. Milk. Milk. Milk. Milk is still as obnoxiously delusional as she has been throughout the whole challenge. She even tells BenDeLa that judges WANT HER TO STAY – despite putting her on the bottom. As she talks to Ben, Trixie and the other girls dish about how terrible Milk's performance was – and how she bulldozed Trixie.
This deliberation was INTENSE – and honestly, I loved every second of it.
The lip synch to Lorde's Greenlight was surprisingly somber – BenDeLa decided not to camp it up in order to show the judges her versatility. But she was no match for Kennedy, who took a page from Latrice Royale's playbook, and decided to do a less is more. Not only did she reveal into another wig, but she also revealed into a beautiful dress and delivered a powerful lip synch. Ben, while staying serious and performing well, didn't enrapture the audience like Kennedy.
In the end, Kennedy won, and she sent home Milk. THANK GOD.

And Milk was salty about it during her exit interview – that is, until RuPaul showed up again, accompanied by Chad and Alaska who were doing… the Macarena?
---
Shann Smith is a freelance writer, screenwriter, playwright, gamer, and film/TV lover. When he's not working on his columns for Popdust, he's doing his best to create and consume as much media as he can!

---
POP⚡ DUST | Read More WEEKLY RUCAPS…

WEEKLY RUCAP | Episode 2: Divas Lip Synch Live…
WEEKLY RUCAP | All Stars is back, henny!
From Your Site Articles
Related Articles Around the Web