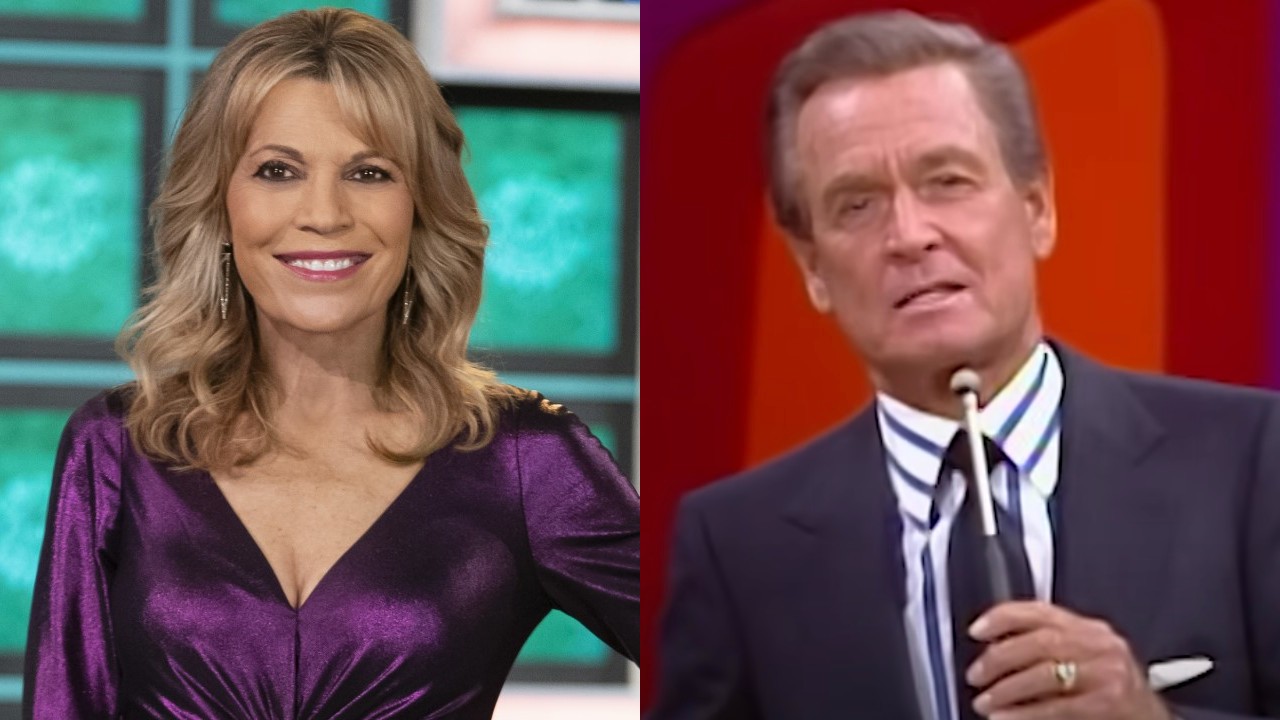 This past weekend, the world lost a true pop culture icon in the form of Bob Barker, the beloved longtime host of The Price is Right. Barker passed away at the tender age of 99 and, after the news broke, a host of fans and fellow celebrities paid tribute to him. There was a particularly sweet outpouring of love from fellow game show veterans. One such person to honor him is Wheel of Fortune legend Vanna White. And in doing that, she shared an excellent throwback of her own appearance on Barker's show.
Vanna White is widely known for being one of the prime personalities on a well-known game show. However, before she found fame as Pat Sajak's right-hand, she herself was a contestant on a popular program. In the early '80s, the star appeared on TPIR as one of the first four contestants during that particular show. White harkened back to that time in her life when she honored the late TV host on her Instagram. She included a vintage photo as well as a lovely caption: 
It's funny how life works, isn't it? Up to that point, Vanna White had only local notoriety as the winner of the Miss Georgia USA pageant in 1978. Her appearance on The Price is Right would mark the first time she'd ever be seen on national television. And of course, it wouldn't be the last time, as she would ultimately land WoF in 1982. One can't help but smile over the fact that Bob Barker played a role in what was essentially her introduction to the viewing public. With all of that in mind, the social media post is certainly a sweet tribute. Though she only made it to Contestant's Row, footage of White's appearance has made the rounds over the years. You can watch it for yourself down below:
Bob Barker passed away at his Hollywood home on Saturday, August 26, and his death was later attributed to natural causes. From 1972 to 2007, he hosted the long-running game show and endeared himself to audiences in the process. Not only has Barker been praised for his skills as a host, but he's also been cited for being a true animal rights activist, especially in his later years. Following his death, his Happy Gilmore co-star, Adam Sandler, paid tribute to him in a sweet way. Other kind sentiments came from current TPIR host Drew Carey, who received invaluable advice from Barker after he took over his post. 
Vanna White, meanwhile, continues to keep game show aficionados entertained through her continued tenure on Wheel of Fortune. At the moment, White is reportedly plotting out her future on WoF, as she's apparently been in contract negotiations since Pat Sajak announced his imminent retirement. White hasn't finalized a new contract, as of this writing, even though execs reportedly still want her to appear on the show moving forward. 
We'll have to wait and see how those negotiations play out but, more immediately, I'm just loving the way Vanna White chose to honor Bob Barker. Like her, many are going to miss the veteran star's jovial presence and snappy retorts. Barker certainly leaves a void not only in Hollywood but in the world as a whole, but his legacy will surely never be forgotten.