Blake Lively is known for far more than acting these days. While many are familiar with her roles in TV shows and movies like Gossip Girl and A Simple Favori, she's likely equally as loved for her strong social media presence and the hilarious banter she and husband Ryan Reynolds always seem to be engaged in. Not surprisingly, the Deadpool star was amongst those to publicly celebrate Lively on her 36th birthday, along with famous pals like Gigi Hadid and Amber Tamblyn, and the actress had some sweet and funny responses to all the well-wishes.
Gigi Hadid was one of many of Blake Lively's friends to honor the actress on social media. The model posted a throwback photo of the two of them in a kitchen, and shared a sweet message about the actress. Lively reposted it to her own Instagram Stories with loving words about what raising their children together has meant to her: 
There's something so special about having other mom friends when you're raising children, and I love Blake Lively describing their relationship as "coparenting." Gigi Hadid made note of Lively's humor as well, posting her friend's most recent ad for Betty Booze as she called Lively "funny and the best."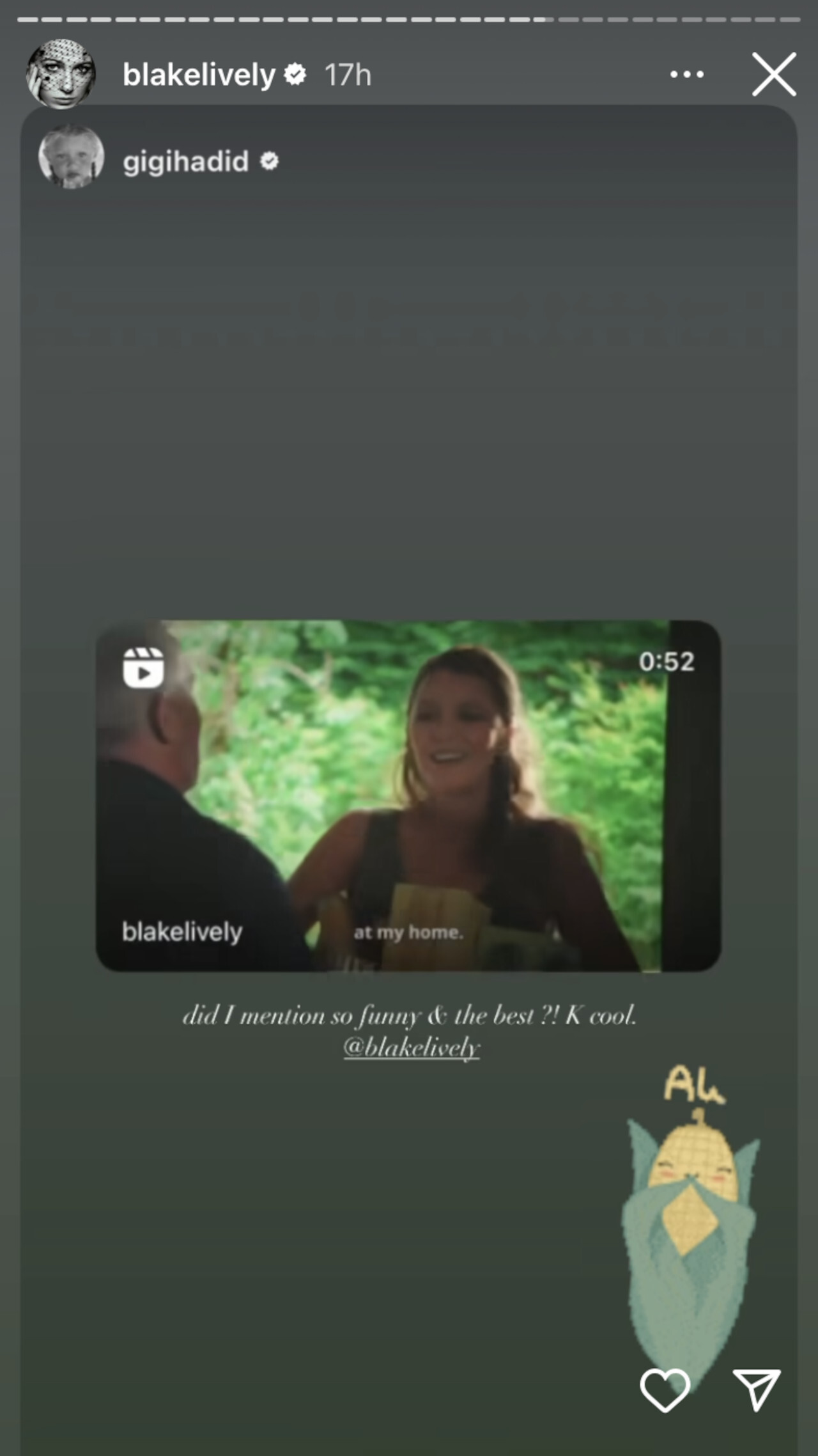 Sure, Blake Lively may have been celebrating another candle on the cake, but what better way to do that than drop a new commercial for your brand of booze? The actress launched an ad with none other than Paul Hollywood of The Great British Baking Show, in which she hilariously showed up at his door seeking his opinion about the latest flavors of her sparkling cocktails. 
Amber Tamblyn, who starred with the birthday girl in The Sisterhood of the Traveling Pants, also shouted out her friend, saying that Blake Lively has been hustling since they were teenagers. She fittingly (pun intended) added a blue jeans sticker to the post, which made me think a rewatch of the 2005 book adaptation should be in my future. Check out what Lively had to say in her repost: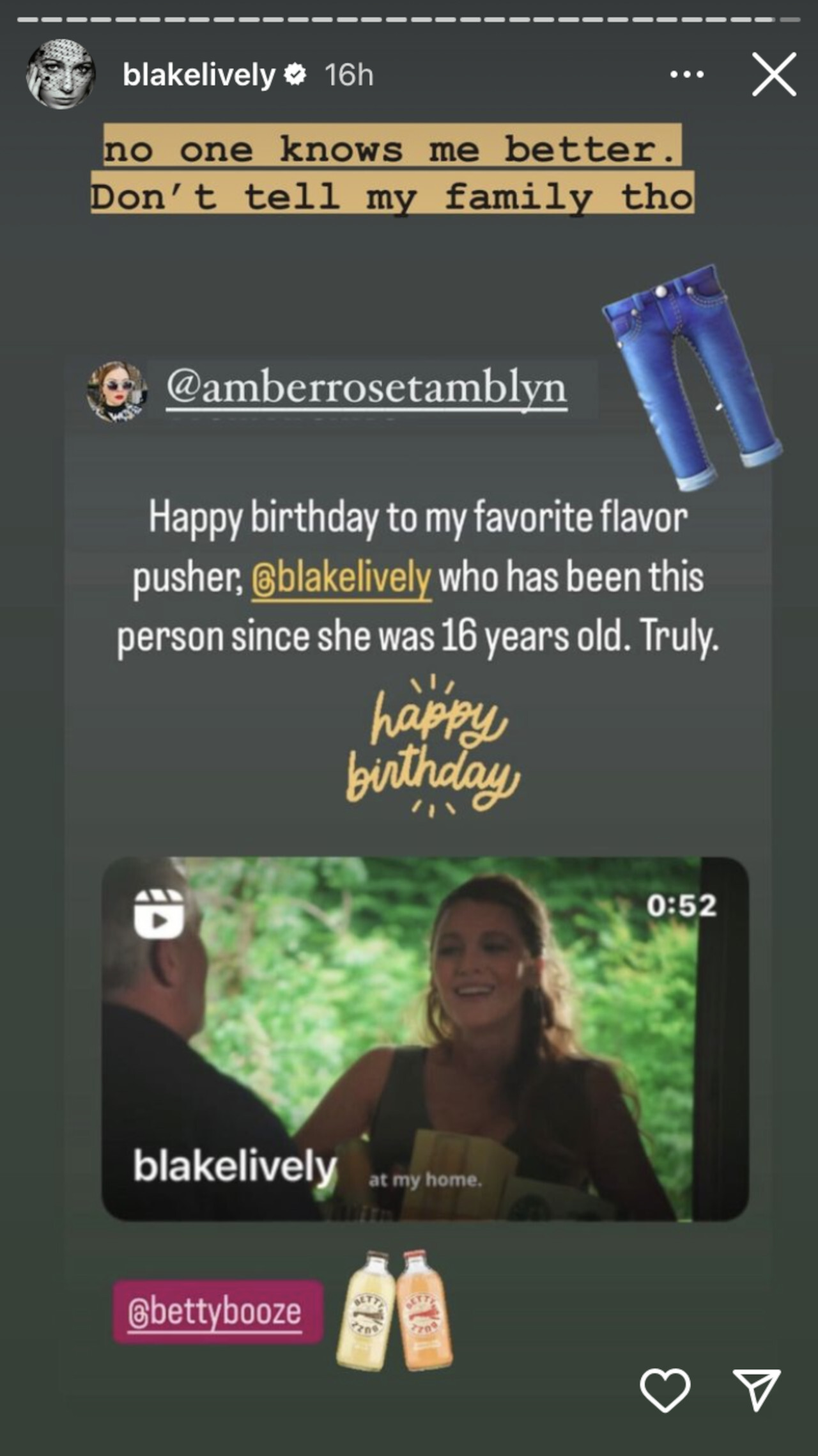 I love Blake Lively's generous words, saying that the Joan of Arcadia star knows her better than anyone else. It's crazy to think it's been almost two decades since they starred with Alexis Bledel and America Ferrera in the story about the magic pants. 
But as amazing as her responses to her friends were, let's be real. It was her exchange with Ryan Reynolds that was the best. He, too, shared the new Betty Booze ad on Instagram Stories, adding his own reference to The Great British Baking Show, to which she told her husband: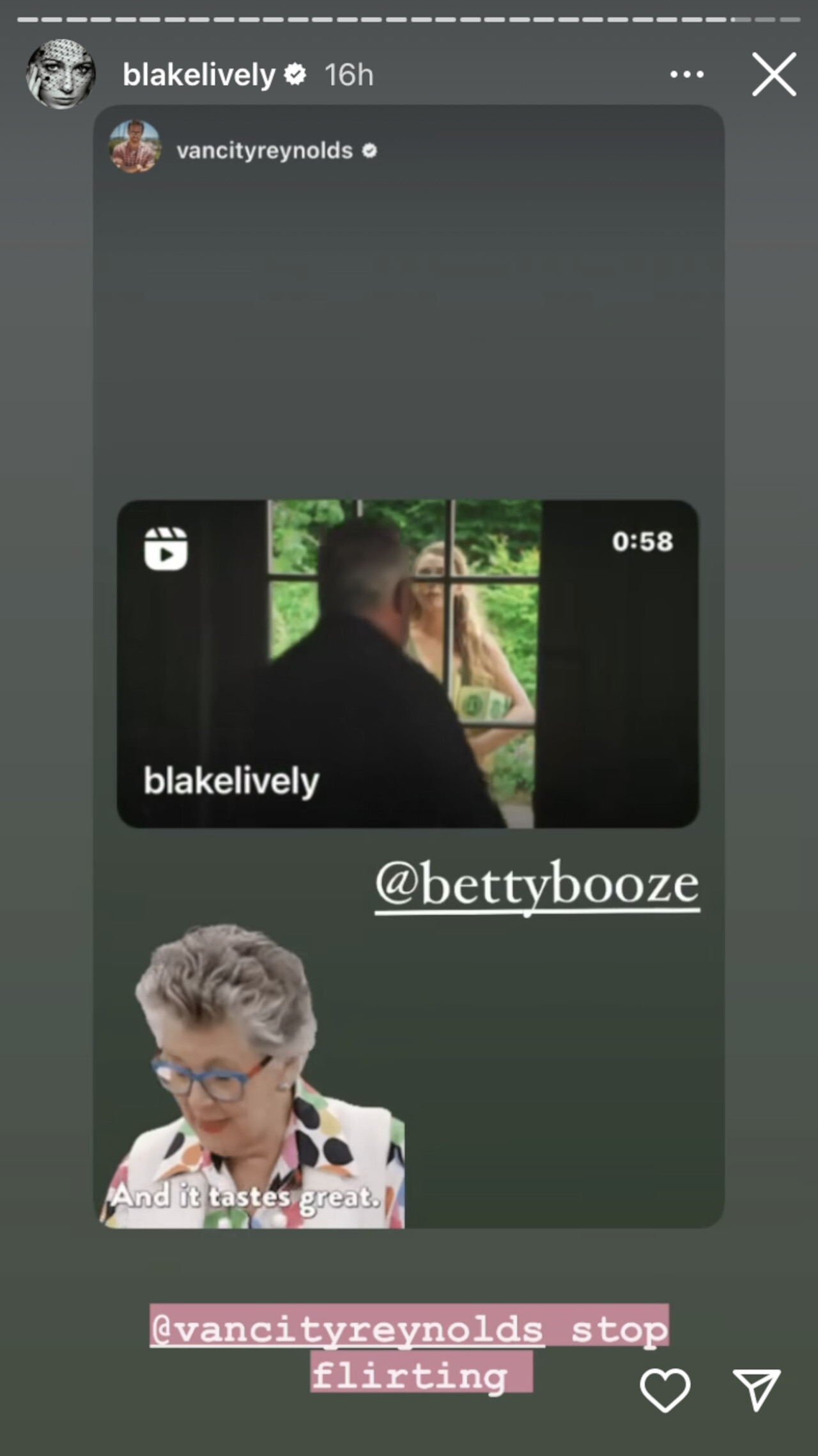 "Stop flirting"?? I don't know, I'm kind of into this baking show banter! Ryan Reynolds and Blake Lively are well-known for trolling each other on social media, but other than this silly exchange, the Free Guy star had only the most sincere things to say about his wife of nearly 11 years. "You hung the damn moon," Reynolds said in the absolute cutest post on her birthday.
I can't decide which side of this couple I love more — the endearing, lovey-dovey side, or the more common one with witty exchanges. Either way it's nice to know that Blake Lively was surrounded with plenty of love from her husband and friends as she marked another trip around the sun.