Willow Smith, professionally known by the mononymous name Willow, scored a hit record as a preteen with "Whip My Hair" in 2010. Thirteen years later, the 22-year-old singer makes RIAA history.
The Recording Industry Association of America announced Willow as the first recipient of an NFT accolade from the trade organization. The plaque features artwork commissioned by the LA-raised performer, Roc Nation, and Infinite Objects.
"I am beyond grateful to have the opportunity to engage in the sacred process that is music. BIG LOVE to RIAA and Infinite Objects! I am so honored to be able to celebrate these milestones in such an innovative way," says Willow.
The Recording Industry Association of America's NFT plaque recognizes Willow's "Whip My Hair" (3x-Platinum), "Wait A Minute!" (2x-Platinum), "Meet Me At Our Spot" (2x-Platinum), and "Transparent Soul" featuring Travis Barker (Platinum).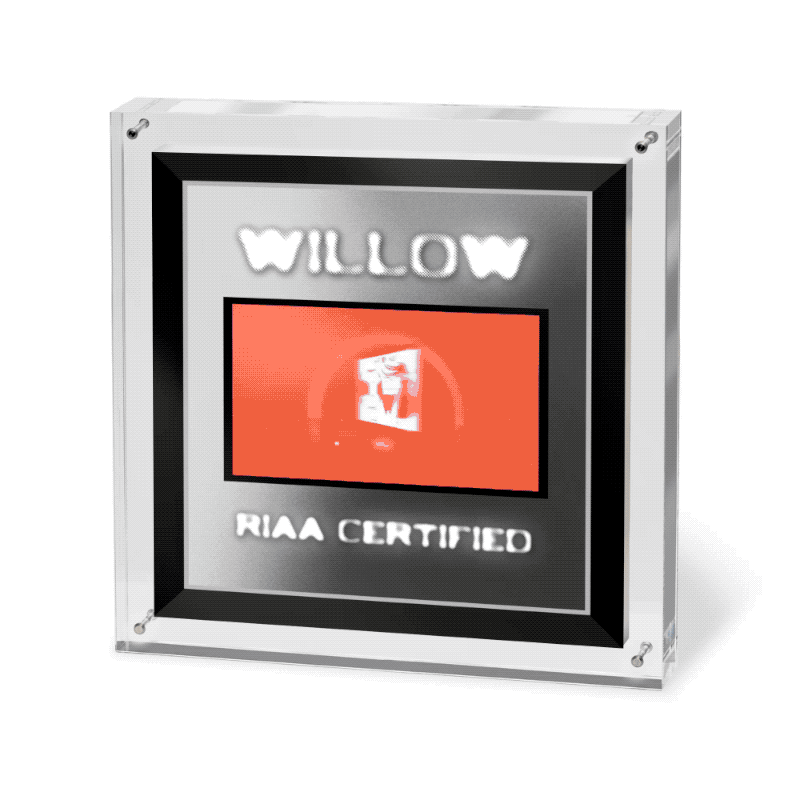 "RIAA has celebrated artists and their label teams through the Gold & Platinum program for the last 65 years as the industry has constantly evolved," says Erin D. D. Burr, RIAA's VP of Media Relations, Gold & Platinum Awards.
Burr continues, "We are excited to announce this innovative new way to recognize official certifications as Willow accepts the first-ever NFT plaque. We're grateful to Roc Nation and Infinite Objects for this creative collaboration."
The authenticated Infinite Objects Video Print display will also automatically change the song's artwork when the RIAA updates Willow's certifications. Plus, Roc Nation presented the NFT on the OpenSea marketplace.
"Roc Nation takes pride in leaning into new and innovative technology. We're so excited to present the first-ever RIAA certification to be minted on the blockchain and presented on an authenticated NFT plaque to celebrate Willow," states Roc Nation's Chief Digital Officer David Wander and SVP of Digital Operations Luca Zanello.