There's still a bit of a wait before the premiere of Star Trek: Strange New Worlds Season 2, but thankfully, we're getting new visuals to make the anticipation just a bit more bearable. Make sure that your Paramount+ subscription is active to watch the premiere on Day One, because the latest look revealed our first official looks at Jack Quaid's Boimler and Tawny Newsome's Mariner ahead of the much-anticipated Lower Decks crossover. I'm already laughing after this brief look at them in action, and instantly feel like this episode has the potential to be the best of the season. 
When I first learned of the crossover's existence, there was a question on my end of how well it would be executed. After all, even though Jack Quaid and Tawny Newsome are talented actors, there were no guarantees that they'd be able to effectively translate the spontaneous and cartoony excitement Lower Decks is known for to a live-action series where such heightened behavior isn't normally in focus. Fortunately, my fears were put to rest in that short scene of Boimler interacting with Spock, which proved to me that even if the actors can't be as cartoony, they're still very much their beloved characters. 
I've listened to Star Trek: Strange New Worlds' cast members like Melissa Navia assure me Season 2 is even better than Season 1, and now I'm starting to believe the hype. That's thanks in large part to how great the Lower Decks characters already look in live-action, which has shot my expectations for the crossover through the roof.
Tawny Newsome And Jack Quaid Look Awesome As Their Characters
We've always known Star Trek: Lower Decks modeled its crew to resemble the actors who voice them, but there was always a question for me of how well Beckett Mariner and Bradward Boimler would translate to live-action. Fortunately, this first official look has squashed those fears, as both actors look like spitting images of their animated counterparts.
I also have to say I appreciate that Star Trek: Strange New Worlds went with a more natural hairstyle for Jack Quaid but kept Boimler's signature purple hair. I also appreciate that it's not a bright purple tone like in Lower Decks because I think that would just be a bit too jarring to look at. I shouldn't be surprised that the costume and makeup department nailed it given all they did in Season 1, but hats off to them.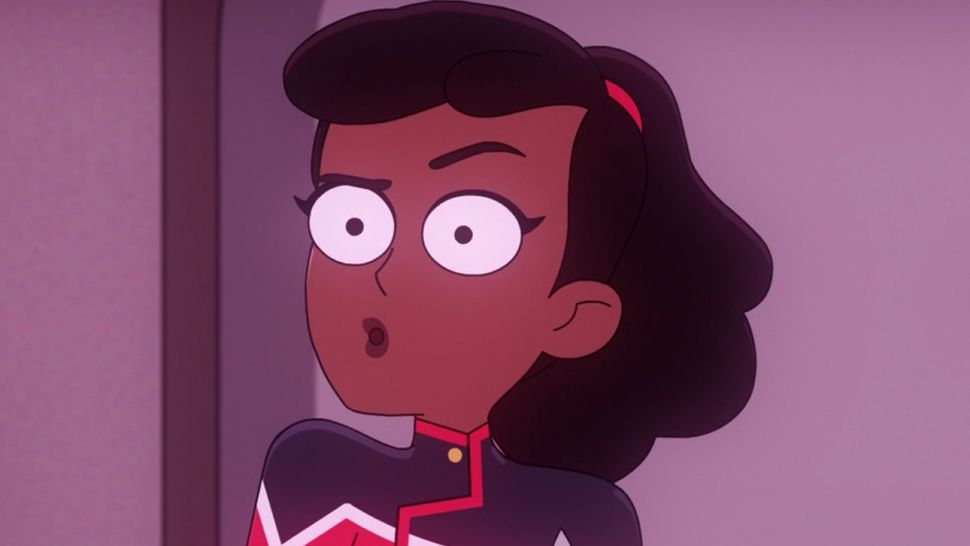 What Does The Latest Trailer Tell Us About The Lower Decks And Strange New World Crossover? 
Based on Boimler's stammering to Spock, I'm willing to bet that he and Mariner actually traveled back in time to the Enterprise and that this is not a previously theorized holodeck simulation. I mean, even Boimler isn't such a goof that he'd be nervous around a holographic recreation of Spock, right? 
Unfortunately, we didn't get any animated footage, but we do know that it will be a part of the crossover. We also know that Star Trek: Lower Decks showrunner Mike McMahan contributed to the crossover, so rest assured, the humor will be on point. We also know that Jonathan Frakes is directing the special, and he's had a track record of leading some entertaining episodes of Trek as of late. Here's hoping the crossover is as epic and entertaining as some of these other moments in the trailer, all of which I'm just as excited about. 
Carol Kane, Klingons, And Kissing…Oh My!
Star Trek: Strange New Worlds also snuck in a brief look at Chief Engineer Pelia, played by the iconic actress Carol Kane. We also got another look at the redesigned Klingons featured in the first trailer for the new season and a scene of Nurse Chapel and Spock kissing. That kiss is bound to cause some issues with Spock and T'Pring, but seeing as we know that she'll eventually or might already be cheating on him with Stonn, I guess we can geek out about this moment happening. There's only a short time left before the premiere, but I'm already eager to binge the entire season! 
Sadly, even when Star Trek: Strange New Worlds Season 2 premieres on Paramount+ on June 15th, we'll still have to wait for a new episode to debut each following Thursday. One positive, though, is that it looks like the wait is totally worth it, and there are plenty of surprises in store for these upcoming episodes.