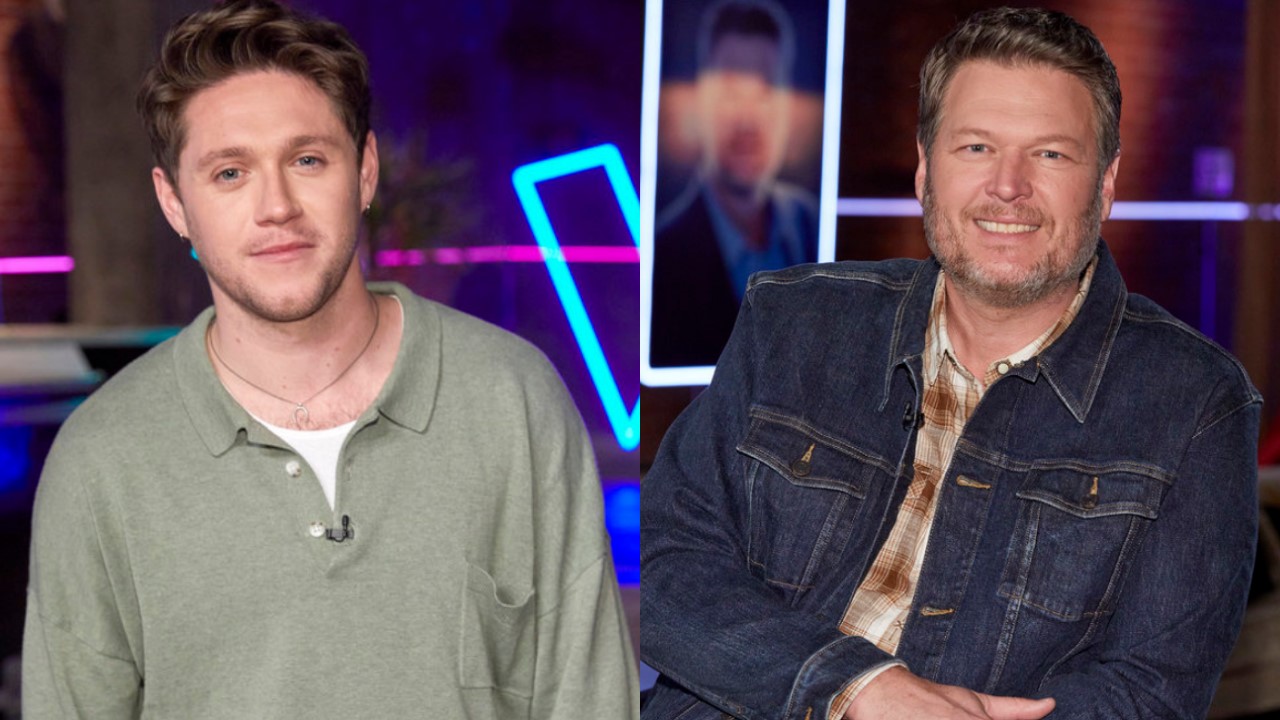 Blake Shelton has been open about how being a coach on The Voice has changed his life. In addition to the steady employment for the past 12 years and meeting several musicians who he's stayed in contact with, the most significant thing to come out of his 23-season tenure is undoubtedly meeting his wife, Gwen Stefani. Nobody could have expected another familial relationship to be formed in the cowboy's final season, but then along came Niall Horan. The duo have settled into a hilariously sweet father/son dynamic, and the One Direction alum indicated their relationship has already continued off camera, saying "it was fate" that brought them together on the competition show.
The camaraderie between OG coach Blake Shelton and rookie Niall Horan on The Voice was obvious from the outset, with the "Heaven" singer taking the Big Red Chair next to the country superstar. It didn't take long for them to start calling each other "dad" and "son," joking about going fishing and other off-camera hangouts. Horan revealed to InStyle recently that they have actually met up outside of the show, saying: 
The tone of each season of The Voice changes with each new set of coaches, and while there's always plenty of ribbing amongst the members of the panel, it's sometimes hard to tell how much of that — Blake Shelton's rivalry with Adam Levine, for instance — is played up for the camera. That doesn't appear to be the case at all for the "No Body" singer and Niall Horan, as the newbie revealed that they have met up for drinks outside of the show. (I wonder if Horan might make an appearance with Shelton and Carson Daly on their other show Barmageddon, which was renewed for a second season.)
It's really sweet that the One Directioner sees meeting Blake Shelton as "fate," and honestly, all of Season 23 so far has been full of adorable moments between the two. Shelton said he knew Niall Horan "was meant to be my son" when he laughed at all of his jokes. The Irish musician has also been working on his country accent, as well as Shelton's signature finger-point, as the outgoing coach has even given Horan his blessing to serve as his replacement going forward. Check out some of their funniest moments so far: 
There have certainly been a lot of laughs so far in Season 23 — and some crazy trolling from Kelly Clarkson — but the fact that it's Blake Shelton's final rodeo has been at the center of it all, with The Voice marking every milestone. The cowboy admitted to feeling "shook up" after hitting his button for the last time, which may work in country singer Grace West's favor, as she's become a sentimental favorite on Team Blake (with the talent to back it up, of course).
We won't have to wait long to see if Blake Shelton can secure his 10th win on his way out. The Voice returns at 8 p.m. ET Monday, May 1, on NBC to kick off the Playoffs with performances from the Top 20 artists of Season 23. As the season approaches its finale, be sure to check out our 2023 TV schedule to see what shows are premiering soon.