Apple TV+ premieres Silo this week, which is a book-to-screen adaptation I can highly recommend. The books were incredible, creating a world unlike anything you've ever experienced, and the series brings it to life with stunning detail.

Fatal Attraction comes to Paramount+, and we finally see the appeal of having more time with a beloved IP, as the fleshed-out story opens a lot of storytelling opportunities.

See what else is coming this week and what finales to keep an eye on below.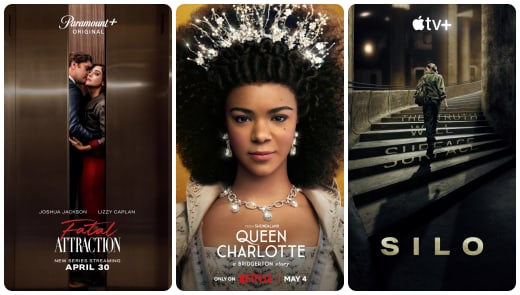 Saturday, April 29

8/7c Hearts In the Game (Hallmark)

Erin Cahill and Marco Grazzini star in a new Hallmark movie about making a name for yourself, forgiving past mistakes, and moving forward.

In this one, a publicist helps a pitcher for the New York Mets – and her boyfriend from high school – find his way back to the game and her heart.

Check out a preview for the movie below.


Sunday, April 30

Fatal Attraction (Paramount+)

This reimagining of the scintillating 1987 thriller won't be ignored!

We know what they're saying, but at TV Fanatic, we don't care because we can assure you that as far as the pesky remake trend goes, Joshua Jackson and Lizzy Caplan make every last bit of Fatal Attraction worth your while. Any fan of the original will appreciate this new spin on a cult classic and masterpiece!

They modernized it in all the right ways, shifting the perspective, and creating a slow burn thriller that delivers. We highly recommend you tune in, and check back in with us when you've watched the first three episodes!

9/8c Ride (Hallmark)

After Missy ran into the mystery woman, Polly Kerns, at the Frontier BBQ, she questions everything about Austin and her marriage. Will Polly give her the answers she needs?

Isobel and Hank need funding for their new business, so the McMurrays host an impromptu mini-rodeo, hoping to entice Daniel Booker, Gus's father.

Valeria's love life becomes complicated as she and Cash become closer.

9/8c Succession (HBO)

Welp, it sure looks like Kendall's ambitions will slice through his sibling relationships like a knife.

With Shiv already on the outside looking in, she could be the dividing factor between Kendall and Roman, the latter of which is taking a backseat to his older brother's grandiose shenanigans.

We might have had all the warm fuzzies with this trio that we'll ever get.

10/9c The Company You Keep (ABC)

As the first season winds down, Daphne and Emma realize they're after the same thing, and team up to take down the Maguire's.

Elsewhere, the Nicolettis get an offer on the bar and it has them seriously thinking about selling.

This penultimate episode is going to be a doozy, so make sure you watch it live!


Monday, May 1

9/8c White House Plumbers (HBO/HBO Max)

We haven't had the opportunity to see this, but with this cast, there's no chance we're going to miss it, either.

From the producers of Succession and Veep, White House Plumbers tells the story of how Nixon's own political saboteurs and Watergate masterminds, E. Howard Hunt (Woody Harrelson) and G. Gordon Liddy (Justin Theroux), accidentally toppled the presidency they were zealously trying to protect.

As with most things that examines this event, it will be done in a humorous bent. You can decide if that's the wisest choice.

9/8c A Small Light (NatGeo)

Again, the overly busy spring season kept us from getting a look at this series, but the network, subject, and cast should put it high on your list.

Based on an inspiring true story, Miep Gies (Bel Powley) was young, carefree and opinionated – at a time when opinions got you killed – when Otto Frank (Liev Schreiber) asked her to help hide his family from the Nazis during WWII. Without hesitation, Miep agreed.

For the next two years, she and her daring and devoted husband, Jan (Joe Cole), with several other everyday heroes, watched over the Frank, van Pels, and Pfeffer families hiding in the secret annex.

Days of Our Lives (Peacock)

Now that Roman knows that Kate could be alive, what is he going to do? Steve and John got their supposedly lost loved ones back, and now it's his turn. But how is he going to find her when she's trapped on a fishing boat, just like she was in 1996?

Meanwhile, not many people are happy with Harris, but Steve's going to have to work with him anyway. And back in Salem proper, Nicole doubles over in pain, but she's about to get very good news at the hospital.

8/7c 9-1-1 (FOX)

Are we going to get a Madney wedding this season? The jury is still out on that one, but Chimney will be contemplating popping the question to his longtime love. And if we had a vote on this, it would be a resounding YES!

This hour will also see the 118 dealing with an emergency at a landfill and an always-appreciated Maddie and Athena team-up when a kid goes missing at a crowded mall.

9/8c Fantasy Island (FOX)

Ruby's increasingly distracted behavior worries Elena, so she enlists Javier to help break Isla's spell, but can it be done? There's a battle of Island Magic brewing!

Meanwhile, the newest guest, Courtney, wants to be able to read minds. That's never a good plan. And since Courtney is a single mom of a teenage daughter, can we even imagine what she's about to learn about her darling girl? Yipes!

Guest stars include Charmed's Lauren Gaw, Switched at Birth's Katie Leclerc, 24's Phillip Phys Chadhary, and Sharp Objects' April Allyn Brinson! It's a full house… er, Island, and as always, anything can happen! Dock your boat, land your plane, grab a drink, and get a good seat!

Want to climb the corporate ladder?

Don't miss an all-new #FantasyIsland Monday at 9/8c on @FOXTV! pic.twitter.com/YzCupVSJx4


— Fantasy Island (@FantasyIslandTV) April 28, 2023

10/9c The Good Doctor

The Good Doctor always leaves off on an explosive note, and the Season 6 season finale is no exception.

Shaun is unable to smooth things over with Glassman before Lea goes into labor, but that's far from his biggest problem after Jared and Perez are in a serious car accident.

Will everyone make it out alive? And please, please tell us that the Peanut will be born healthy and whole! There's only so much tragic news we can take.


Tuesday, May 2

Menendez + Menudo: Boys Betrayed (Peacock)

Will connecting two tragic tales in which Jose Menendez had a part help the cases of Erik and Lyle Menendez? It certainly can't hurt.

Lyle and Erik Menendez infamously killed their parents in 1989. Menudo was the first mega-boy band to take the world by storm. In this explosive limited series, viewers will learn of the connection that links the two stories and could corroborate the brothers' decades-old accusations against their father, Jose Menendez.

One former Menudo member could be the key to changing how the public views the brothers' case while simultaneously crusading for his own justice.

8/7c 9-1-1: Lone Star (FOX)

We are HYPE about this all-new episode that pairs two beloved characters: Carlos and Grace, on a mission to stop a black market organ trafficking ring!

Yes, it implies that we'll be light on emergency calls yet again, but we'll let it slide for all the thrills of Grace being in danger as the investigation unravels. If something happens to Grace, WE RIDE AT DAWN!

The Strand men will have some family drama of their own when Owen's (and Lowe's) brother pops up to deliver some news to Owen and T.K., but let's be real; we're 100% focused on Carlos and Grace right now!

8/7c Night Court (NBC)

Change is in the air as Rand and Abby consider their future together, Gurgs preps for a supervisor exam, and Dan is offered the chance of a lifetime.

Will we see Gurgs and Olivia back in their shared office as Olivia drills Gurgs for her exam? Is Rand ready for Big City life? Will Dan choose the career goal he's always aspired to over the family he's made along the way? And the dastardly DA Jeff (Kurt Fuller) is back in all his malicious glory!

In the penultimate offering of the season – and its first two-parter! – are we ready to say goodbye to one or more of these characters? Court is in session! Hold onto your hats!

8/7c The Rookie (ABC)

Get your popcorn ready because we're headed for an intense, pulse-pounding season finale that will have us on the edge of our seats! Oh, yes, it's season finale time!

When one of their own is shot, they quickly realize that the entire group is under attack. Whether or not this has to do with Elijah remains to be seen, but what we do get from this nail-biter of a promo is that the kids (Thorsen and Celina) are NOT ok!

Might we also get the Wopez baby? We'll have to see!

10/9c Will Trent (Will Trent)

The hunt is on to find Angie on the Will Trent Season 1 finale.

It's high-stakes as Will offers to sacrifice himself to save Angie, but is it too late?

Will has questioned his lineage for years, but now he realizes the answers have been in front of him the entire time.


Wednesday, May 3

Jewish Matchmaking (Netflix)

If you want just a dash of messiness as you come down from Love is Blind, and you were a fan of Indian Matchmaking, then Jewish Matchmaking will knock off the edge for you.

We're not saying that Jewish matchmaker, author, and dating coach Aleeza Ben Shalom isn't good at what she does, ok?

We're only going to say that she has a colorful group of clients in this series that gear toward entertaining caricatures and then genuine people who earnestly want to find their perfect match. And it's deliciously entertaining as a result.

Shalom gives us a crash course on the diversity of Jewish culture while attempting to pair very particular clients up with one another, and it makes for the perfect binge. Will we be saying Mazel Tov to any of the couples by the end? You'll just have to tune in to see.

Schmigadoon! (AppleTV+)

It's the schmexy, spectacular season finale you've been waiting for! Josh and Melissa are both in peril – who will come to their aid?

Will they get their long-awaited happy ending?

With even more fantastic musical numbers and an end no one will see coming, this is a Finale Ultimo you can't miss! Watch the incomparably talented cast sing and dance their hearts out as we say goodbye to the jazzy, rocking, Fosse-Schmosse world of Schmicago!

8/7c Chicago Med (NBC) Med is FINALLY back.

In case you've forgotten (and who wouldn't, after such a long break?), when we left off, Archer was mad as hell that Hannah told Sean the details of his condition, and Sharon learned that Jack planned to call a vote on turning Gaffney into a for-profit medical center instead of continuing to treat uninsured and underinsured patients.

Both of those stories are moving full-steam ahead, along with a potentially controversial story involving a woman with a rare stem-cell disease and her pregnant daughter.

You won't want to miss a minute now that Med's back on our screens!

<









9/8c Riverdale (The CW)

Mary has reached her limit with Archie's behavior. (Oh, we've been there before, Riverdale fans!)

She's called in Uncle Frank to whip him into shape and get him back on track. What severe punishments does he have in mind for the reckless boy next door?

Elsewhere, Betty is turning to new BFF Veronica for help in a crash course about sexuality.

She's already read her copy of Human Sexuality, but Veronica may know a thing or two that Betty might not find in a book. When it comes to Veronica, there's no telling what she has in mind to change Betty's world.

10/9c A Million Little Things (ABC)

Here's the thing, I don't think anyone is emotionally prepared for the series finale of this show when the penultimate episode already left the entire fandom in shambles.

They've given us a trigger and viewer discretion warning, and folks should definitely take heed to that since we've already reached the tragic conclusion that fan-favorite, heart, and glue of the series, Gary, is without a shadow of a doubt losing his battle with cancer.

It's time to tune in for the final goodbye of this emotional series that encapsulated all the ups, downs, highs, lows, and a million little things that make a life. Get your tissues ready, grab your friends, and find the comfort that you can because we're in this together for a final goodbye!

10/9c Chicago P.D. (NBC)

Atwater-centric episodes are highlights of the series, and we're about to get a doozy of one!

Kevin's father is entangled in another case that involves a shooting that takes place in the building that Kevin owns, resulting in the death of a child and potentially something else with another one.

The problem is that Lew is a little too entangled in the mess, but he'll offer some assistance to the unit on the case or cause bigger problems. Dealer's choice!


Thursday, May 4

Titans (HBO Max)

After Sebastian's reign of terror with the video game, it's time to prepare our superheroes for the endgame. We know that Kory is destined to die in the final battle with Trigon, but will the Titans be able to avoid it?

Meanwhile, we need to get some big character moments that show them functioning as a team before the series concludes. It would be a huge mistake if we didn't get these characters together.

Then there's the Bernard of it all. Will he die, or will his death propel the mission forward?

Queen Charlotte: A Bridgerton Story (Netflix)

Can you really appreciate a story unless you know more about its origins?

Bridgerton fans know that Queen Charlotte is the ultimate scene-stealer with surprising layers and depth that are revealed with each season, but now, it's time to understand how she came to be.

The story takes us back in time to before Queen Charlotte became a queen, pulling double duty balancing between the current Bridgertonverse with Queen Charlotte and her past as we delve deeper into her past and even the special relationship between the Queen and the matriarchs and strong women we've come to love in Bridgerton.

8/7c Law & Order (NBC)

Uh-oh! Cosgrove's daughter might be the key to solving a businessman's murder, but the detective doesn't want her involved.

But he might not have much choice if they can't make their case another way.

And when it gets to trial, there's another problem — the defendant's age means Price has to follow protocols that could interfere with securing a conviction.

​​









8/7c Station 19 (ABC)

Brace yourselves because Beckett is BACK! Whether or not he's sober and capable of doing his job is a whole other story, but the timing can't be more complicated as Ross faces backlash from her relationship with Sullivan being out in the open.

The sexism is on, and none other than Andy is in her corner and attempting to talk her into fighting for her job, for the unit, for respect, and for everything that her position represents and means.

Station 19's own Danielle Savre makes her directorial debut with this highly-anticipated installment!

8:30/7:30c Ghosts (CBS)

This is it, Ghosts fans! Grab your Nancy Drew magnifying glass and put on your Sherlock Holmes hat; we're solving a murder. Sam is given one last podcast episode to solve Alberta's murder and wrap up the story.

Based on the latest clues, we've still got Alberta's sister and her former lover as the top two suspects. Did the sister do away with Alberta to get the man? Did her lover eliminate Alberta to free himself from the consequences?

Or could it be the butler?! Wait, there's no butler. Maybe it could be a surprise new suspect?

Don't miss out on this thrilling conclusion to the mystery!

9/8c Law & Order: SVU (NBC)

Benson is at her best when helping young survivors pick up the pieces of their lives while fighting for justice for them. And that's exactly what we're getting this time!

No weird Hitchcockian twists or bizarre road trips this time; instead, we're back to what's made this series popular for almost a quarter of a century as Benson tries to find answers after a girl is sexually assaulted during a field trip.

This won't be an easy case to crack, either, since the victim isn't talking and crosses paths with Benson after she is arrested for setting a school bus on fire!

Bonus good news: Fin is back, too, dealing with a witness that he suspects is lying to him. Fin doesn't play around, so this should be good!

9/8c Grey's Anatomy (ABC)

Oh, we're about to have a FUN one!

Link has desperately needed to get back on his game after losing that Seahawk prospect, and now he's been gifted what amounts to a human jigsaw to put his badass Ortho skills to the test.

But, y'all, it's going to be hard to get his professional groove back and geek out like a Bones nerd when the super hot patient played by The Bold Type's Sam Page is spitting mad game at Jo. Will this finally push Link to tell Jo how he feels?

Oh, and Nick is back too, just in time to mentor Lucas some more while Teddy holds a meeting about the intern program after Helm's callout.

10/9c Law & Order: Organized Crime (NBC)

The team gets a new case. This time, they're helping the feds with a gruesome murder that may be connected to a bunch of bank robberies.

This one might be graphic — it involves decapitation and a woman finding the head in her dryer!

To close the case, the detectives will have to crack a suspect's seemingly perfect alibi. They've got DNA evidence on their side but not time — how are they going to pull this one off?

10/9c Good Trouble (Freeform)

Mariana continues the challenging fight of maintaining Evan's interest against the likes of conspiring antagonists at Speckulate, and she's in desperate need of a win.

Gael continues to figure out, along with Jazmin, that trying to raise a baby as queer parents comes with its own set of difficulties they weren't prepared for in the long run.

And, in the weirdest storyline yet, Alice is bringing the Ferrett Trio to The Coterie, yes, seriously. Are there words to describe how bizarre this storyline is? No, probably not, but we'll have to see how it plays out.


Friday, May 5 (Happy Cinco de Mayo!)

Silo (Apple TV+)

Silo gets two wildly waving thumbs up from Carissa. I read the books years ago, and they stayed with me. The series does the books justice, bringing this amazing tale to an entirely different audience.

In a ruined and toxic future, thousands live in a giant silo deep underground. After its sheriff breaks a cardinal rule and residents die mysteriously, engineer Juliette (Rebecca Ferguson) starts to uncover shocking secrets and the truth about the silo.

The cast is incredible, but the story reflects on the modern-day narrative of who should know what spectacularly well, especially given the books were written over a decade ago.

The Marvelous Mrs. Maisel (Prime Video)

Move over, Midge – it's Susie's turn!

This is the episode everyone's going to be talking about. Miss Myerson takes center stage and shows us what she's made of. You want answers? Well, here they are! It's an unconventional episode with jokes that are as foul as Hell (even for this show!) but will still bring a tear to your eye. Tits up!

8/7c Power Book II: Ghost (Starz)

With Diana locked up, the race will be on to get her free! Tariq and the Tejadas will be on high alert now as the RICO case takes shape. With everyone under the microscope, there's no telling how everyone will deal with the pressure.

With only three episodes left, we're expecting a lot more bloodshed and a lot more deception before the season is through!

10/9c Blue Bloods (CBS) We're in the home stretch for Season 13; now that Blue Bloods is back, it'll air the final three episodes without interruption.

First up: Frank again worries about what his friend Lenny is up to when Lenny reappears in New York with a story that doesn't add up. What has he done this time?

Frank's not the only one with an unwanted guest from the past, as Anthony's chaotic cousin Joey also pops back up.

Meanwhile, Danny tries to protect Baez and her infant daughter after a criminal Baez put away threatens them, and Eddie gives Badillo relationship advice.
Carissa Pavlica is the managing editor and a staff writer and critic for TV Fanatic. She's a member of the Critic's Choice Association, enjoys mentoring writers, conversing with cats, and passionately discussing the nuances of television and film with anyone who will listen. Follow her on Twitter and email her here at TV Fanatic.