Last year, Sony Pictures Animation delivered a tremendous treat for the audience packed into Caesars Palace's The Colosseum during CinemaCon 2022. Though Spider-Man: Across The Spider-Verse was more than a year away from its release date at the time, a special preview was delivered that allowed an early look at the first 15 minutes of the upcoming blockbuster. That proved to be one of the best moments of the entire Las Vegas convention, setting a high bar for this year's event – but that bar was reached with even more exciting footage from the new film at CinemaCon 2023.
Tonight marked the beginning of the annual convention for movie theater owners, and while Sony showed off a lot of exciting footage from their upcoming slate during their presentation (including a first look at Kraven The Hunter), it was Spider-Man: Across The Spider-Verse that was the true highlight. A total of 14 minutes of the unfinished movie was shown, and all signs point to the film being the experience that everyone in the world wants it to be.
The footage began with Miles Morales (Shameik Moore) entering his bedroom in his parents' house with slumped shoulders. He kicks off his shoes, and leans against the door depressed: he's been grounded. Upset, he sits on his bed, and he notices his sketch book open while doing so – looking at a drawing he did of Gwen Stacy a.k.a. Spider-Woman (Hailee Steinfeld). He throws on a pair of headphones, lies back on his pillow and closes his eyes while listening to music, though doing so prevents him from seeing that various items in his room are floating around (including his high top sneakers and a copy of Amazing Fantasy #15).
A portal opens up in the ceiling, and looking down through the cross-dimensional hole at our protagonist is Gwen, who gets Miles' attention before dropping down and sitting on his bed. Excited to see her, but flustered to find an attractive girl in his bedroom, the young Spider-Man starts to hastily clean up and sweep away clothes and anything embarrassing. Gwen notices a toy on his shelf, noting that she played with them when she was younger, and though he explains that it's a collectable, she wonders why it is still in its original packaging and proceeds to open it – causing him to be visibly uncomfortable and upset as he says, "It's fine" under his breath. She then proceeds to web his sketchbook, noting that he has talent before discovering that he has drawn her a number of times.
Gwen suggests that the two of them head out, dropping out of Miles window and throwing on her mask, and when the hero tells her that he is grounded, she asks if Spider-Man is grounded too. After some hesitation, he agrees to go out – and just a few minutes later his parents, Rio (Luna Lauren Vélez) and Jeff (Brian Tyree Henry), knock on his door and discover that he is gone. Dad declares that he will be grounded for three more months.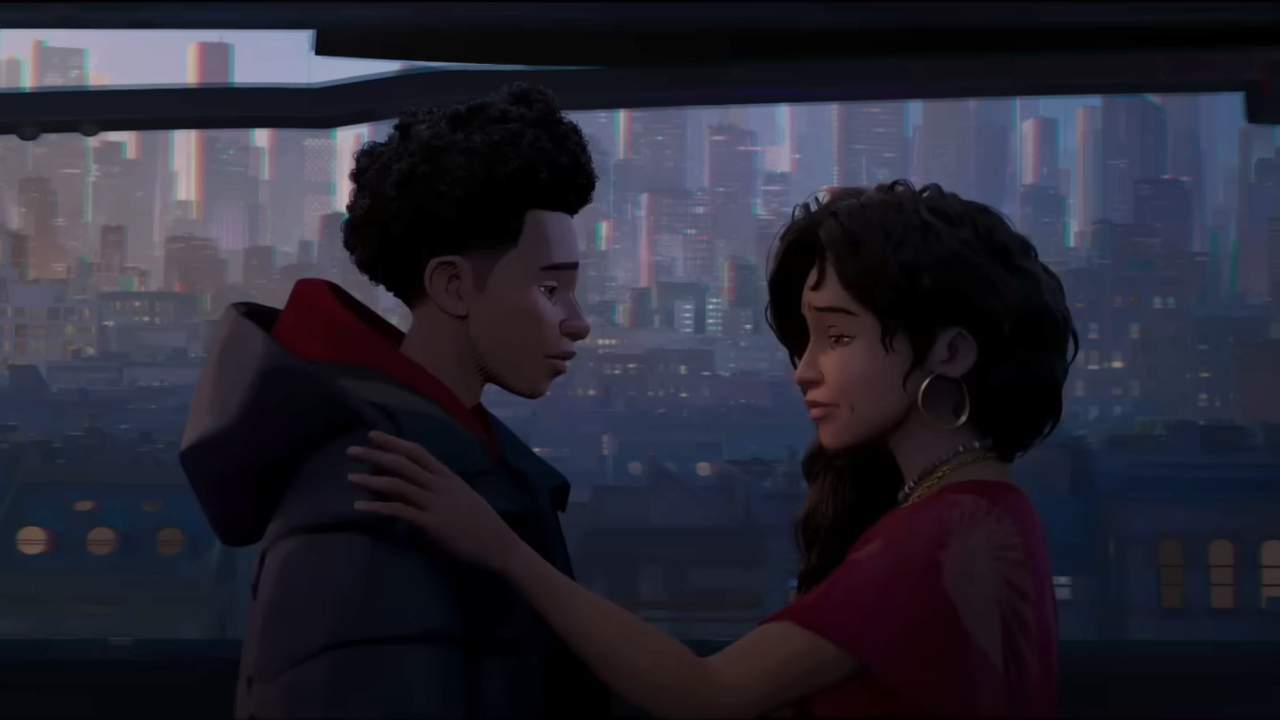 Meanwhile, Miles and Gwen go off to do some swinging around New York, with the latter telling the former about an elite society of Spider-People that she has joined and being trained by Jessica Drew (Issa Rae). Miles gets a bit jealous when Gwen mentions that she has been hanging out with someone named Hobie – possibly/likely a reference to Hobart Brown a.k.a. Spider-Punk – but they have fun showing off new moves, grabbing hot dogs, and taking down a purse snatcher. At one point, Spider-Woman disappears, leaving Miles to wonder where she went, and we see her clandestinely plant a small device to spy on a strange figure (suggesting that she hasn't made the multiverse trip just to see Miles).
They end up landing on the Williamsburg Bank Building and talk – with Gwen discussing her fractured relationship with her father (he thinks that she killed her universe's Peter Parker). She explains to him that it's best that he not tell his parents about his secret identity, though this advice leaves him conflicted. As they sit upside-down, she notes that in every other universe Gwen falls for Spider-Man, which gives Miles some romantic hope, but a bucket of cold water is thrown when she adds that in every other universe it doesn't end well. Miles doesn't know how to react, but adds, "There's a first time for everything," and Gwen leans against his shoulder.
Later, Miles and Gwen are together in their street clothes at a family cookout – and as Rio and Jeff watch them, it's apparent that they think she is too old for their son. Gwen shows Miles the special watch that she got from Miguel O'Hara a.k.a. Spider-Man 2099 (Oscar Isaac), which prevents her from glitching outside her own universe, but she tells him that there aren't a lot of slots available in the Spidey group when he starts to pitch himself. When Miles' parents come over, there is awkwardness as Gwen calls both of them by their first names, but the moment is cut short when the aforementioned watch sends out an alert. After Gwen leaves, Miles is clearly embarrassed, and for a moment it seems like his parents are going to leave him alone… but instead, his mom stays.
Together, Rio and Miles have a heart to heart (previewed in the amazing first trailer for the movie), and she explains that he can tell her anything. For a moment it looks like he is going to confess his secret identity as Spider-Man, but then he pivots and instead apologizes to her for being late. Getting real, Rio tells him that because he is her son, she has spent his whole life making sure he is taken care of and loved, and now that he is getting older, she wants him to promise that he will take care of that little boy for her.
While not as action packed as the Spider-Man: Across The Universe footage from last year's CinemaCon, the new material showcased equally important aspects of the film: character and authentic emotion. The personalities of Miles, Gwen and Miles' parents all shine brightly as they are all both funny and full of heart, and their relationships are beautiful and realistic. The movie could have a billion Spider-People in it but would feel empty without those qualities, and the preview showed off today most definitely makes the new animated blockbuster feel like it's going to be something special.
After a few years of waiting, Spider-Man: Across The Spider-Verse is finally almost here – set to hit theaters everywhere on June 2. The incredible cast of the feature also includes Jake Johnson, Daniel Kaluuya, Jason Schwartzman, Rachel Dratch, and Jorma Taccone in addition to the actors mentioned above, and every expectation is that they will all deliver something terrific.
Stay tuned here on CinemaBlend for more of our coverage of the animated Spider-Man feature and the rest of CinemaCon 2023.