The week fans have been waiting for is FINALLY here.

After weeks of Bo tormenting Kayla, he and  Hope will come face-to-face on Days of Our Lives during the week of 4-24-23.

Hope will be thrilled, but Bo not so much — and that could lead to a dangerous situation, but will Hope get through to Bo on time?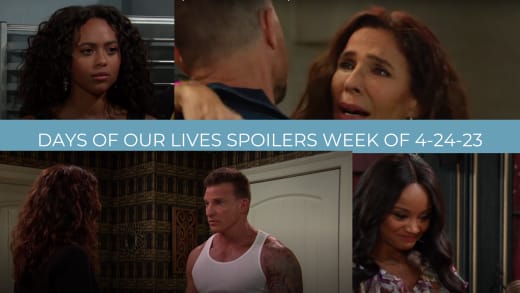 Days of Our Lives loves the darkest moment trope. This time, we may have a literal cliffhanger as Bo is so determined to hold onto his Kiriakis side that he forces Hope toward a cliff at gunpoint.

This is a risky move by the writers. Bope shippers have waited YEARS for this reunion, and they won't be happy if this nonsense ruins it.

But Days of Our Lives is also fond of true love breaking through when it counts. Amnesiac lovers often regain their memories just as they're about to do something horrible to their loved ones.

When Steve thought he was Stefano, he kidnapped and nearly killed Kayla, leaving him with a ton of guilt after recovery. Possessed Marlena tried to destroy John. Amnesiac Ciara was awful to Ben.

The list goes on and on, but it always works out in the end. Why should this be any different?

Bo and Hope only have a few episodes left before they leave the canvas. Peter Reckell told fans their visit would end on a cliffhanger that left the door open for another return — but Bo won't stay in this half-crazed state, will he?

Both characters will remain alive if the door is open for the two to return. The spoiler video suggests Bo will snap out of this at the last minute.

While a clip in the spoiler video shows Bo about to shoot Hope on the cliffside, there is also audio of Bo whispering, "Fancy Face?" The use of that nickname and his tone suggest that he finally remembers his great love for Hope and will not hurt her.

Meanwhile, back in Salem, the cops start closing in on Talia after she makes a stupid mistake. According to spoilers, she tells Jada she was home during the poisoning — but Jada lives with her and knows that wasn't the case.

What a silly lie! Talis will have to do better than that if she doesn't want to get caught. But at least viewers will FINALLY learn why she drugged the biscuits — that reveal is also slated to happen this week.

Please scroll down to check out the complete list of Days of Our Lives spoilers.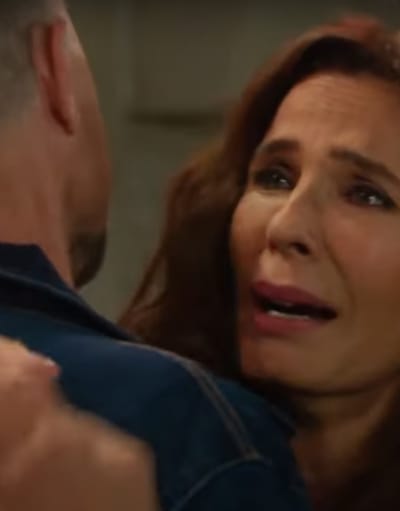 Bo and Hope finally come face to face.

Bo may not want this, but viewers certainly do!

This Bo/Hope storyline has been frustrating; after all these years, Bope shippers are eager for their favorite couple to finally reunite.

Sadly, Hope's hug won't be enough to snap Bo out of whatever's gotten ahold of him, but it's a step in the right direction (hopefully!).

The long-awaited reunion comes to a shocking climax.

Spoilers suggest Bo will hold Hope at gunpoint and force her onto a cliff.

But could there be a further twist in this story? The writers have teased that something explosive happens that interrupts the reunion, suggesting that someone else causes trouble just as Bo finally regains his memory.

Let's hope the net guest arc for these two doesn't involve a now-sane Bo searching for his missing and possibly dead Fancy Face!

Leo has questions for Chanel and Johnny concerning their "engagement."

Ugh. Leo, go away.

Chanel and Johnny's proposal only lasted for as long as it took the two to sober up. Wendy has already moved on with Tripp, so Johnny has work to do to win her back.

The last thing anyone needs is Leo putting more fuel on the fire. And wasn't Leo focusing on reporting Sloan's alleged harassment of Chanel?

Tripp and Wendy's first date doesn't go as planned.

First dates never do in Salem, and going to Seattle hasn't allowed Wendy to escape that curse.

What will happen, though?

Will Johnny show up to try to convince Wendy to talk to him, or will the disaster be something more mundane, like that time that Aiden ended up with spaghetti on his lap?

Talia goes to a secret meeting.

We'll finally find out who she is working with! Spoilers say that Sloan's brother is coming to Salem, so could he be behind Talia's drugging the biscuits?

That doesn't make a lot of sense — why would Sloan's brother want to frame Sloan for harassing Paulina?

Hopefully, this will be clearer once these scenes air. But at least we'll know more of the story by the end of the week.

Chloe and Xander decide they're going to move in together.

That was fast.

Xander has been homeless for a while, and I'm unsure if Chloe has a home or lives at the Salem Inn. Still, these two have gone from enemies to friends at light speed, and moving in together is a big step.

Brady and Gwen will be mad as hell, but too bad. People are allowed to move on.

Ciara attempts to comfort Shawn.

Uh-oh. This sounds ominous.

Shawn is supposed to go to Greece to search for his parents. Could he end up arresting Bo for kidnapping Kayla and Hope?

This also strongly points to the Hope-is-missing story I suggested earlier — which does not sound like a great idea.

Hope runs into a guilt-filled Harris.

Well, at least Hope isn't dead if she runs into Harris.

But she won't be happy to see him, especially since he lied to her and failed to warn her about Bo not being in his right mind.

Hope went off on Aiden for a lie that meant much less than this, so whatever she says to Harris won't be pretty.

Your turn, Days of Our Lives fanatics! Hit the big, blue SHOW COMMENTS button and let us know what you're looking forward to on Days of Our Lives during the week of 4-24-23.

If you'd like to chat about already-aired episodes of Days of Our Lives, check out the latest Days of Our Lives reviews and Days of Our Lives Round Table discussions.

Days of Our Lives streams exclusively on Peacock. New episodes drop on weekdays at 6 AM EST / 3 AM PST.
Jack Ori is a senior staff writer for TV Fanatic. His debut young adult novel, Reinventing Hannah, is available on Amazon. Follow him on Twitter.