Aaron Horvath and Michael Jelenic's The Super Mario Bros. Movie is proving to be a box office juggernaut. Last week, the film became a certified hit when it became the first 2023 blockbuster to have a weekend-to-weekend drop below 50 percent following its debut, and it's barely slowing down. In its third Friday-to-Sunday, the video game adaptation has seen its ticket sales drop just 37 percent, allowing it to maintain its position in the number one slot yet again.
Check out the full Top 10 below, which showcases not only the powerful popularity of The Super Mario Bros., but the excellent start for Lee Cronin's Evil Dead Rise. After you look at the numbers, join me after for analysis.

Swipe to scroll horizontally
| TITLE | WEEKEND GROSS | DOMESTIC GROSS | LW | THTRS |
| --- | --- | --- | --- | --- |
| 1. The Super Mario Bros. Movie | $58,230,000 | $434,329,610 | 1 | 4,350 |
| 2. Evil Dead Rise* | $23,500,000 | $23,500,000 | N/A | 3,402 |
| 3. Guy Ritchie's The Covenant* | $6,282,787 | $6,282,787 | N/A | 2,611 |
| 4. John Wick: Chapter 4 | $5,713,000 | $168,843,254 | 3 | 3,033 |
| 5. Air | $5,549,524 | $41,767,952 | 5 | 2,823 |
| 6. Dungeons & Dragons: Honor Among Thieves | $5,400,000 | $82,187,000 | 6 | 2,960 |
| 7. The Pope's Exorcist | $3,315,000 | $14,938,718 | 2 | 3,178 |
| 8. Renfield | $3,110,000 | $13,622,945 | 4 | 3,378 |
| 9. Beau Is Afraid | $2,710,950 | $3,147,189 | 14 | 965 |
| 10. Suzume | $1,625,000 | $8,427,343 | 7 | 2,170 |
The Super Mario Bros. Movie Is Taking Aim At Becoming 2023's First Billion Dollar Hit
In a post-2020 context, $58.2 million is a lot of money for a film to make playing on the big screen. If that figure represented the ticket sales for The Super Mario Bros. Movie in its opening weekend, that would still make it the fifth biggest debut of the year (just barely behind Michael B. Jordan's Creed III, which made $58.4 million in the franchise record-breaking start of its theatrical run). 
But that $58.2 million isn't an opening weekend figure; instead, it's just another massive pile of cash added to the mountain that the animated Nintendo feature has been building since the start of April.
Since hitting theaters mid-week on April 5, The Super Mario Bros. Movie has made $434.3 million domestically and $442.1 million overseas (per The Numbers) – amounting to $876.4 million worldwide. It became the biggest release of the year last week when its ticket sales surpassed the numbers put up by Zhang Yimou's Full River Red, but now it's haul is nearly $200 million more. It won't be long until it makes double what Peyton Reed's Ant-Man And The Wasp: Quantumania has made (the second biggest domestic release of the year), and it won't be long before it joins the Billion Dollar Movie club.
When The Super Mario Bros. Movie's earnings do hit 10 figures, it will be a big deal, as only four other releases have been able to do that since the start of the COVID-19 pandemic: Jon Watts' Spider-Man: No Way Home, Joseph Kosinski's Top Gun: Maverick, Colin Trevorrow's Jurassic World: Dominion, and James Cameron's Avatar: The Way Of Water.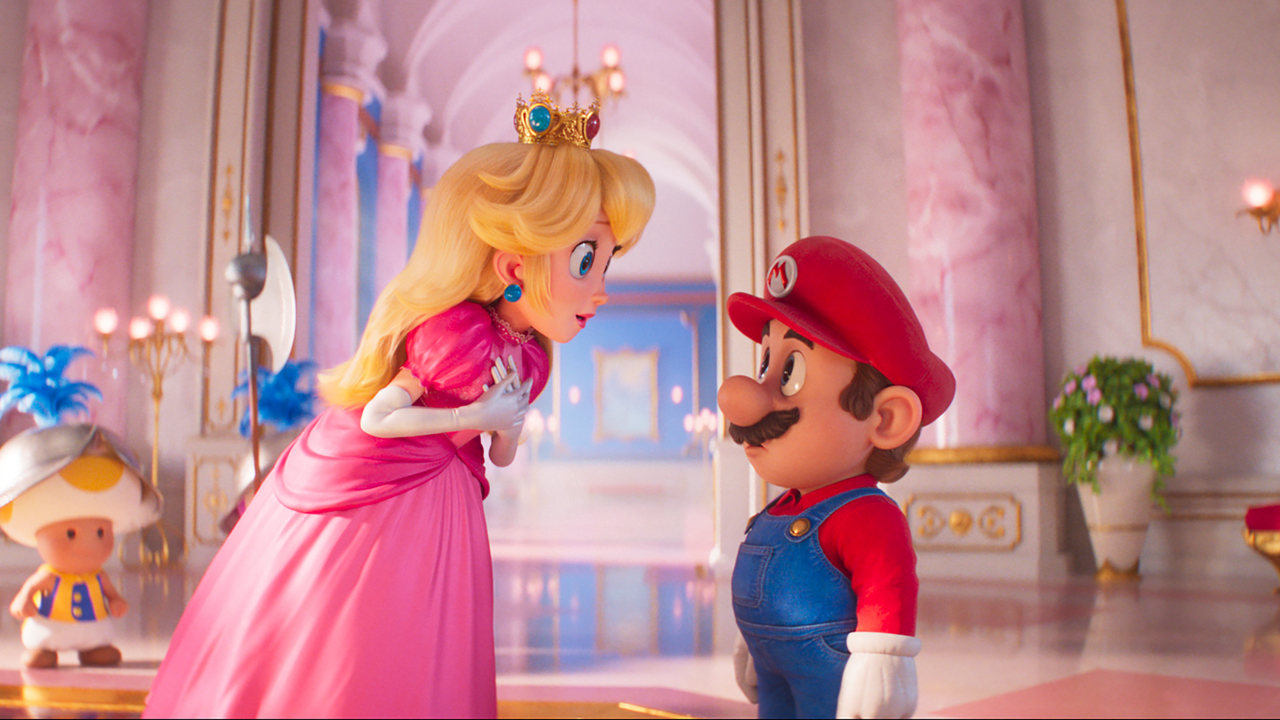 This incredible success should last the rest of the month, barring something unprecedented happening. The release of Kelly Fremon Craig's Are You There God? It's Me, Margaret this coming Friday makes next weekend a bit different than the previous two, as the new release will be targeting the same young audience as The Super Mario Bros. Movie (unlike Chris McKay's Renfield, Julius Avery's The Pope's Exorcist, and Evil Dead Rise), but there is every expectation that next Sunday will once against see the Nintendo feature back on top of the Top 10 – having once again lured a great number of excited children and their parents to the local cinema. 
James Gunn's Guardians of the Galaxy Vol. 3 will surely end The Super Mario Bros. Movie's reign when it comes out in the first weekend of May (one Chris Pratt movie bumping another), but by then The Super Mario Bros. Movie will be in a position to unquestionably be looked back upon as one of 2023's biggest hits. 
Evil Dead Rise Wasn't Able To Break The Opening Weekend Record For The Evil Dead Franchise, But Performed Impressively Nonetheless
After Creed III, Matt Bettinelli-Olpin and Tyler Gillett's Scream VI, and Chad Stahelski's John Wick: Chapter 4 all broke opening weekend records for their respective franchises last month, it would have been really cool to say that Evil Dead Rise followed suit – but sadly, that's not the case. The horror movie's ticket sales fell short of what Fede Álvarez's Evil Dead did in its debut. The 2013 film made $25.8 million in its first three days compared to the new movie's $23.5 million start domestically. 
Setting the franchise record would have been nice… but the filmmakers behind Evil Dead Rise can still be very excited about the numbers.
Lee Cronin's splatterfest arrived in theaters on a massive wave of buzz, with the movie instantly earning critical acclaim following its premiere at the SXSW Film Festival, and that has translated to money in its global release. According to Variety, the film was made with a $19 million budget, and it has already made $40.3 million worldwide.
This is a particularly notable success given the underwhelming premieres of both Renfield and The Pope's Exorcist last weekend. Not every scary movie is landing with a massive boom at the box office right now, but horror still has a tremendous amount of heat, and audiences are clearly enjoying the experience of gathering together in auditoriums to scream in terror together.
After Its Success In Extremely Limited Release, Beau Is Afraid Doesn't Get Much Attention Nationwide
Playing in a total of just four locations in Los Angeles and New York, Ari Aster's Beau Is Afraid starring Joaquin Phoenix set some new 2023 records last weekend – making a crazy $80,099 per theater. That success came on the heels of the film getting some extremely divisive reactions (not everybody is on-board with the epic and extreme three hour comedy), but those numbers sadly haven't carried over now that the distribution has expanded.
While not yet quite in wide release, Beau Is Afraid is now playing in over 900 theaters domestically, but it hasn't garnered that much attention. The A24 production was able to make $2.7 million in the last three days – a pretty pedestrian average of $2,809 per theater. That certainly doesn't put the film in a terrifically stable financial position going forward… but this is also not a movie that was ever going to be a big hit upon release. Rather, this feels like the result of A24 investing in a specific artistic vision (the studio having previously produced Hereditary and Midsommar) and banking on it ultimately finding a cult audience.
Looking ahead, a number of features are arriving on the big screen next weekend, including the aforementioned Are You There God? It's Me, Margaret, George Tillman Jr.'s Big George Foreman, Nida Manzoor's Polite Society, and Jalmari Helander's Sisu. Be sure to head back here to CinemaBlend next Sunday to see how these titles shake up the box office Top 10, and get a look ahead at all the movies coming to the big screen via our 2023 Movie Release Calendar.