Kiana Ledé is a compliment queen. The South Phoenix, Arizona, native begins our interview on Wednesday afternoon with kind words about my facial appearance. "It's the skin for me," Ledé flatters over a Zoom call, donning a braid updo in a decorative cream living area.
Ledé pauses momentarily when her Out West Salad from Calif Chicken Cafe arrives. "It has corn, red peppers, avocado, black beans [and] chipotle dressing. It's so good," she savors.
Ledé doesn't just butter me and the Los Angeles comfort food staple up; she also praises songwriter Chelsea Lena, who co-wrote her 2018 breakout hit "Ex" and her new single "Jealous" featuring Ella Mai.
"She had a session with all girls, and they wrote the song with me in mind; she knows me so well," Ledé says about the song's creation. "It was like she knew what story to tell at the time and sent it to me. I fell in love with the song."
Similar to her biggest hit, Ledé was not involved in writing "Jealous," which Veronica "VRon" Vera produced. And that doesn't bother Ledé, at the least. "I didn't even care if I wrote it or not. I just heard it, and I was like, 'I feel this. You know I feel this. Thank you.' So I added that to my life, to my album," she notes.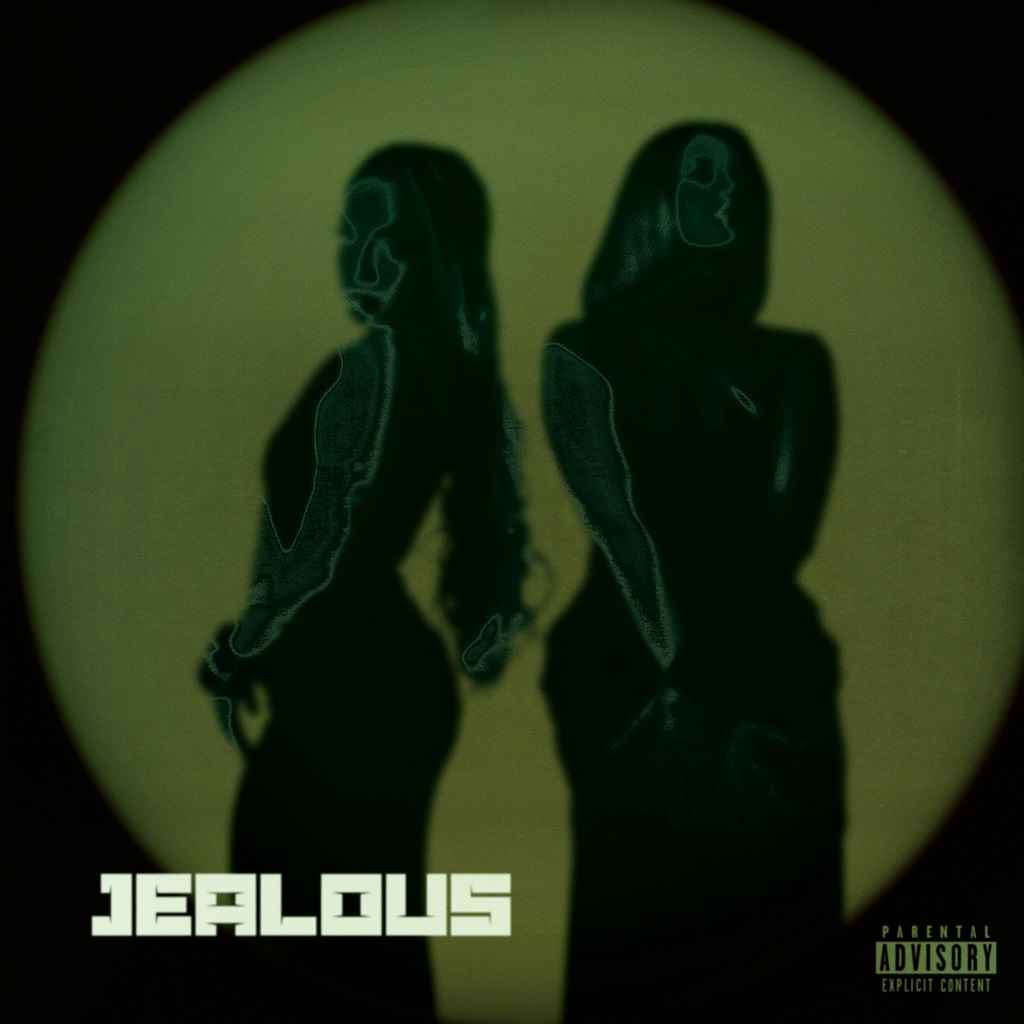 Enlisting Mai as a duet partner for "Jealous" was a no-brainer for Ledé. "I wanted to have a strong R&B girl moment like I did with Kehlani and Ari [Lennox]. I'm such a big fan of them and bringing R&B artists together. Once I heard it, I was like, 'I know she'll f*ck with this' — and she did," Ledé explains.
"Jealous" is Ledé's first song release of the year. It will appear on her untitled sophomore album, slated to arrive in June on Republic Records. "This album has been a work in progress for two and half years," Ledé says of the follow-up to 2020's KIKI (more on that later).
Her new album is expected to include her previously-shared tracks "Ur Best Friend" with Kehlani and "Irresponsible." 
Ledé plans to tour the second album afterward. There are no additional details on the upcoming tour at this time.
In Rated R&B's interview with Kiana Ledé, the platinum-selling singer and songwriter talks more about her new single "Jealous" with Ella Mai, why she's a fan of collaborating, honoring Whitney Houston and more.
You recently celebrated a birthday. What's something you hope to accomplish in this new year?
That's a good question. I think something that I've been working on since before my birthday that I feel like has come to me with age, [which] started a few months ago, is trusting my gut on whether people deserve a spot in my life and looking at it as if they deserve a spot in my life. It's really hard for me to put myself in that position, like I have power and control over my own life. So the word 'deserve' is actually very important [to me]. So trusting my gut [and] making decisions quicker.
"Jealous" is such an honest track. It's an emotion most people don't necessarily want to subscribe to, but here, you embrace it. What do you hope listeners take away from this song?
I think the biggest thing I want listeners to take away from the song is that it's okay to have those internal conversations, be vulnerable with yourself and communicate it if you want to. It's okay to have those moments of insecurity. There's nothing wrong with it, but it is how you act when those insecurities come up. It's rare that I get jealous. So when I have those moments, I like to keep to myself 'cause I don't want it to seem like I'm insecure. It's only normal for us to wanna feel like we're special and feel like we're the only one. But don't be crazy.
When can we expect an official music video for "Jealous"?
We'll see if there's a video. Ms. Ella Mai is very busy, as you can see. I don't know what state she's in right now, but she's not in LA (laughs). As of now, the visualizer is what you get. We'll see if anything changes.
We've seen you collaborate with various artists in a short amount of time, from Usher, Ari Lennox, Gary Clark Jr., and now, Ella Mai. What is that you appreciate the most about the art of collaboration?
I love that we, as artists, can take the same message but give our own perspectives and stories. I think that only makes the song better because there's two different perspectives for people to relate to. People make fun of me sometimes because I'm a person that likes to give extra details, like way more than needed. So to give all that detail in a song, I think it helps the listener, and that's why I'm in music. I think a lot of the people I've collaborated with are in music to make people feel sh*t from our own experiences.
You've contributed to multiple soundtracks. Are you planning to do any more?
Yeah, soundtracks are great. I love a great thesis statement, like a topic that I get to build my own story off of. It's like a form of collaboration. So yes, soundtracks for sure, and also acting. I'm really trying to get back into acting and be able to tell the story that way.
What would be a dream role for you?
I want [to star in ] an action movie. I'm trying to be a badass, kicking dudes in the nuts. I love that satisfaction. I'll do my own stunts, thank you.
Your debut album KIKI turned three this month. You said on social media that its title, inspired by a nickname, was designed for you to discover more about yourself while your audience did as well. In your mind, what have people learned most about you from then to now?
I think people have learned, on a deeper note, that I am a good amount of crazy and Aries aggressive while also being vulnerable and open. I have a lot to say. I really love and care about people. There is something to be said about any artist writing their music and opening up to the world. I'm proud of the fact that I was able to do that because that takes a certain amount of strength. I've shown people the duality and the love that I have for being both strong and vulnerable at the same time. And they can definitely exist in the same space.
Speaking of albums, what is the narrative for your sophomore record?
I don't really wanna say, but I will say, in my life, in the space that I've been in the last three years, I've made a lot of changes, done a lot of therapy, and I think there's obviously so many more stories to be told. Life is dramatic. I've been through a lot of drama and trauma, but I am looking at everything from a more mature, balanced perspective. Music is a space that I like to have to get some relief, and you'll definitely hear the space I've been in and the things I've been going through in the last two to three years.
After your success with your Selfless EP, the song "Wicked Games" has seen a resurgence. What do you think it is about that song that is resonating with people now?
That song has always been one of my favorite songs, not only that I've written but also to perform. There's something so familiar when it comes to R&B itself. It is a true R&B song. It gives belting; it gives vulnerability; it gives cadence. It's all the big moments that we don't get a lot of now in R&B. Obviously, we do get some, but we don't get it a lot. So that's one of the reasons why people brought it back. And then another one is that it's just a bit familiar, too, because it is based off The Weeknd (and his song "True Colors"). That's something I've done my whole career at this point — take something that's familiar and make it my own. This time I was able to make it my own and tell my own story. It's more inspired by that song because it's a memory, not so much like a response. So I think people love that and they find it interesting.
Making things that are familiar with your own is a great transition. Earlier this year, you honored Whitney Houston during Grammy Week by performing "Greatest Love of All." Describe what that moment meant to you.
That was definitely nerve-wracking. But I was honored to sing that song and help honor Whitney, her legacy and her family. The thing that was cool about it for me was I performed in the same space when I first moved to LA. I worked at [Jazz Night at the W Hollywood] when I was 16, and it was in that same space. I used to work there every weekend, and it was such a cool way to enter the performing space. So going back to what felt like a second home and coming back at this point in my career was really cool. And also, my mom was there, and I chose that song because it's her favorite song of all time. She's a horrible singer, but she used to sing it to me (laughs). So having her there was really special, too.
Before we go, you put out an EP late last year titled Unfinished. What's currently one thing that's unfinished in your life and career?
Growth. There's always something that we have to learn, while at the same time, there's always something we have to unlearn. It takes a lot of work to take one thing and unlearn it while you're also trying to learn something else. When you're doing these two things at the same time, they're both unfinished, and it's just one thing after the other, and you just gotta put one step in front of the other. So just growth; it will always be unfinished until everything is over.
Listen to Kiana Ledé's new song "Jealous" featuring Ella Mai below.