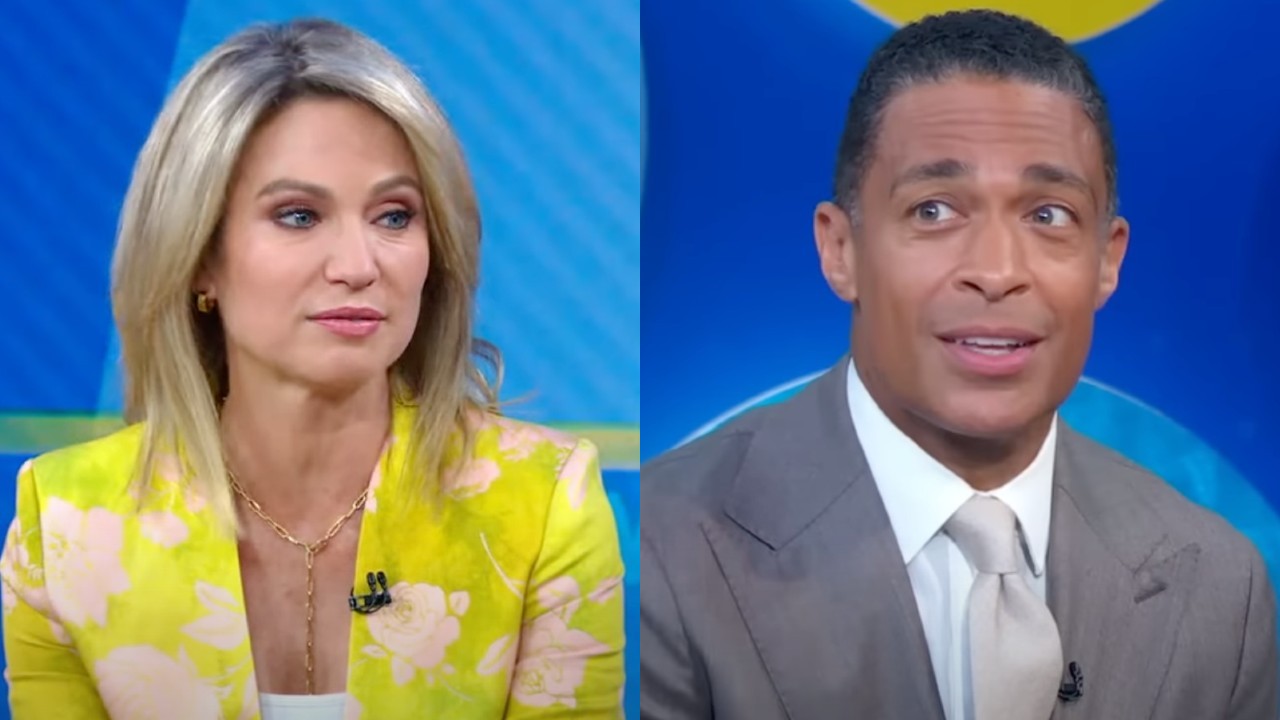 The timeline of events surrounding Amy Robach and T.J. Holmes' alleged affair has been intriguing to watch and, as of late, there haven't been too many major developments. In recent weeks, sources have mostly been sharing alleged details about the former Good Morning America anchors' continued job search. The two have allegedly been facing a somewhat rough climate in the TV business, as they seek to land new gigs. Insiders even claimed that big networks have already passed on Holmes and Robach. Now, it sounds like a major show also turned them down. 
Per recent reports, the two journalists have been pitching themselves for a plethora of productions in the aftermath of the GMA drama but to no avail. A person close to the situation now tells OK Magazine that the two can now cross Dancing with the Stars off their list of reported professional prospects. Said person made this claim while dropping purported info on how the pair initially believed their job hunt would pan out:
The individual didn't provide any specifics regarding the capacity in which Amy Robach and T.J. Holmes were allegedly trying to join the show (which is streamable with a Disney+ subscription). One might think that with their specific backgrounds, they may have been looking at some kind of hosting gig. However, the upcoming Season 32 has its two co-hosts in series alums Alfonso Ribeiro and Julianne Hough. The notion of the two media personalities seeking jobs with the reality competition series does seem somewhat odd, though. That's mostly because the program falls under the purview of the House of Mouse, which had to contend with the drama surrounding their exits from GMA.
All of this, of course, should be taken with a grain of salt at this point, and the same is true for the other reports. Sources previously said that both stars were passed on by both CNN and CBS. While it's all conjecture at this point, those do sound like more realistic landing spots for them as opposed to the ballroom dancing show. Then again, sources say that they've been trying to be flexible when it comes to job opportunities.
T.J. Holmes and Amy Robach, who made their first public appearance as a couple in March, are reportedly planning to stick to TV. It's also said that they ideally want to find a new entertainment entity that would allow them to remain co-hosts. Apparently, if Robach and Holmes can't land a joint gig, "they will vouch for each other and help each other." As the insider put it, "they won't let each other fall."
As you would expect, news and entertainment entities have not revealed any interest in signing them to a deal. So it remains to be seen whether Amy Robach or TJ. Holmes will ultimately be put in a position in which one has to vouch for the other. We'll have to wait and see how things pan out for the couple but, at the very least, it sounds like we probably shouldn't expect to see them pop up on DWTS anytime soon.