Music is full of genius, full of divinity and as unique as every single snowflake that falls from the heavens. Every avalanche begins with the movement of a single snowflake, and the illustrious composer Randy Edelman from the conception of his performance started a snow slide lasting 2 1/2 hours with his "Around the World in 80 Minutes."
Before you cast a spell you must be able to command and control the magic. Randy Edelman held the sold out audience spellbound at the chic and trending "Chelsea Table and Stage" in New York City, which culminated in a standing ovation that lasted almost as long as the show itself.
In a sensitive and riveting performance Randy shared the moments of his charismatic and chamaoelic, unbelievable career. As a pop star he featured songs showcased on the iconic British "Top of the Pops" including; "Uptown, Uptempo Woman", and "Concrete and Clay." As a pop song writer, having created super hits for some of the biggest and most popular artist of our times he played "A Weekend In New England" (as recorded by Barry Manilow), "Isn't It A Shame" (as recorded by Patti LaBelle and hip-hop star Nelly), "You" (as recorded by The Carpenters), "The Woman on Your Arm" (as recorded by Bing Crosby), and so many others. He also treated the crowd to a never before heard variation of his recent global, post pandemic anthem "Comin Out The Other Side", and debuted his newest pop/R&B smashing romantic agony "How Could I Let You Go."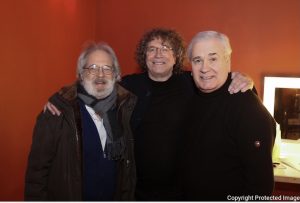 Intermingled during his feature he performed a medley of songs from some of the hundreds of blockbuster film scores he wrote and orchestrated, ("My Cousin Vinny, "27 Dresses", "Last of the Mohicans", "Gettysburg", "Dragonheart", "Ghostbusters ll", "XXX", "Kindergarten Cop", "Twins", and the list continues unimaginably). He also performed his famous theme from the hit series MacGyver. He prefaced each tune with touching, humorous, and sensitive tale leaving no stone unturned, except for his themes from the Olympics, ESPN, and NASA. Having played all over the universe including the London Palladium and Buddakan in Japan, and opening for acts including The Carpenters and Frank Zappa Randy's presence in the musical mirage of things is nearly inconceivable.
But tonight he was alone, Randy and his piano, vulnerable, passionate, romantic, sensitive, powerful and brilliant…… leading the congregation through a path of emotion. His songs celebrate the allegiance to take a risk, to love and to feel without defense or reservation. His compositions are always more than the sum of its own parts. A really great piece of music is more than itself. It's like a prism which you can see from every facet as a single totality. His music is like the white light which contains all colors. Only a prism can divide the colors and make them appear and be part of the spirit of the listener.
Randy Edelman will be back by popular demand at the Chelsea table and stage on April 9, 2022.
5/5 Stars
Photo Credits: Billy Hess