San Diego's Star2, a hip hop singer who began his life in a 55,000 person refugee camp in Thailand after his family fled Burmese soldiers who burned down their village in Burma is poised to become the next Hip Hop sensation.
Getting attention from WorldStar, AllHipHop, Earmilk, and Notion, Star2 launched his career with music collaborations with noted St. Louis rapper Luh Kel, Sacramento's Mar Mar Oso, and Jacksonville, Florida's Lil Poppa.
A versatile singer who describes himself as "a melodic hip-hop artist who raps" Star2 is comfortable with romantic ballads – break-up songs (I Wanna Get F'd Up, WTF is Love, Missin U) as well as love songs (December, If U Want 2, and Thinkin Bout You) and also rap. "Real Life" is probably my favorite song because I was able to speak about my life and connect with Lil Poppa on what we've both been through. I started in a refugee camp and fought the streets in San Diego – he was in it in Florida. He related right away to the hook "I come from a place where you hear sirens all the time."
"You can't fake talent like this" writes Loren Sperry with music industry veteran Michael Stover reviewing "Real Life" for Music Existence… "I love where Star2 is taking his sound right now, and while I think he doesn't need any assistance coming off like a G when he's got the microphone in his hands, there's something really exceptional about the chemistry he shares with Lil Poppa here."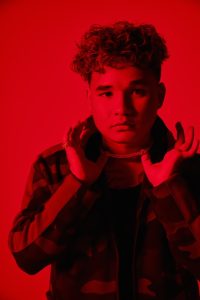 Noted Canadian rock critic Darryl Sterdan concurs, "The Asian-American singer, songwriter and rapper is garnering plenty of attention for his seamless blend of pop, R&B and hip-hop. Raised in inauspicious circumstances, Star2 channels his life struggles into music that is bold, high-spirited and soulful … After moving to San Diego at age six with his grandmother, he was overwhelmed by the western world. Music became his solace, and as a teen he began to rap, sing, write and perform, quickly developing a sound brimming with winning hooks and rich harmonies. Since 2020, the Star2 has captivated audiences with a series of singles, including the heartbreak ballad I Wanna Get F'd Up and the gritty Real Life, which chronicles his experiences growing up in inner-city poverty."
Inspired by musical greats Justin Bieber, Tyga, Bruno Mars, Juice Wrld, and Polo G, Star2 is getting noticed with an intensely loyal fan base in the U.S. and more recently in Thailand and the UK. Crafting a unique style of modern R&B, his suave sound oozes with a spirited soul. Star2 also has a playful, fun-loving, and charming side on full-display in his video blog series on YouTube – The Adventures of Star2. Here he offers behind the scenes footage of his music videos and narrates a 12-day backpacking adventure to Alaska, jokes with his friends jet skiing, snowboarding, cooking with gourmet chefs, boxing, and deep sea fishing. With over 1 million streams on Spotify and over 50 videos between his music and the Adventures of Star2, Star2 is making waves. Upcoming collaborations include two more songs with Lil Poppa, a song and video with Long Beach gold record rapper Stupid Young and rap legend Soulja Boy.
"I recently became a US citizen and passed my citizenship test. It was a thrill and the reason my grandmother took me with her and her four children –out of the refugee camp fourteen years ago to safety. I hope to make it big and give back to those left behind. I want the world to know about the struggle of the Ka-ren people from Burma."