"Gothic Rap/ Horror Pop" recording artist Jason Chaos (formally known as "He11cell") is releasing his highly anticipated new single "Whatever" on Friday, November 26th, 2021.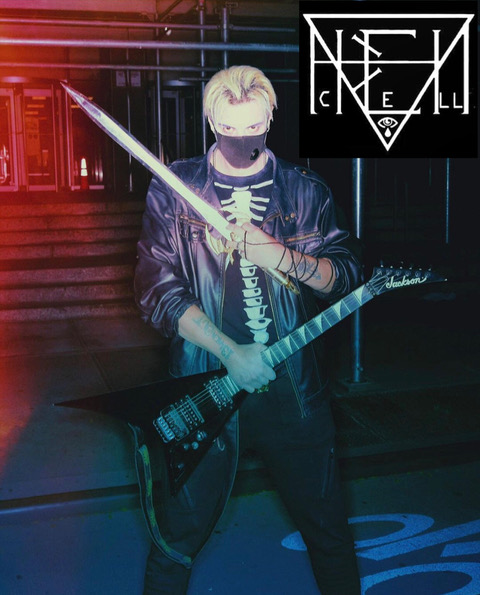 The band "He11cell" started it all from New York City when Diamond (bassist) and Jason Chaos (singer/rapper/songwriter) came up with an idea to create a new genre and style they labeled "gothic rap" / "horror pop". It all started from creative people who watched the movie "Party Monster" and were lured in with the style and ideas that were pioneered to the original club kids from NYC. Even the band "Blood on the Dance Floor" got their inspiration and has their beginning roots from "Party Monster" and Club kids scene pre "MySpace" days. While Jason Chaos worked with Michael Alig, he was influenced by Marilyn Manson's friendship with Alig and Manson's involvement with Party Monster as the actor for Christina, and being a nightlife public figure, the nightlife scene created the breeding grounds for creativity and new ideas not only for He11cell but others.
However, when He11cell's first song "Satanic Romantic" came out in 2015, other musicians imitated their style and music.
He11cell's  single "Whatever" came out as a teaser in a video in 2015. Yet "Whatever" still surfaces due to its impact in the music world circulating today. The full version "Whatever" will finally be released under Jason Chaos' solo project. Due to the tragic death of Diamond in September 2021, "He11cell" songs will now be released under Jason Chaos' solo project.
Although Jason Chaos was also inspired by metal, he decided to focus on rapping and rhyming but intertwining the subculture "goth". He11cell was the "star bang" of all of it, but within a popish vibe. Jason Chaos was more into creating goth rap music. He11cell is the first group that pioneered the genre "Gothrap".
Jason Chaos signed with Sony in 2016. His gothrap music and sound became a trend with other artists such as  "Our Spawns", "Ghostemane", "Corpse Husband", influencing emo and tattooed faced  rappers.
"Whatever" by Jason Chaos will be available worldwide on Friday, November 26th, 2021.
Follow Jason Chaos on the web:
https://twitter.com/thejasonchaos
https://www.instagram.com/thejasonchaos