DJ Charlie Z otherwise known as DRMAGDN will be headlining, as well as co-producing the SohoJohnny Presents: "9/11 Let Me Help Music & Fashion Celebrity Benefit Gala Concert" on Saturday September 11, 2021. It is set to take place at Rumi Event Space located at 229 W. 28th Street ( between 7th and 8th), in Manhattan. The Red Carpet begins at 5:00 PM EST and the main event at 7:00 PM sharp.
The event pays tribute to the 20 year anniversary of 9/11 with a barrage of fashion and music celebrating New York Fashion Week and a prelude to the opening of Broadway. The Let Me Help, Inc foundation founded by John "SohoJohnny" Pasquale strives to help people whose lives and livelihoods have been affected in someway by him for seen circumstances or illness by raising money through the celebration of music, laughter and dance, and will be benefiting "Operation Warrior Shield", an organization helping wounded veterans through the use of service dogs.
DRMAGDN: Cyborg Drummer / DJ performs live on a hybrid acoustic/electronic drumset using trigger pads to simultaneously DJ and Drum with epic tribal intensity on top of original & remixed tracks. DRMAGDN has toured 24 countries, 43 US States & on 175+ records plus has played sold out shows at The Winter Olympics in Sochi Russia, Metlife Stadium, Lollapalooza, Warped Tour, Bamboozle Fest, Carnegie Hall, Lincoln Center in addition to MTV's TRL, AOL Sessions, The View & The Today Show.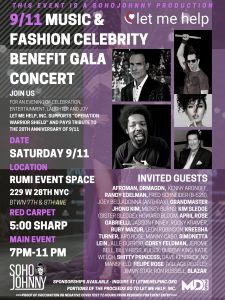 DRMAGDN has 6 Million Plays/Views on his latest single "Get Tough" featuring Manny Cabo from The Voice & La Voz. "Get Tough" has also hit #1 on the SubmitHub Popular Chart, #1 on Trending On TikTok Chart & hit #15 on the All Time Chart out of 21+ Million Submissions ever. DRMAGDN has garnered 12 Million Total Plays/Views across all platforms with just 7 songs released in 1 year.
DRMAGDN writes, records & produces everything by himself and features The Voice & American Idol singers on each track. DRMAGDN currently has 1.6M total views on YouTube, 600k+ total plays on Spotify with 50k+ Monthly Listeners, 200k+ followers with 750k views on Instagram, 1.4+ Million plays with 50k followers on SoundCloud & 5+ Million total views on all influencer's profiles on TikTok.
Other featured artists performing or attending will be Leon Robinson, Kim Sledge, Corey Feldman, Randy Edelman, Fred Schneider (B-52s), Joey Belladonna (Anthrax), AniMaze X, Mickey Burns (Profiles Talk Show), Howard Bloom (author), Kreesha Turner, Kenny Aronoff, Grand Master Jhong Kim, Rocky Kramer, Blazar, Kulick, Manny Cabo, Billy Hess, Katie Welch, No Mansfield, Shitty Princess, Jerome Bell, Alle Guercio, Wendy Stuart Kaplan, Jimmy Star, Ron Russell, Aro Rose, Russell Daisey, Simonetta Lein, January Jane, Jasson Finney, April Rose Gabrielli, Queeny King, and many others….
Get tickets on Eventbrite here:
https://www.eventbrite.com/e/the-let-me-help-grand-celebrity-benefit-music-fashion-gala-ft-drmagdn-tickets-166678579117
The official website for SohoJohnny may be found at https://www.sohojohnny.com
The official website for Let Me Help, Inc may be found at https://letmehelpinc.org
***Proof Of Vaccination Or Negative Covid Test 72-Hours Prior Required For Event Entry***