On July 10, 2021 some of the top musicians to ever walk the planet will be celebrating iconic Rainbow legend Ronnie James Dio's birthday by virtually uniting to raise money for the "Stand Up And Shout" Cancer Fund. This global phenomena begins at 2:00 PM Pacific and can be viewed for 24 hours. The line-up includes: Rob Halford, Lzzy Hale, Sebastian Bach, Sammy Hagar, Tenacious D, and superstars Kenny Aronoff and Joey Belladonna. The Ronnie James Dio "Stand Up And Shout" Cancer Fund was founded in memory of the late Metal superstar who was the voice of Elf, Rainbow, Black Sabbath and DIO before losing his battle with gastric cancer in 2010.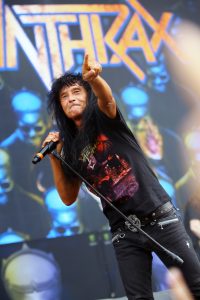 Joey Belladonna is the drummer and lead vocalist for the wild ride Anthrax, one of the leading thrash metal bands on the planet. Joey is also the vocalist and drummer of the cover band Chief Big Way. He is recognized for his crazy energetic stage behavior and tenor vocal range and has also six Grammy award nominations under his belt.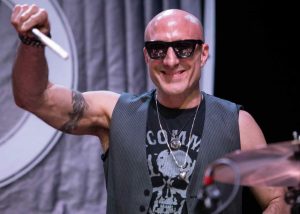 Kenny Aronoff, considered one of the 5 best drummers in the universe has worked and toured with John Cougar Mellencamp, Smashing Pumpkins, John Fogerty, Jon Bon Jovi, Rod Stewart, Bob Dylan, Mick Jagger, The Beatles and nearly every musician on the planet. It would be easier to list those he hasn't played with if you could find someone. He is also the author of "Sex, Drums and Rock N' Roll, and is a key note speaker.
I spoke to both Kenny and Joey in an hour-long conversation regarding the event however it became more of what should have been a podcast. Special thanks to Krista Belladonna for her help and added conversation and for loving Adam Ant…..
Kenny before we call Joey, who produced this event?
KA: Kerry Brown is somebody I've known since 1998. I think he produced the first Smashing Pumpkins record and he was married to D'arcy, the bass player for a while. Since then he's gotten into all kinds of shit. He has been doing a lot of production during Covid with big names like J Lo and all kinds of people. He's married to a big film producer, and he's put this whole thing together. So there will be a link that people can jump on for 24 hours, that's all it is. It's gonna be only available for 24 hours to raise money for cancer and also celebrate Dio's birthday which is July 10th.
Kenny who did you play with?
KA: I did "Straight to the Heart" with Lzzy Hale and "Time Machine."
Enter Joey….
So Joey why is Kenny saying you're his new best friend?
JB: When you do talk with somebody and just be ourself, some people find that really interesting. It comes off just right. That's what I love about meeting someone who feels the same way. Nothing came out of my mouth singing wise, I didn't even know if he knew what the hell musically. I don't even know if he heard me sing anything. We were just both there for the Dio thing….
KA: I saw you rehearsing and I knew exactly who you were.
Should I ask Kenny if he ever heard of the band Anthrax?
KA: Are you kidding me, it's tattooed on my dick.
JB: That doesn't get me any brownie points. We just started talking. We had a great time there together. In such a short period of time it was so good that I haven't talked to anyone like Kenny in a long time with messaging back and forth. I don't think we have anyone that we do that with.
Let me make this clear…there is no one else like Kenny…
JB: Maybe we're just one of many that he does that with…..
KA: Sometimes you meet somebody and then you just go 10,000 miles a second and sometimes you know someone your whole life and you only go 2 inches. I worked for John Mellencamp for 17 years and he was so different. We were similar in some ways like we were both workaholics and competitive and wanted to succeed, but just talking normal that never was comfortable for 17 years.
Do you think that people from a band like Anthrax is wilder than say someone from John Mellencamp or a band like Toto?
JB: If someone was talking to me before I went on and didn't hear the band maybe and I was just being me, then I went up and did the show. Then after the show they would say "oh my God, I was like wow, I don't feel like I'm talking to the same guy." And I don't realize what I do but they think that's crazy different than when they met me.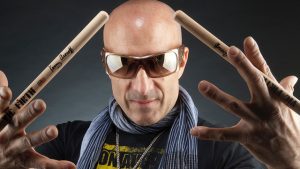 But the fans of thrash metal bands a super loyal I thought. They only want to hear thrash metal?
JB: I guess… I remember Steve Lukather said to me now that you bring it up, "they actually let you on the bus?" I don't even listen to thrash, I don't even know half of what's going on. I just do what I do and how I feel it. I see people giving in, like that guy out there who wasn't moving but now he's moving. In the early days people might've thought that we were lighter, that we were in this heavy and they would give us the finger or something stupid way back. Later on, they are getting into it and now are fans. I just like a lot of different music. I think educationally it's good for you to listen to music. I get so much more input on what I can do and learn more and stuff. So, it's not about I can't listen to thrash, because I can. I mean I love a lot of bands that are heavier than us, but it's just an acquired taste. We have some interesting fans. I find it amazing that we have so many people that love what we do, because we are different.
Kenny you're actually pretty wild coming from a band like John Mellencamp…
KA: We weren't Motley Crue, but we definitely had a hospitality room. I'd be on stage for example Madison Square Garden….I remember one time I screamed at my tech. We were sold out 360 degrees, we were a big deal back then. He came over to me and asked what was wrong. I said "do you see that girl over there in the third row with the white stripe shirt? Give her an after show pass." He runs down and I see him tapping her on the shoulder. And she looks at him as if to say me? Then he pointed to me and she looks at me and then I'm waving to her right in the middle of playing the drums in a sold-out stadium. I mean we were civilized but we were definitely picking up chicks all the time. That was our MO. And everyone in the band got divorced eventually.
Kenny how many times did you get divorced?
KA: Twice…. Don't laugh I said in my book I wasn't exactly honorable.
Ok so explain the circumstance of how the two of you connected?
KA: So Ronnie James Dio was born on July 10th and they are doing a really cool tribute to him and also honoring his cancer foundation because he died of stomach cancer. So, they're bringing the two together and it's a huge list of people. It's going to be on the Internet and I Believe you can only catch it for 24 hours. It's going to be a great celebration.
Joey, what was your role in this celebration?
JB: I performed in it. I did five songs and I did an interview just talking about music and Ronnie, his life and stuff like that.
KA: Hey Eileen this guy was a hockey goalie. He grew up in ice and I love that.
A real one?
JB: I started as a goalie and I carried on from there. I started as a freshman all the way through and then I went to hockey school with the Canadians up in Saint Lawrence and if I went to college I probably would've gotten on a team and done some semi pro stuff.
KA: In College I tried out for lacrosse and I got my ass crushed. After the first practice I thought "wait a minute what am I going to do with my career in music if I get my ass kicked in?" And it got in the way of all these music courses that I was taking so I quit but holy shit man that was a whole other level when I went to college. It didn't make sense.
JB: it gets harder and harder with the competition, I was ready to take it on but I was so into music…..
KA: But once you learn how to be a competitive athlete it transcends to everything you doing life. Transcends as a team player. When you're on a team when you have a goal, you have to learn how to take orders and you have to learn how to shut your mouth and learn whether you like it or not you have to do it. All of that Makes you a valuable asset to any team, any band, whatever.
JB: I did learn that. I mean my coach was an Olympic goalie.
KA: If you want to get hard core there is an epidemic of laziness, entitlement, and I don't buy it. I fucking hate it. Those people are growing up and becoming in positions of power. My dad was in World War II and that's in my DNA and I know it's in yours Joey. The thing is that I'm not going to change. I'm going to be just like this. If I was picking a team, I would pick a guy like you Joey. You're a team player. You understand how to be part of a team "it ain't about me it's about we." You need everybody around you to be great so that we can be great.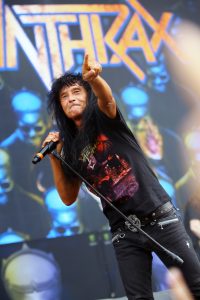 So did either of you know Ronnie James Dio?
JB: I toured with him. He lived up by me and I was in a band that used to be his band. I was with him for a lot of the Sabbath stuff. We hung out together. I sang at his funeral. I did a nice unplugged acoustic version of Rainbow's "Man On Silver Mountain". It was tough to do but…Ronnie was super good. He was nice to Kris (Joey's wife), He let her come on the bus, so she didn't have to drive home alone and then walked her to the gate. He could have said no. He was super good and doing the songs I felt like he was there. I really had those moments of feeling something. We wrote a song about him and Dimebag and we showed pictures of both of them. But I'm so glad we got to do this. It's just one those things that you check off in your repertoire. I think a lot of people are going to see it because this one has a lot of longevity to it. A lot of people like to chime in on these Dio things I think. Not to say that the other Livestreams we've done weren't successful, but I think this one is going to be cool.
KA: I do too!