The impact that you make comes from the energy you make…..The high spirited Heavy Metal Disney band AniMaze X has recently released an atomic cover of The Beatles' "Strawberry Fields Forever." A courageous cover to attempt, and the band nails it!
It's loud, it's vibrant, it's exciting and musically well done. With the supreme vocals of lead singer Mike Vescera, bassist Rudy Sarzo (from Ozzy Osbourne), John Bruno on guitar and BJ Zampa on drums the song screams "listen." The band is originally a project started by members of the best-selling D-Metal Stars/ AniMetal USA. The entry of AniMaze X doesn't stop with heavy metal music but also focuses upon cartoons, Broadway musicals, superhero themes and movie soundtracks. This original idea provides fans of all ages and interests of all ages.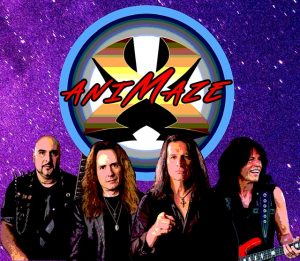 AniMaze X not only gives the song a facelift but also allows the younger generation an introduction to the greatest band in history. "Strawberry Files" has its own history as well. Beatle John Lennon considers this song his finest work. When it was released as a double a side single and represented a departure from the groups previous singles and a novel listening experience for the then contemporary Pop audience. The song was very influential on the emerging psychedelic styled music. As a tribute to John Lennon an area in Central Park in New York City was dedicated to him and called Strawberry Fields.
The new single "Strawberry Fields Forever" is a metal cover version of the Beatles classic hit that was released in 1967, and peaked at number 8 on the Billboard Hot 100.
AniMaze X's new single was released by SohoJohnny's Tribeca Records. It is quickly climbing the charts and creating a buzz internationally. The song rings with emotion and passion. AniMaze X makes the sing their own and easily challenges the original version…..
5/5 Stars
The official website for AniMaze X may be found at https://www.animazex.com
Get  your copy of "Strawberry Fields Forever" By Animaze X on iTunes today:
https://music.apple.com/us/album/strawberry-fields-single/1552884687